Hot Property: Bret Michaels packs up his guitars and bandannas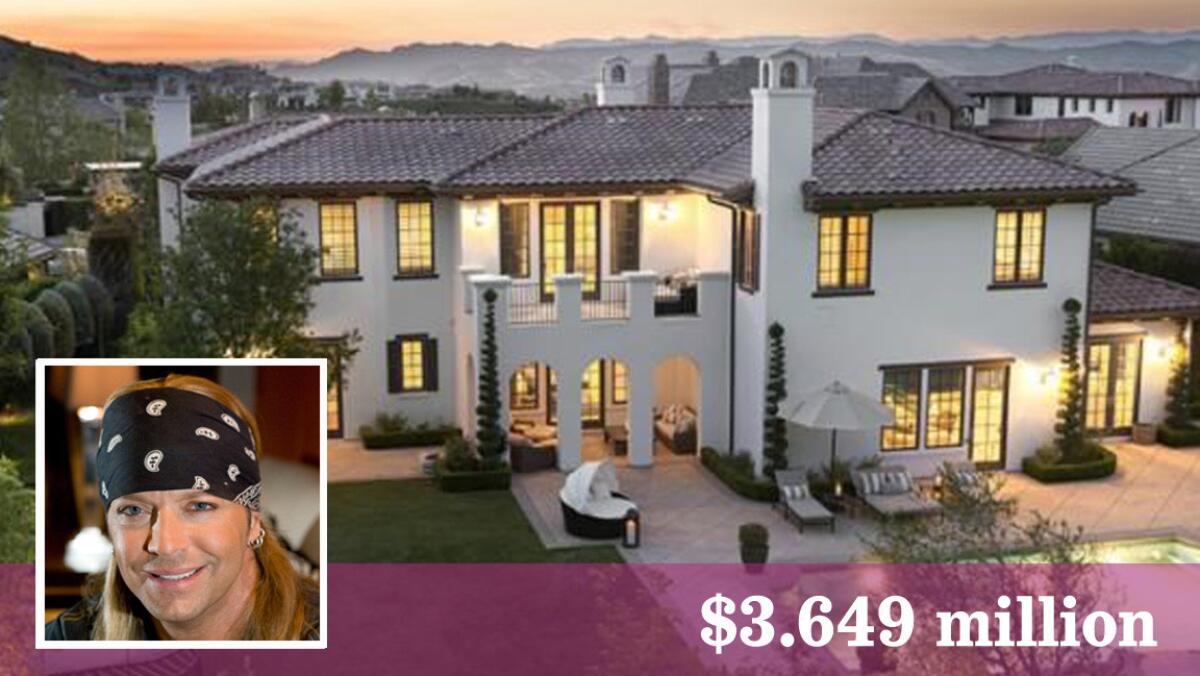 Singer-songwriter Bret Michaels has listed his place in a gated Calabasas community for $3.649 million.
Although the 6,797 square feet of light and bright interiors come across as a family home rather than a hangout for a rock star, the accents include guitars, a grand piano and religious iconography. Built in 2006, the Mediterranean-inspired two-story features vaulted ceilings, formal living and dining rooms, a media room, an office and a family room.
The master suite contains a sitting area, dual walk-in closets, a balcony, dual bathrooms and a gym for a total of five bedrooms and seven bathrooms.
Michaels, 52, made his mark fronting for the big-hair metal band Poison starting in the early 1980s, and he also has several solo albums. The bandanna-wearing singer and reality actor recently released the song "Girls on Bars" and announced an upcoming solo album titled "True Grit."
He inked the deal on the third of an acre property last year for $3.05 million. Michaels plans to stay in the area, but wanted a bigger spread.
Tomer Fridman of Ewing Sotheby's International Realty and Lynne Weiss of Coldwell Banker are the listing agents.
'Downton Abbey' spoiler alert?
Byfleet Manor, the estate used to portray the home of Maggie Smith's character Lady Violet Crawley on "Downton Abbey," is listed for sale at $6.1 million.
Encompassing 19 acres, the estate in Surrey, England, centers on a main house built around 1686 that incorporates details such as a heavy timber staircase and several fireplaces that remain from an earlier palace on the site.
Among royals to have visited or stayed on the manor, which dates to the 7th century, are Kings Edward I and II, Henry VII and Queen Elizabeth I.
Known as Dower House on the series, the pitched-roof and gabled three-story house contains four reception rooms and eight bedrooms. It has also been used as locations for the series "Poirot" and "Cranford" as well as Cinderella's home in the film "Into the Woods."
The stone-walled house sits at the end of a country lane along with four additional lots that are being offered for sale separately.
"Downton Abbey," a British period drama set in the early 20th century, follows the lives of the landed Crawley family and their servants in a rapidly changing world. The Emmy-winning series has been renewed for a sixth and final season.
Savills is handling the listing.
She could make a killing
Here's a scene that bears investigation: Kim Delaney, who won an Emmy for her role as Det. Diane Russell on "NYPD Blue," has listed her home in Beverly Hills for sale at $7.995 million — more than five times the $1.5 million she paid a dozen years ago.
The well-preserved Spanish Revival house, built in 1928, has its original tiled exterior entry, a round tiled foyer and stained-glass windows. An oversized dining room features built-ins and can seat 10 to 12 people. The living room centers on a grand fireplace and has stained-glass windows.
The family room, with a floor-to-ceiling wall of glass, and the kitchen open to the outdoors. The cozy den has a fireplace and a wet bar.
A graceful circular stairway with colorful tile risers leads to the second floor. A balcony overlooks the backyard.
The nearly half an acre lot contains a swimming pool with a spa and a guest casita for a total of six bedrooms and 5.5 bathrooms.
Delaney, 53, will play Mary Todd Lincoln in the miniseries "To Appomattox." Since her "NYPD Blue" run from 1995 to 2003, she has appeared in "Army Wives" (2007-12) and "The O.C." (2005).
Alex Brunkhorst and Billy Rose of the Agency are the listing agents.
Chili Pepper's red-hot listing
Red Hot Chili Peppers singer and lyricist Anthony Kiedis has listed a house for sale in Hollywood Hills West at $4.295 million.
The remodeled villa, built in 1940, centers on a living room with 14-foot-tall ceilings and French doors that open to city views. The coffered-ceiling dining room opens to a terrace overlooking the swimming pool.
A commercial-grade kitchen, a library, a bar, three bedrooms and four bathrooms are among other living spaces.
Gardens and paths complete the walled and gated grounds.
Kiedis, 52, co-founded the alternative rock band more than three decades ago. The Grammy Award-winning group has recorded 10 studio albums and in 2012 was inducted into the Rock and Roll Hall of Fame. Their hits, featuring Kiedis' vocals, include "Can't Stop," "Higher Ground" and "Under the Bridge."
He bought the property two years ago for $3.65 million from designer Waldo Fernandez.
Kurt Rappaport of Westside Estate Agency is the listing agent.
Channeling her inner rider
Singer-actress Miley Cyrus has bought an equestrian and vineyard estate in Hidden Hills for $5 million.
A one-acre riding arena, two paddocks, a 10-stall barn, a 550-vine vineyard and a swimming pool were included in the deal.
The five-acre spread in the Santa Monica Mountains city centers on a 6,500-square-foot ranch-style house set at the end of a long driveway. Built in 1954, the home features beamed ceilings, walls of French doors, wide-plank wood floors and pastoral views.
A wet bar, a 1,000-bottle wine cellar, family and dining rooms, a gym and a library/study are among the interior spaces. Including the main-floor master suite there are seven bedrooms and six bathrooms.
A swimming pool sits near the house.
Cyrus, 22, gained notice as the star of the 2006-11 series "Hannah Montana." The 2013 MTV artist of the year released her first album "Meet Miley Cyrus" in 2007. Her Bangerz Tour last year promoted her latest album, released two years ago.
The transaction, which took place outside the Multiple Listing Service, was reported by Woodbridge Luxury Home of California. Matt Altman, Josh Altman and Nate Smith of the Altman Brothers, Douglas Elliman, represented Cyrus.
From Malibu to 'Silicon Valley'
Funnyman Mike Judge has sold his retreat in Malibu for $4.3 million — roughly $600,000 less than he paid for it eight years ago.
Built in 1977, the Craftsman-esque house sits on more than an acre of park-like grounds with a swimming pool, a tennis court and a guesthouse. The 3,696 square feet of living space includes living, dining and family rooms, a den, six bedrooms and five bathrooms.
Large windows frame views of the surrounding greenery, which includes palm trees and an expansive lawn.
Judge, 52, created and starred in the animated "King of the Hill" (1997-2010) and, before that, the edgy "Beavis and Butt-head" series. His irreverent humor helped "King of the Hill" win an Emmy in 1999. He also co-created the current sitcom "Silicon Valley."
The property previously changed hands in 2007 for $4.919 million.
Matt Rapf of Pritchett-Rapf & Associates was the listing agent. Alexander Purewal and Christopher Cortazzo of Coldwell Banker represented the buyer.
Twitter: @LATHotProperty