Hot Property: All over the map
This week we span the nation, coast to coast, with homes of note locally in Studio City and Culver City to as far away as Connecticut. Sports stars, musicians, a TV giant and a screen legend are among those making up this ever-changing landscape.
Once you're done checking out these star-studded home deals, visit and like our Facebook page, where you can find Hot Property stories and updates throughout the week.
– Neal J. Leitereg and Lauren Beale
High-profile handoff
Former Masters champion Fred Couples has sold his home in La Quinta to NBA legend and front office executive Jerry West for $2.8 million.
The Mediterranean villa-style home, set on half an acre in a golf course community, was purchased by Couples in 2009 for about $3.075 million.
The 5,200-square-foot house has a great room, a media room, four bedrooms and 4.5 bathrooms. Decorative tilework, wrought-iron chandeliers and stone fireplaces are among the details.
Expansive patios, a swimming pool, a spa and native landscaping make up the grounds. A courtyard sits off the front entrance.
Couples, 57, joined the PGA Tour in 1982 and the Champions Tour in 2010.
The 78-year-old West spent his entire career with the Lakers, making 14 all-star teams. He twice won executive of the year honors and was part of six championship teams.
Setting up home base
We've already got baseball on the brain.
Los Angeles Dodgers third baseman Justin Turner, who inked a four-year, $64-million contract with the team in December, has bought a Studio City home through a trust for $2.428 million.
The East Coast-inspired two-story features a wine closet beneath the stairs, crisp white wainscoting and a mud room. There are formal living and dining rooms topped with coffered ceilings, an office, five bedrooms and 4.75 bathrooms.
Hedges surround a swimming pool with a spa and a waterfall feature. A cabana with a barbecue, bar and a changing room sits nearby.
Keeping it in the band
Veteran musician Scott Thurston of Tom Petty and the Heartbreakers fame has sold an investment property in Culver City for $1.29 million in an off-market deal. The buyer, who purchased through a limited liability company, was Thurston's fellow band member Mike Campbell.
The cottage, built in 1924 and recently renovated, features an open-plan layout, two bedrooms and two bathrooms. A sliding glass door opens to the back patio.
Thurston, 65, bought the property in 1982 for $59,389. The guitarist, songwriter and keyboardist joined Tom Petty and the Heartbreakers in 1991.
Campbell, 67, is an original member of the Heartbreakers. The guitarist and producer worked on Stevie Nicks' 2014 album "23 Karat Gold: Songs from the Vault."
Legendary stomping grounds
Actress Katharine Hepburn's onetime summer retreat in Old Saybrook, Conn., has come back on the market for $11.8 million.
Sitting on 1.5 acres of grounds, the idyllic waterfront estate centers on a stately Colonial-style home built in 1939 and used by "The African Queen" actress for decades as a family retreat.
Renovated in 2005, the three-story home includes about 8,400 square feet of living space. Decks take in picturesque views of the Long Island Sound. The site also has 220 feet of beach frontage, a private dock and a pond.
Hepburn, who died in 2003 at 96, won Oscars for such films as "On Golden Pond" (1981), "The Lion in Winter" (1968) and "Guess Who's Coming to Dinner" (1967).
'Modern Family' man moves on
Actor Ty Burrell of "Modern Family" fame has sold his Culver City penthouse condominium for slightly more than $1.432 million.
The corner unit, a mixed-use development, has 1,680 square feet of living space, including an updated kitchen, an open living room, two bedrooms and two bathrooms.
Burrell, 49, has won a pair of Emmys for his role as fictional real estate agent Phil Dunphy on the show "Modern Family."
Changing channels
Television producer and executive Fred Silverman, whose decades of hits include "All in the Family," "The Waltons" and "Charlie's Angels," has sold his home in the Brentwood area of Los Angeles for $17.75 million.
The 2.5-acre estate features a 1952 ranch-style main house with 8,000 square feet of space, including a billiards room, a step-down living room, a den/office, five bedrooms and seven bathrooms.
Also on the grounds are a 3,200-square-foot guesthouse that was previously used as office space, a pool house, a swimming pool, a tennis court, lawns, gardens and a koi pond.
My favorite room
Comedian Tommy Chong isn't kidding when he says his favorite room in his Pacific Palisades home is the roof. "I used to have about 20 pot plants growing on one side, just to experiment," the 78-year-old said. "But we're too close to the ocean and they got mold, so we harvested them."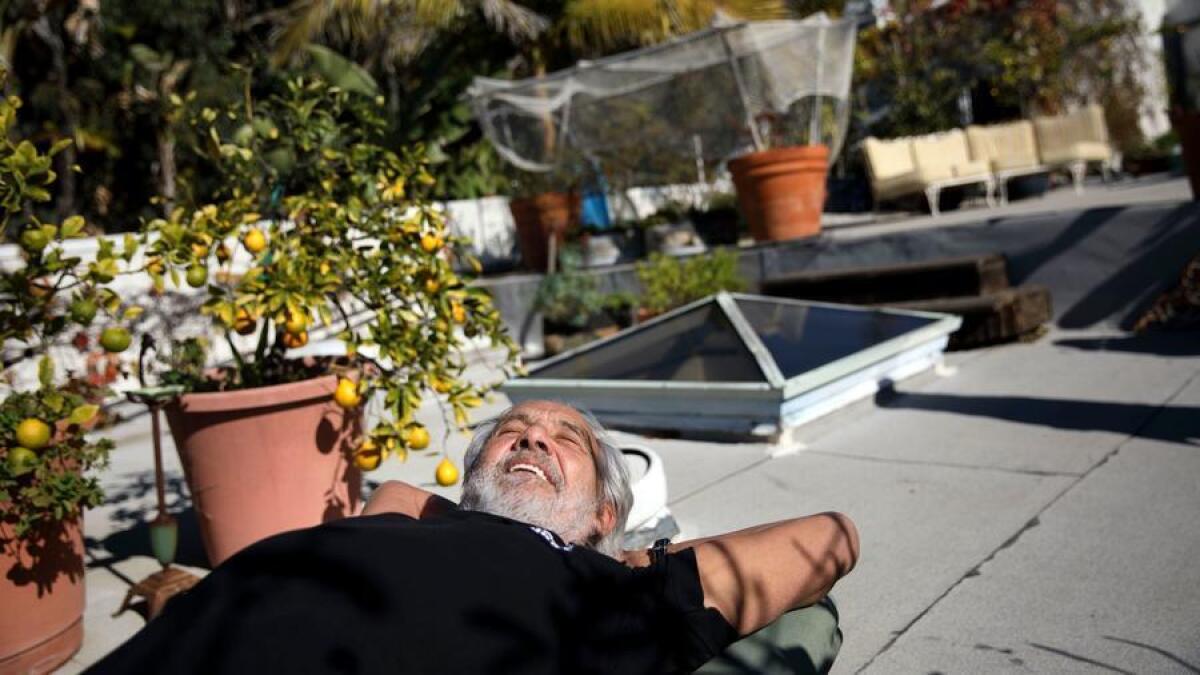 From the archives
Ten years ago, actor Jeffrey Tambor, who gained fame as Garry Shandling's sidekick on "The Larry Sanders Show" in the 1990s, sold his Pacific Palisades home for about $2.9 million. The shingle-clad Cape Cod-style home, built in 2003, had a widow's walk, five bedrooms and 4,200 square feet of living space.
Twenty years ago, supermodel-actress Cindy Crawford bought a Brentwood house for close to $1.8 million. Built in 1929, the Spanish-style home had nearly 4,000 square feet and a courtyard entrance.
What we're reading
Conventional wind turbines are too ugly, large and so noisy for backyards. But the French firm New Wind has now introduced the Wind Tree, a 26-foot-tall artificial tree fitted with 63 tiny blades that can generate electricity. Called aeroleaves, the tree's leaf-like blades work at speeds as low as 4.5 miles per hour and are silent, making them suitable for residential areas.
Here's an amenity you don't see every day. A heated dog kennel was spotted by the eagle-eyed Newsday staff. It comes complete with a $1.45-million house and a barn in Greenport, N.Y. The deluxe kennel, used by the current owner, who trains hunting dogs, measures 16-by-24 feet.
An unusual house has come on the market in La Jolla. Designed by "organic" architect Kendrick Bangs Kellogg, the 300-degree ocean view home is laid out in the shape of a blooming lotus flower.