Newsletter: Hot Property: The housing market is alive and well
Classic comic actor Groucho Marx may be long gone, but his Hollywood Hills West estate is still around and appears to be a hot item. After only six months, the property is back up for sale at a mark-up north of 20%. Can you say: property flip?
It's just one indication of how buoyant home sales are as schools let out and families try to make that mid-year move. Multiple offers, bidding wars and short times on the market all point to a scorching summer housing market ahead.
Once you're done checking out these star-studded transactions, visit and like our Facebook page, where you can find Hot Property stories and updates throughout the week.
– Neal J. Leitereg and Lauren Beale
Flipping for Groucho Marx
A Hollywood Hills West estate that was once home to legendary film comic Groucho Marx has been flipped back on the market at about a 22% mark-up from the $3.45 million it sold for a half-year ago.
Priced at $4.2 million, the 1935 two-story traditional has about 3,700 square feet of living space including formal living and dining rooms, a den/library, a wet bar and four bedrooms.
Brickwork in the backyard surrounds a swimming pool with a raised spa.
Marx, whose scores of credits include "Duck Soup" (1933) and "Animal Crackers" (1930), bought the property in 1946 and owned it for about three years.
Recasting in Pacific Palisades
Actress Poppy Montgomery has sold her home in Pacific Palisades to actress Bree Turner for $4.955 million.
The gated traditional-style house has 7,800 square feet of living space including a media room, wine cellar and five bedrooms.
The Australia-born Montgomery, 44, is known for her television roles on "Without a Trace" and, more recently, "Unforgettable."
Turner, 40, was a regular on the supernatural series "Grimm" for the last six years.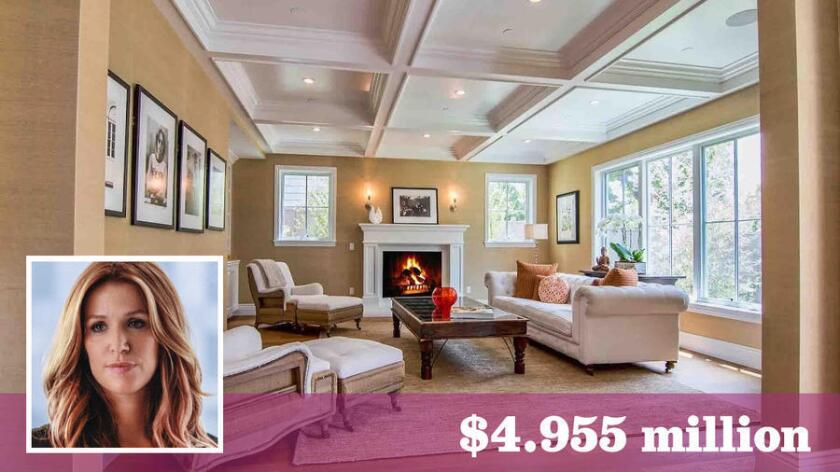 A new girl or guy is on the block
Actor-comedian Lamorne Morris of "New Girl" has sold his home in Sherman Oaks for just shy of $1.505 million.
The contemporary features a floating glass staircase, vaulted ceilings and more than 3,400 square feet of open-plan space. Decking and a rooftop patio create additional living areas outdoors.
Lawns and hedges surround the saltwater swimming pool.
The property previously changed hands four years ago for $1.475 million.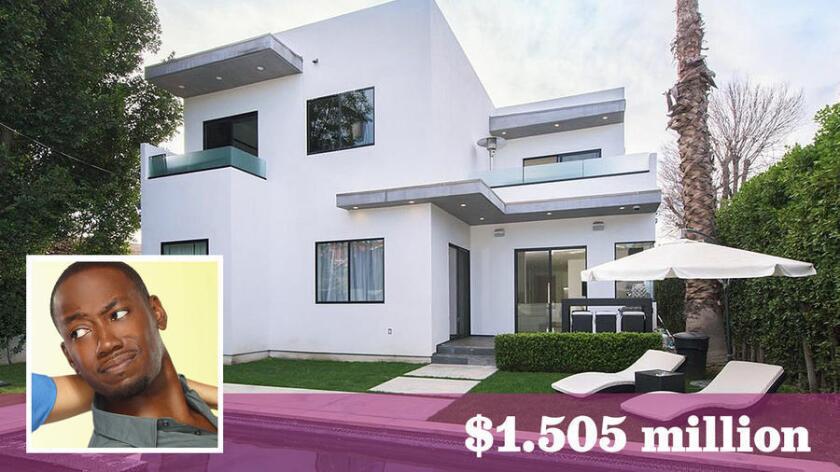 Filmmaker is ready for a scene change
The Brentwood Park home of director, producer and screenwriter Andy Tennant is on the market at $6.995 million.
Built in 1928, the Spanish Revival-style home boasts original ceiling details, stained glass and fireplaces in the kitchen and great room. A solarium takes in leafy garden views through French doors and picture windows. There are five bedrooms and two offices in 5,540 square feet of living space.
A rose garden, mature trees and a paddle tennis court make up nearly an acre of grounds.
Tennant, 61, has credits that include such romantic comedies as "It Takes Two" (1995), "Fools Rush In" (1997) and "Hitch" (2005).
He's ready for a match
Mike Mizanin, the actor, reality television personality and reigning intercontinental champion of the WWE, has put his home in Hollywood Hills West on the market for $3.65 million.
Set behind gates, the Mediterranean has more than 4,500 square feet of living space. The four-bedroom house sits on about half an acre with a swimming pool, a basketball court and a glass-walled spa.
A newly added game room has a wet bar and glass doors that open to a patio with a built-in barbecue.
The 36-year-old originally gained fame as a personality on MTV's "The Real World: Back to New York" and the competition series "WWE Tough Enough."
Circling the bases in Poway
Retired professional baseball player Jermaine Dye has sold his home in Poway for $2.85 million.
The Spanish-style four-acre spread was previously owned by former Cleveland Cavaliers guard Mo Williams. He sold the property to Dye in 2012 for $3.3 million.
The 9,200-square-foot main house contains six bedrooms and eight bathrooms. A casita, a lagoon-style swimming pool, a basketball half-court, a putting green and a turf field make up the grounds.
Dye, 43, played for the Braves, Royals, Athletics and White Sox over 14 seasons, making two all-star teams. The slugging outfielder earned MVP honors in the 2005 World Series.
Her favorite room
If you guessed that "The Biggest Loser" personal trainer Jillian Michaels' favorite room is a gym, you'd be wrong. It's her Malibu home's office, where she has carved out space just for herself — away from the demands and belongings of her two children.
From the archives
Ten years ago, Tobey Maguire of the "Spider-Man" film series sold his Hollywood Hills home for $11.5 million. He had bought the place five years earlier for $3.7 million.
Twenty years ago, actors Helen Hunt and Hank Azaria bought a home site north of Beverly Hills for close to its $2.5-million asking price. They were expected to build a house on the gated view lot.
Also 20 years ago, Barbra Streisand sold a Beverly Hills-area house for nearly its $4.9-million asking price. The Oscar-winning actress had been leasing the house to Stephen Stills of the rock band Crosby, Stills & Nash.
What we're reading
A reverse mortgage may make sense for some older homeowners. The loans have gotten safer and less expensive in recent years, but don't borrow frivolously, warns the L.A. Times.
After 66 years of ownership, the University of Michigan is offering a 90-year-old, four-story stone mansion on nine acres in Ann Arbor for $5.9 million. The school used the house and gardens for receptions and distinguished visitors including President Gerald Ford, Betty Ford and the Dalai Lama.
Always on the lookout for something unusual, Estately.com keeps their eyes peeled for places with bomb shelters. A recent find was a vegetation-covered dome (plus a house and grounds) for $795,000 in Portland, Ore.
---