Hot Property: Down to the wire
There's still plenty of wheeling and dealing left in 2017. Big buys are taking place in Malibu, Brentwood and elsewhere as the year draws to a close. And places continue to pop back on the market, including a house once owned by "Green Acres" star Eva Gabor as well as music duo Ike and Tina Turner's onetime pad.
Do people pick a house for a certain room? Actress Marilu Henner bought her Hollywood Hills home for the kitchen, which she liked just the way it was despite gutting and redoing most everything else in the house. Check out her favorite room in our video.
Once you're done reading about these deals, visit and like our Facebook page, where you can find Hot Property stories and updates throughout the week. That's also a great place to leave us a tip about a celebrity home deal.
– Neal J. Leitereg and Lauren Beale
He judges it buy-worthy
Music competition judge Simon Cowell has purchased a gated estate in Malibu for $24 million.
Reached by a tree-lined drive, the bluff-top compound encompasses nearly two acres with lawns, gardens, a koi pond, a lighted tennis court and a swimming pool.
The contemporary main house, built in 1988, has six bedrooms, seven bathrooms and more than 8,600 square feet of living space. There are five fireplaces, including two in the master suite.
Cowell, 58, is known to television audiences for his role as a judge on competition shows including "American Idol," "The X-Factor" and "America's Got Talent."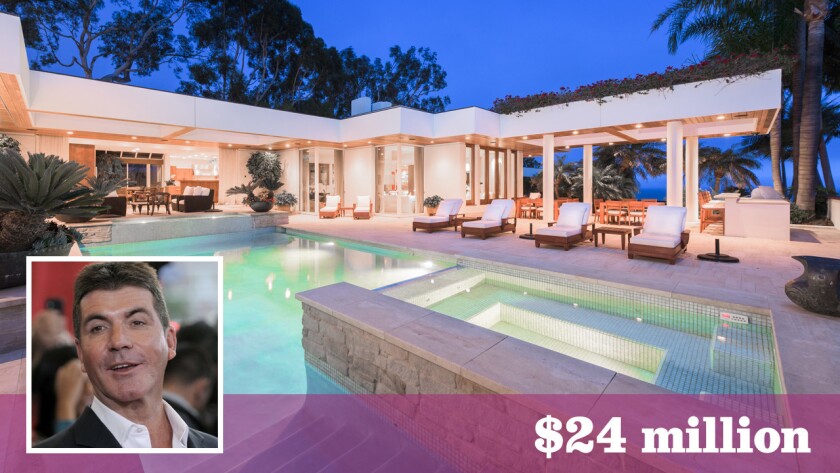 Where an Eagle made his nest
The onetime home of late rock 'n' roll legend Glenn Frey has sold in Brentwood for $14 million.
The Mediterranean-style house, built in 1996, sits behind hedges and gates on a flat lot of nearly three-quarters of an acre with a guesthouse and a tiled swimming pool and spa.
More than 8,000 square feet of living space contains a double-height entry, a family room, a library, a living room and six bedrooms.
Frey, who died last year at 67, co-founded the Eagles in 1971 with drummer Don Henley. With the group, Frey won six Grammys and was inducted into the Rock and Roll Hall of Fame in 1998.
For her next act
Joan Collins and her husband, film producer Percy Gibson, have bought a condominium along the Wilshire Corridor for $2.1 million.
The unit has more than 3,000 square feet of interior space, floor-to-ceiling windows and views of the mountains and cityscape. A terrace sits off the breakfast area.
There are three bedrooms and 3.5 bathrooms, including a master suite with a spa tub and two walk-in closets.
Collins, 84, has scores of television and film credits, including the musical comedy "The Opposite Sex" (1956) and the TV series "Dynasty," for which she won a Golden Globe.
Green acreage in Beverly Crest
The onetime estate of the late TV actress Eva Gabor, who co-starred in the 1960s sitcom "Green Acres," is back on the market in the Beverly Crest area for $14.495 million.
Designed by architect-to-the-stars Paul Williams in 1938, the two-story traditional-style house sits on more than an acre with three other structures.
Some 8,750 square feet of living space contain living and family rooms with fireplaces, a formal dining room, a library/screening room, a bar and a detached office. Including the caretaker's cottage, there are six bedrooms and four bathrooms.
A pool house with a kitchen sits off the swimming pool. There's also a tennis court with a viewing deck.
Gabor lived in the house for nearly two decades until her death in 1995 at 76.
Flip has a fresh face
A home once owned by '60s soul duo Ike and Tina Turner has been remodeled and flipped back on the market in View Park at $1.448 million.
The refreshed interiors maintain the 1956 house's midcentury modern vibe with a double-door entry and flagstone fireplace. The ornate front doors were custom-made for Tina Turner.
The living, dining and family rooms have an open floor plan that connects to the all-new kitchen. There are also four bedrooms and five bathrooms within the nearly 3,000 square feet of space.
An irregular-shaped custom pool is the centerpiece of the rear patio, which includes a cabana and a fire pit.
Among the Turners' hit songs was "Proud Mary," for which they won a Grammy. In 1991 they were inducted into the Rock and Roll Hall of Fame.
Post-and-beam gets top dollar
Doug Ardito, a bassist who played with the alt rock band Puddle of Mudd, has sold his home in the Hollywood Hills for $1.444 million. Not bad, since he listed it in November for $1.199 million.
The post-and-beam house, built in 1951, sits behind fences and an ornamental wooden door on more than 8,000 square feet.
Honeycomb-pattern tile floors, rough-hewn ceilings and beams and a rock wall living room fireplace are among the features of the 1,269-square-foot house. There are two bedrooms and two bathrooms.
An enclosed courtyard contains a river rock-rimmed saltwater swimming pool. Mature trees, lawn, patios and decking complete the backyard. There are cityscape, treetop and canyon views.
Ardito, 46, joined Puddle of Mudd in 1999, where he remained for more than a decade. The band released five studio records, including "Come Clean" and "Life on Display."
Her favorite room
Marilu Henner has gutted and redone nearly everything in the 5,700-square-foot Hollywood Hills home she bought nearly three decades ago. But her favorite room is the kitchen, which she had no intention of changing. "We always knew this kitchen would be the base around which we could create our dream house," the "Grease" and "Taxi" actress said.
The actress and her husband, Michael Brown.
(Jesse Goddard / Los Angeles Times)
"Everything your eyes rest on means something," says Henner.
(Jesse Goddard / Los Angeles Times)
Henner has had these jars since she was on "Taxi."
(Jesse Goddard / Los Angeles Times)
"Everything your eyes rest on means something," says Henner.
(Jesse Goddard / Los Angeles Times)
"Everything your eyes rest on means something," says Henner.
(Jesse Goddard / Los Angeles Times)
"Everything your eyes rest on means something," says Henner.
(Jesse Goddard / Los Angeles Times)
Henner describes the kitchen as "an open space with plenty of room for people to be able to cook together."
(Jesse Goddard / Los Angeles Times)
From the archives
Ten years ago, hip-hop star Kanye West was changing his tune, listing a house in the flats of Beverly Hills at $8.699 million. The traditional-style 3,300-square-foot house, which he had bought earlier in the year for about $7.2 million, was considered a teardown.
Twenty years ago, actor Tom Arnold hoped a buyer would ride off with his horse ranch in the hills near Malibu. Priced at $3.9 million, the 20-acre ranch had a Mediterranean-style, 10,000-square-foot main house.
Thirty years ago, Liongate, the 1938 Bel-Air mansion once owned by singer Kenny Rogers, was due to close escrow for $7.75 million.
What we're reading
Random spaces in existing buildings are becoming rental housing, according to the San Francisco Chronicle. Regulations allowing local owners to convert common spaces into accessory dwelling units have brought forth a flood of applications to carve new apartments out of garages, basements and old boiler rooms.
ICYMI: Just for fun, Hot Property took readers through an architectural tour of noteworthy gingerbread houses. Among the standouts is a midcentury modern-style macaron-and-cream-puff masterpiece.
---
Inside the homes of the rich and famous.
Glimpse their lives and latest real estate deals in our weekly newsletter.
You may occasionally receive promotional content from the Los Angeles Times.