Hot Property Newsletter: The toast of the town
The bread and butter of the Hot Property column has long been those in the entertainment industry. This week's roundup represents the evolution of Hollywood, with a silent actress, big screen stars, small screen standbys and even a reality diva.
Our Home of the Week takes us to true live-work space in downtown Santa Monica. A downstairs art studio/gallery contains 5,500 square feet of offices and workspace. The three-bedroom penthouse dwelling atop it is wrapped on three sides by balcony. But such a short commute isn't cheap: $10.995 million to be exact.
Once you're done reading about these deals, visit and like our Facebook page, where you can find Hot Property stories and updates throughout the week.
—Neal J. Leitereg and Lauren Beale
Changing his tastes?
Jamie Dornan is no longer tied to this house in the Hollywood Hills. The "Fifty Shades" actor has sold the Midcentury Modern style home in the Nichols Canyon area for $3.18 million.
At the heart of the home is an open-air atrium and a reflecting pool surrounded by walls of glass. Concrete stepping stones appear to float above the water.
A streamlined kitchen, a living room with a rock-wall fireplace and a formal dining room are among the living spaces. There are four bedrooms and 3.5 bathrooms.
The 36-year-old actor is known for his role as Christian Grey in the "Fifty Shades" films, the most recent of which, "Fifty Shades Freed," was in theaters earlier this year.
Where she chewed the fat
Talk show host Leeza Gibbons has sold her Beverly Hills home of four years for $15.43 million. The former "Entertainment Tonight" co-host and her husband, writer-producer Steve Fenton, originally asked $18.5 million when they listed the East Coast-inspired Traditional home for sale in February.
Set on a half-acre of grounds, the stately two-story features a living room, a family room, a library/den, five bedrooms and six bathrooms within the 6,570-square-foot main house.
Folding doors open to the backyard, revealing a tiered patio, a swimming pool, an expansive lawn and a fireplace. Also on the grounds is a two-story guest house.
Gibbons, 61, has hosted such shows as "Leeza," "America Now" and "My Generation." In 2015, she won "Celebrity Apprentice."
Deduction: Reduction
Perhaps "Elementary" co-star Lucy Liu deduced that an asking price of $4.199 million was too high for her home in the Fryman Canyon area of Studio City. The property, which she owns through a trust, is being marketed now at $3.5 million.
The shake-sided Craftsman, built in 1959, sits behind gates on more than half an acre with a swimming pool and a spa, a rustic cabana and mature trees.
The close to 4,100 square feet of living space combines period details with eclectic updates. The master suite and media room feature Italian leather paneling for a total of four bedrooms and five bathrooms.
Liu, 49, has scores of television and film credits including the series "Ally McBeal" and the films "Payback" (1999), "Charlie's Angels" (2000) and "Kill Bill" (2003).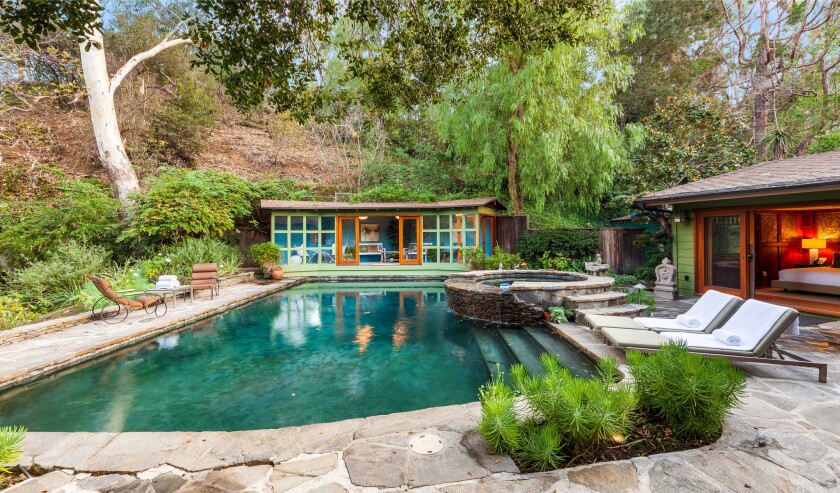 Time for a turn
DJ and music producer Aric Christopher has his Venice home up for sale at about $3.25 million. He bought the place in 2015 for $2.5 million.
The walled and gated house dates to 1942 but was renovated and expanded within the last decade. Retracting walls of glass open to the backyard. There are three bedrooms and three bathrooms.
Outdoor entertaining space is enhanced by a fireplace and market lights.
Christopher often collaborates with fellow DJ Tavis Wild under the stage name Happen.Stance.
Keeping it in the O.C.
The public record has caught up with the rumor mill and confirms the gossip: Tamra Judge of "The Real Housewives of Orange County" fame has purchased of a Traditional house in Cota de Caza for $1.78 million.
The change is a move up in size from the place she recently sold in Ladera Ranch for $1.75 million. The new digs have about 800 more square feet of interiors for a total of 4,840 square feet, including six bedrooms and five bedrooms.
There's a swimming pool, a spa and lawn. Biking and horse trails are among community amenities.
Judge, 51, has been on the reality series since it started in 2006.
A Hollywood lineage
A Santa Monica beach house built for silent screen star Norma Talmadge in 1930 has sold for $8 million.
Other notables who've lived or stayed at the French Normandy-style oceanfront compound have included actor Cary Grant, composer Irving Berlin and business magnate Howard Hughes, who installed barbed wire fencing when he lived there.
The 5,530 square feet of living space contains a foyer, a circular staircase, a formal living room, a dining room, a sunroom, a wine cellar, a butler's pantry, five bedrooms and five bathrooms.
On the sand side of the house are covered and open patios, a heated swimming pool, a paddle tennis/pickleball court and a raised viewing deck.
His favorite room
It may look like an office, but to actor Eric Lange the room in his Sherman Oaks home is a "creative lab" filled with props and inspirational treasures. Among unlikely keepsakes is an old beer can from "Lost" and the snaggle-toothed prosthetic he wore for his role in Showtime's upcoming miniseries "Escape at Dannemora."
From the archives
Ten years ago, country music stars Tim McGraw and Faith Hill listed their Beverly Park home for sale at $14.8 million. The Mediterranean house, set on 4 acres, had six bedrooms and 7.5 bathrooms within its 10,500 square feet.
Twenty years ago, Hot Property was appearing in the paper twice a week. The Thursday column led with three-time Oscar winner Jack Nicholson putting a house he owned in the Beverly Hills area on the market at just under $2.5 million. The Saturday column featured actors Lorenzo Lamas and Shauna Sand-Lamas listing their Los Feliz home for $2.5 million.
What we're reading
A new apartment building coming to downtown San Jose will offer luxury amenities, including cleaning services, laundry and dog walking, but residents will share a kitchen and living room with at least a dozen other strangers, according to an article in the Mercury News. The nearly 800-unit building is an example of "co-living" — a dorm-like lifestyle where residents sleep in small private bedrooms and share common spaces as a way to keep rents down.
ICYMI: The Southern California housing market has been on a nearly seven-year tear, with prices in many areas reaching all-time highs, reports Los Angeles Times staff writer Andrew Khouri. But now, as mortgage rates rise, the boom appears to be fading. Sales are dropping, inventory is swelling and more sellers are scaling back their ambitious asking prices.
---
Inside the homes of the rich and famous.
Glimpse their lives and latest real estate deals in our weekly Hot Property newsletter.
You may occasionally receive promotional content from the Los Angeles Times.