It's official: Playboy's Hugh Hefner has $100 million and a new landlord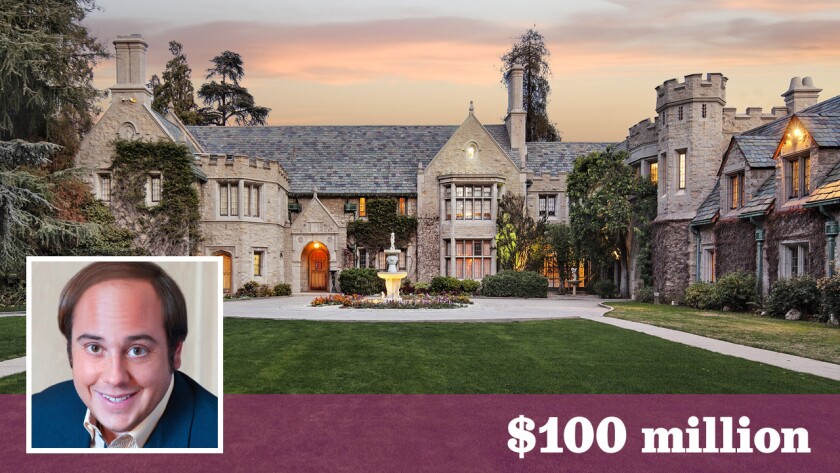 There's a new playboy on the Westside.
Daren Metropoulos, the son of billionaire investor C. Dean Metropoulos and principal at the investment firm Metropoulos & Co., has completed a deal for the iconic Playboy Mansion, according to a release. The longtime Holmby Hills home and workspace of Hugh Hefner, the mansion sold for $100 million, the biggest home sale ever recorded in Los Angeles County.

For the record:
9:35 AM, Aug. 16, 2016
A previous version of this story said that Hugh Hefner would lease the Playboy Mansion for $1 million a year. Playboy Enterprises will pay $1 million a year to lease the property for Hefner for the remainder of his life.
As part of the sale, Hefner will be allowed to remain in residence for the remainder of his life; Playboy Enterprises will pay $1 million a year to lease the property, according to agents not authorized to comment on the transaction. All the statues, gargoyles and arcade games at the mansion were also included in the record deal.
The estate, among the greatest works of architect Arthur R. Kelly, had been listed for $200 million. Playboy Enterprises acquired the five-acre property for about $1.1 million in 1971.
Hot Property | Playboy Mansion
(Jim Bartsch)
Hot Property | Playboy Mansion
(Jim Bartsch)
Hot Property | Playboy Mansion
(Jim Bartsch)
Hot Property | Playboy Mansion
(Jim Bartsch)
Daren Metropoulos plans to reconnect the Playboy Mansion, above, to his estate next door, creating a 7.3-acre compound.
(Jim Bartsch)
Hot Property | Playboy Mansion
(Jim Bartsch)
Hot Property | Playboy Mansion
(Jim Bartsch)
"The Playboy Mansion is one of the most iconic properties in the world and the crown jewel of Holmby Hills and the platinum triangle," Metropoulos said in the release.
"For the last 45 years, Mr. Hefner has imbued the estate with a rich and storied legacy," he said. "The property's heritage is not only that of a famous address; it is a true masterpiece in design, constructed by a noted architect for a family who played an important role in the development of Los Angeles in the early 20th Century."
The 33-year-old Metropoulos, who purchased a property adjacent to the Playboy Mansion in 2009, plans to eventually connect the two estates that abut the Los Angeles Country Club.
A major work of architect Kelly, the stone-lined Gothic Tudor-style home was originally built for department store scion Arthur Letts Jr. in 1927.
The 29-room house includes chefs and catering kitchens, a game room, a wine cellar and a screening room with a built-in pipe organ. Twelve bedrooms are within 20,000 square feet of living space; the master suite spans two floors.
The estate is also among a select number of L.A. homes to have a zoo license.
Park-like grounds feature a menagerie of aviaries and arboretums holding a collection of exotic birds and monkeys. Albino peacocks and other animals are known to roam freely through rolling lawns and formal gardens.
A gymnasium, a tennis court, an orchard, a four-bedroom guesthouse and the infamous swimming pool and swim-in grotto also lie within the property.
Gary Gold and Drew Fenton of Hilton & Hyland, an affiliate of Christie's International Real Estate, and Mauricio Umansky of the Agency held the listing for the mansion. Jade Mills of Coldwell Banker Residential Brokerage represented Metropoulos.
That Metropoulos intends to renovate and restore the mansion to its original form comes as little surprise. The young tycoon, working with his father and his brother, Evan, has a reputation for breathing new life into time-worn brands.
Daren Metropoulos, the 33-year-old son of billionaire investor C. Dean Metropoulos, has completed a deal to purchase the Playboy Mansion.
Two years ago, Metropoulos & Co. sold Los Angeles-based Pabst Brewing Co. for more than $700 million in cash, or $550 million more than what it paid for it in 2010. The firm also co-owns Hostess with Apollo Global Management and has helped to revitalize such snack products as Twinkies.
Perrier-Jouët Champagne, Ghirardelli Chocolate and Bumble Bee Tuna are among the other brands bought and flipped by the firm.
Twitter: @NJLeitereg
MORE HOT PROPERTIES:
The high price of living next door to Donald Trump in L.A.: $30 million
'Brady Bunch' actress Eve Plumb sells the Malibu home she bought at age 11
Actor Jason Segel sells his Los Feliz hideaway for $1.525 million
Jackie Collins' Beverly Hills estate sells for $21 million, and other top sales
---
UPDATES:
9:10 a.m.: This story has been updated with more information about the buyer and Metropoulos & Co.
This post was originally published at 8:05 a.m.
---
Inside the homes of the rich and famous.
Glimpse their lives and latest real estate deals in our weekly Hot Property newsletter.
You may occasionally receive promotional content from the Los Angeles Times.