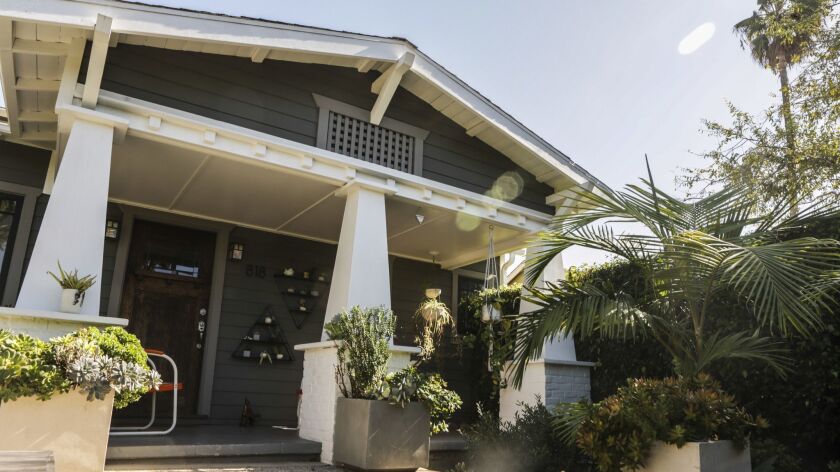 Southern California was just beginning to develop a taste for suburban sprawl in 1923 when an enterprising Venice property owner built a charming Craftsman home using plans and materials purchased from the Sears, Roebuck & Co. mail-order catalog. Or so the story goes.
The beach-area bungalow, which probably cost only a few thousand dollars back then, last hit the market four years ago with a slick sales campaign that included a dedicated website and the claim that the house was one of about 75,000 houses sold by Sears from 1908 to 1940, a contention that has its doubters. The 2014 listing also sported a very modern price: about $2.5 million.
The two-story home, with tapered pillars lining the covered front sitting porch and an abundance of wood trimming inside, provides a window into how the retail giant helped sustain the suburban dream — and how expensive that dream has become.
Now that Sears is stocking its shelves in Bankruptcy Court, it might be difficult to recall that the Chicago merchant once reached across several industries. For decades, customers could open the Sears mail-order catalog and buy appliances, clothing, sporting goods and a house to hold it all.
Using the slogan "Give the kiddies a chance," Sears marketed the pop-up pads to families looking to leave the city.
"For many immigrants and people of color, Sears kit homes were the only way to capture the golden ideal of homeownership," said Rosemary Thornton, who has written several books about Sears and other companies that sold kit houses during the first half of the 20th century. "They opened the doors for people denied by traditional lenders of the day."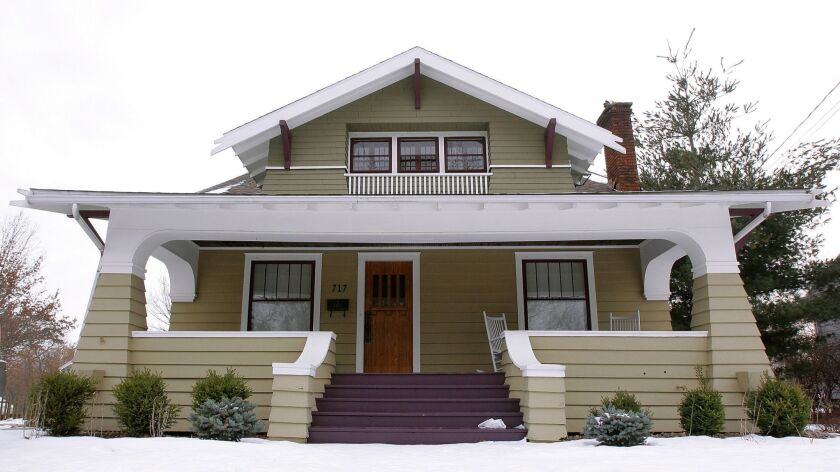 Through its Modern Homes catalog, Sears sold dwellings complete with precut and fitted materials, according to the Sears Archives, and the roughly 370 designs included styles such as English cottage, bungalow, traditional, Cape Cod and Dutch Colonial Revival.
They were shipped from Chicago via boxcar and came with 10,000 to 30,000 pieces, a 75-page instruction book and a promise that "a man of average abilities could assemble a Sears kit home in about 90 days," Thornton said. She noted that about half of buyers built the homes themselves.
"A kit home is a uniquely personal story," Thornton said. "Somebody sat down and pored through a catalog to find the one they liked."
Buyers could choose the floor plans as is or mirrored, and common materials included cypress for the exterior, southern yellow pine for the framing and maple hardwood for the floors.
The purported Sears kit home in Venice, with three bedrooms and two bathrooms, was rehabbed over the years.
Photos from the 2014 listing show a living-dining room with a fireplace that sits under wood coffered ceilings. A stained-glass window touches up the space.
The kitchen holds custom cabinetry and a breakfast nook, and French doors open to a covered patio that adjoins a small lawn. Upstairs, a master suite under vaulted ceilings boasts a fireplace and claw-foot tub.
The home traded hands for $82,000 in 1995 and $600,000 five years later.
In 2001, a fire damaged the second story, and it had to be rebuilt. The renovations must have been a success: The house sold the following year for $825,500.
When the house swapped owners in 2014 after a slight reduction from the listing price, the approximately $2.2-million tab represented a 2,583% jump compared with its price in 1995 — not bad for what started as a humble concoction of pre-proportioned drywall under an asphalt tile roof.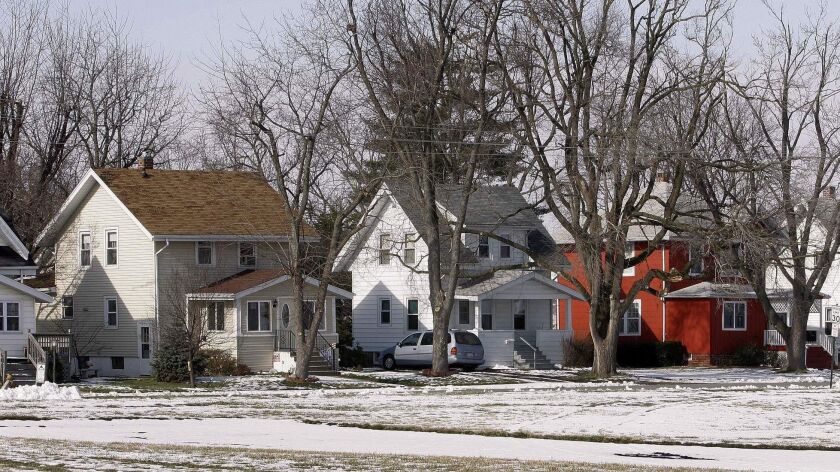 As the value of Sears kit homes has increased, so has the mythos surrounding them. Thornton said Sears destroyed all the sales records in a corporate housecleaning, so the only way to confirm whether a house is a Sears kit home is through an architectural survey.
"The idea of finding a Sears house is very appealing," Thornton said. "Learning the designs and setting out to find them is fun, even perhaps a little addictive."
Of the 31 home plans offered by Sears in 1923, the one in Venice most resembles "The Kilbourne," a two-level Craftsman with a gabled roof and covered front porch. At the time, it was available for $2,554. Oak doors and trim cost $78 extra, but you could knock off $40 if you went without a fireplace mantel.
Sears kit home devotee Rachel Shoemaker, who helps administer a Facebook group on Sears homes, said she has yet to see an authenticated Sears house in California and doubts the Venice Craftsman would make the cut. Such homes are more common in the Midwest, she said, because freight costs to California would have been high and kits were readily available from other companies with mills closer to the area, including Aladdin Co. and Gordon Van Tine Co.
Also, Shoemaker noted, Sears didn't buy the "Craftsman" brand until 1927 and never used it to market houses, only tools and equipment.
"This house is no way a Sears kit home," Shoemaker wrote in an email. "This is not Sears kit home construction and is not Sears building materials. When you do this for as long as I have, you can see these details."
Thornton believes the Venice Craftsman came from a kit produced by Pacific Ready Cut Homes Inc., a Los Angeles company responsible for 40,000 kit homes sold mostly in California, including 20 that once stood on Figueroa Street. The gable's attic vent, she said, is the greatest indicator.
In her search, she's noticed that kit homes often come in clusters. Seeing your neighbors receive tens of thousands of parts and unfurling a massive blueprint on their front lawn surely would pique curiosity.
"It's not just a house. It's Americana," Thornton said of the enduring fascination with kit homes. "It's a story of rugged individualism, of building something with your own hands, of understanding that the work we perform transcends our lifetime."
jack.flemming@latimes.com | Twitter: @jflem94
---