Billionaire investor Thomas Barrack sells his Santa Monica mansion for $34 million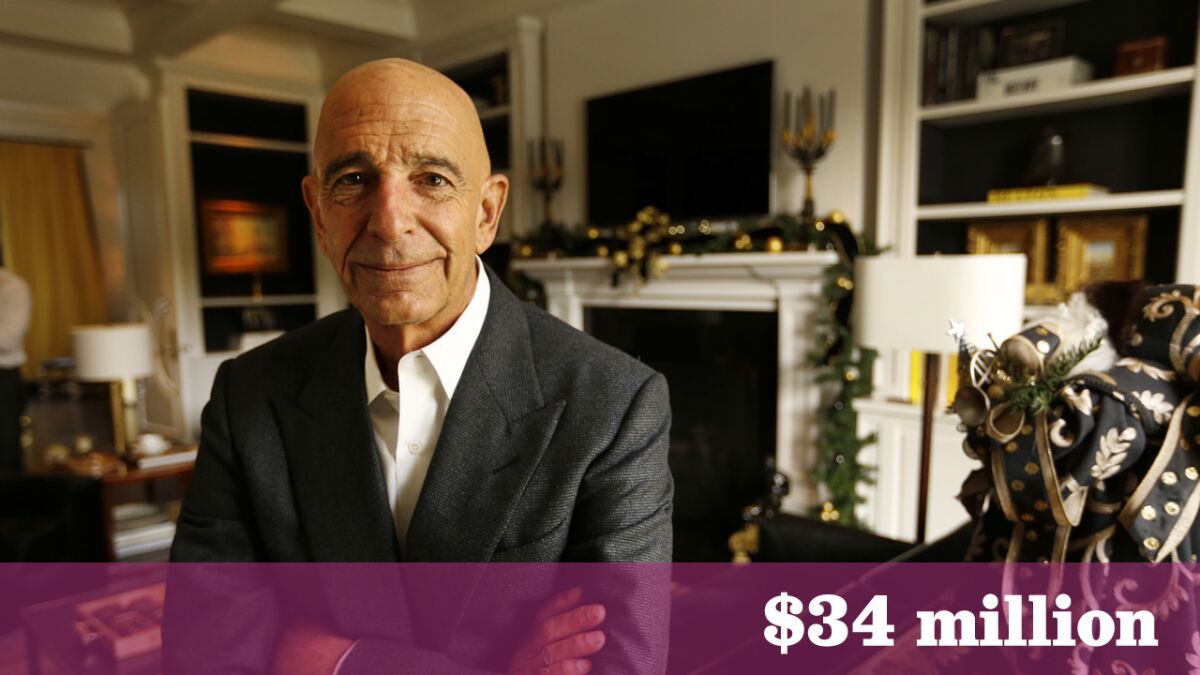 Thomas J. Barrack Jr., billionaire real estate mogul and informal advisor to President Trump, has sold his home in Santa Monica for approximately $34 million, according to real estate sources with knowledge of the sale.
The 23,515-square-foot mansion, designed by architect Richard Landry, briefly appeared on the open market last summer for $46.5 million. It changed hands two months ago in a deal finalized outside the Multiple Listing Service.
The home, built in Neoclassical Colonial style in 2012, boasts such details as scaled formal rooms, an indoor sports court, a professional home theater and a wine cellar. A gourmet kitchen and catering facilities feature Calacatta gold marble countertops. An elevator services each floor.
French doors lead to a covered pavilion with 1,000 square feet of additional living space. A pathway lined with citrus trees leads to the swimming pool and spa. Views overlook the fairways and greens of the Riviera Country Club.
Also on the property is a 5,000-square-foot subterranean garage.
Barrack is founder and executive chairman of Los Angeles-based Colony Capital Inc. The investment giant, which manages more than $60 billion in assets, was consolidated into Colony NorthStar Inc. earlier this year as part of a three-company merger.
A longtime friend to the president, he declined a role in Trump's administration so that "he could serve him better as a friend with 'no skin in the game,'" he told The Times last year.
The real estate investor, through a corporate entity, bought the property three years ago for about $21 million, records show.
Twitter: @LATHotProperty
MORE FROM HOT PROPERTY:
Floyd Mayweather Jr. drops $25.5 million on new mansion in Beverly Hills
Debbie Reynolds' family ranch and dance studio to hit the auction block in October
Montecito home once owned by filmmaker Michael Bay proves a hit
---