Bel-Air's most expensive home sales last year begin with Jay-Z and Beyoncé
Rising to fame in the 1920s as the choice address of the L.A. elite, Bel-Air was originally intended as a "Community of Gentlemen's Estates" by oil tycoon Alphonzo Edward Bell. While many of Old Hollywood's lavish properties are being torn down in favor of modern constructions, the city's glitz and glamour still maintains its iconic reputation.
In 2017, Bel-Air recorded 102 single-family home sales of $2 million, about 40 more sales than the previous year. There were 21 sales of $10 million or more, up from 14 sales in 2016.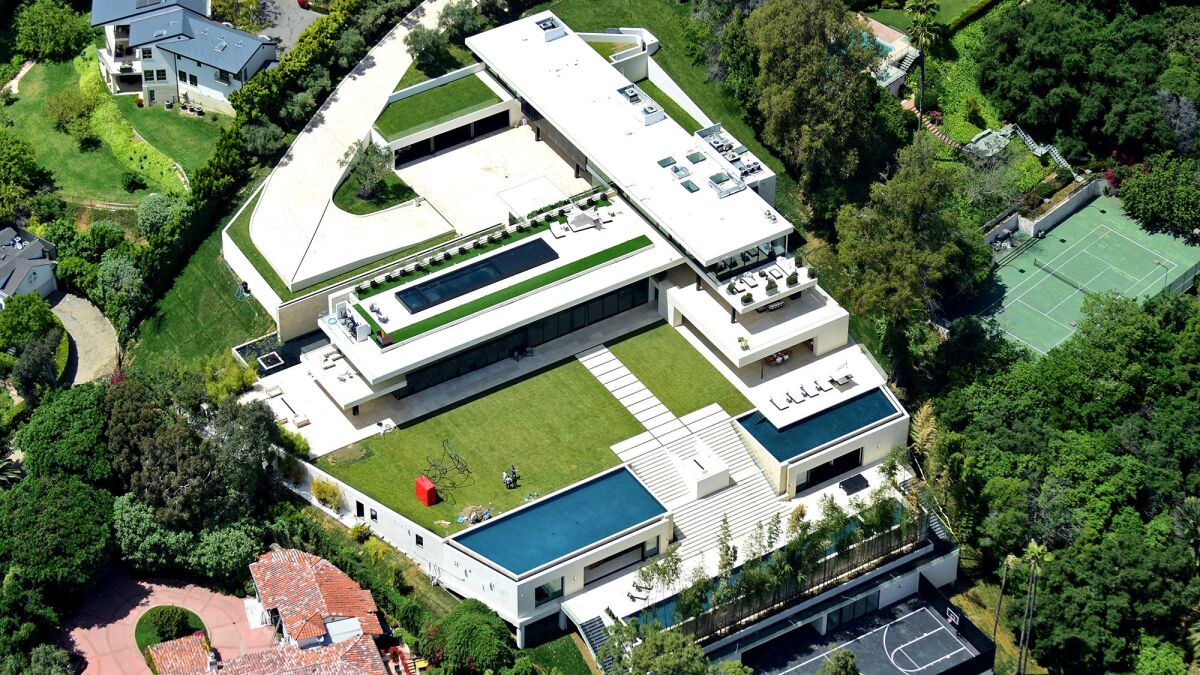 Hip-hop power couple Jay-Z and Beyoncé, who have a long history with the Westside rental market, became new L.A. homeowners in August with the purchase of a newly built mansion on Cuesta Way.
The modern showplace sits behind walls and gates and comprises six structures with about 30,000 square feet of living space. Features of the monolithic-vibe compound include spa and wellness facilities, a media room and four outdoor swimming pools. The windows and pocketing glass walls are bulletproof.
Patios and terraces create an additional 10,000 square feet of outdoor living space. Also within 2 acres of grounds is a full basketball court.
The property, developed by Dean McKillen, was never publicly offered for sale but carried an asking price of $135 million, according to real estate sources.
$41 million — Stradella Road
On Stradella Road, the onetime address of blockbuster director-producer Michael Bay sold in December for $4 million less than the asking price.
Originally designed and built in 1976 by Jack Warner, the modern home was recently renovated and expanded to 15,000 square feet by Saota Architecture.
Within the multilevel floor plan are a designer-decor kitchen, a wine room and a home theater. An indoor wellness center holds massage and steam rooms, a sauna and a gym. There are five bedrooms and nine bathrooms.
The home sits on a roughly 1-acre lot with expansive outdoor living space and an infinity-edge swimming pool. Views from the site take in the Los Angeles Basin, Mt. Baldy and Santa Monica Bay.
James Harris and David Parnes of the Agency were the listing agents. Alexander Tarigo of Rodeo Realty represented the buyer, a corporate entity linked to billionaire real estate developer Jay Paul.
$40.8 million – Delfern Drive
Billionaire investor Nicolas Berggruen in April bought the storied Edie Goetz estate on Delfern Drive from former Northwest Airlines Chairman Gary L. Wilson.
Once owned by Universal-International Pictures President William Goetz and his wife, Edie Mayer Goetz, the Georgian Colonial-style home's grand public rooms were once used to host Hollywood parties with stars such as Judy Garland and Cary Grant.
An Art Deco-inspired library/bar is included in nearly 15,000 square feet of interiors, as well as 11 bedrooms and 14 bathrooms.
Jeffrey Hyland and Drew Fenton of Hilton & Hyland co-listed the property with Aaron Kirman of John Aaroe Group. Linda May of Hilton & Hyland represented the buyer.
$30 million – Delfern Drive
Manny Mashouf, creator of the Bebe clothing brand, sold his estate on Delfern Drive in April for $15 million less than the original asking price, records show.
The 20,000-square-foot estate enters to a two-story foyer boasting 26-foot ceilings. Arched doorways lead to living spaces such as a formal dining area, billiards room and a walnut-paneled wet bar.
The master suite has two fireplaces and two private terraces, for a total of eight bedrooms and 11 bathrooms.
David Parnes of the Agency held the listing. Kelsey Kroon, also of the Agency, represented the buyer.
$27 million ­– Charing Cross Road
In May, film producer Mario Kassar sold a sprawling traditional-style estate that sits across from the Playboy Mansion on Charing Cross Road.
More than two acres of park-like grounds hold multiple lawns and patios, a tennis court and a pool and spa. Inside, nearly 6,600 square feet of living space includes five bedrooms and six bathrooms.
Jade Mills of Coldwell Banker Residential Brokerage was the listing agent. Stephen Resnick and Jonathan Nash of Hilton & Hyland represented the buyer.
$24 million – Bellagio Road
A long brick driveway winds up to this Bellagio Road estate, which sold in November. The Mediterranean-style mansion, built in 1927, had been listed for as much as $25 million, records show.
In the two-story entryway, a dome-topped spiral staircase wraps its way around the room. The than 10,000 square feet of living space includes a terra cotta-tiled living room with beamed ceilings and a wood-paneled family room.
The master suite, one of five bedrooms, features a his-and-hers bathroom.
Richard Ehrlich and Stephen Shapiro of Westside Estate Agency held the listing. Heidi Tabib of Beverly Hills Best Realty represented the buyer.
To read the article in Spanish, click here
Times staff writer Neal J. Leitereg contributed to this report.
Twitter: @jflem94