Architecture series: California Craftsman bungalow tailor-made for SoCal's mild climate, relaxed lifestyle
The house, in Pasadena, is a historical landmark.
(Education Images / UIG via Getty Images)
The Bartlett House in Pasadena.
(Pasadena Heritage )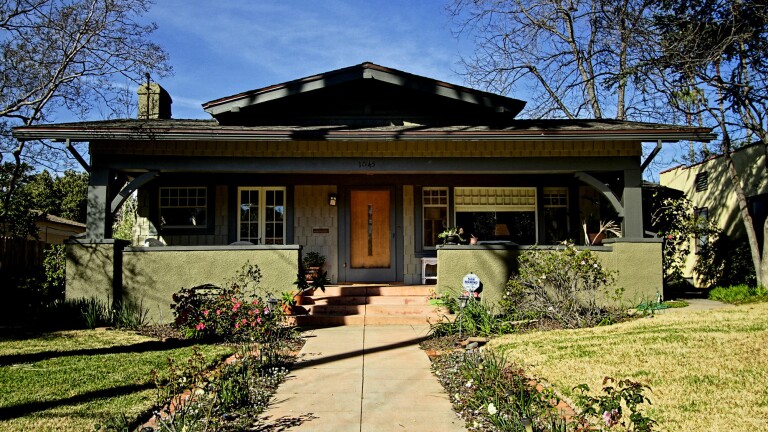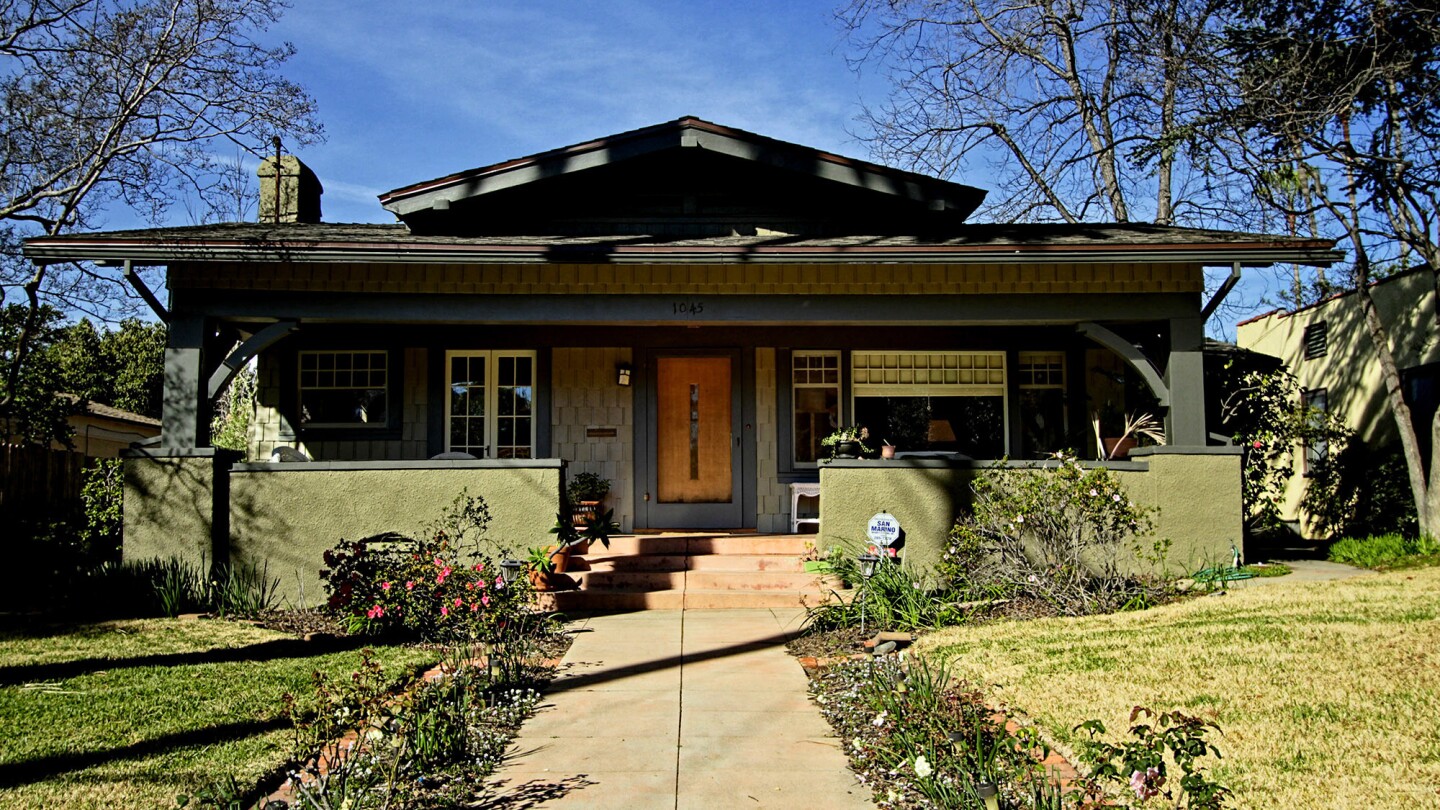 The neighborhood lives up to its name.
(Joaquin Montalvan )
Home tours are an annual event in the neighborhood.
(Joaquin Montalvan )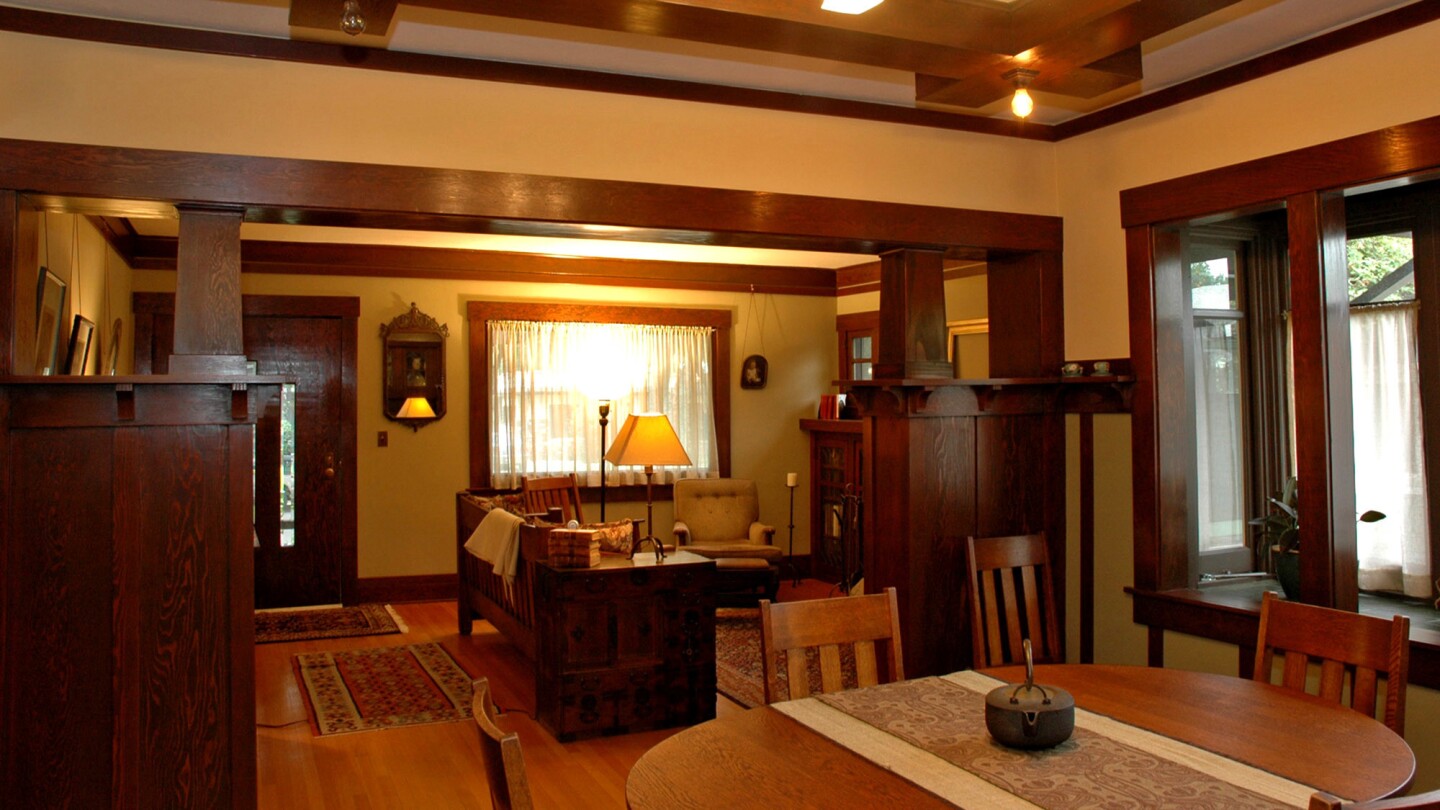 Home tours are an annual event in the neighborhood.
(Bungalow Heaven Neighborhood Assn.)
The Crow-Crocker House was designed by Charles and Henry Greene.
(Dennis Hill )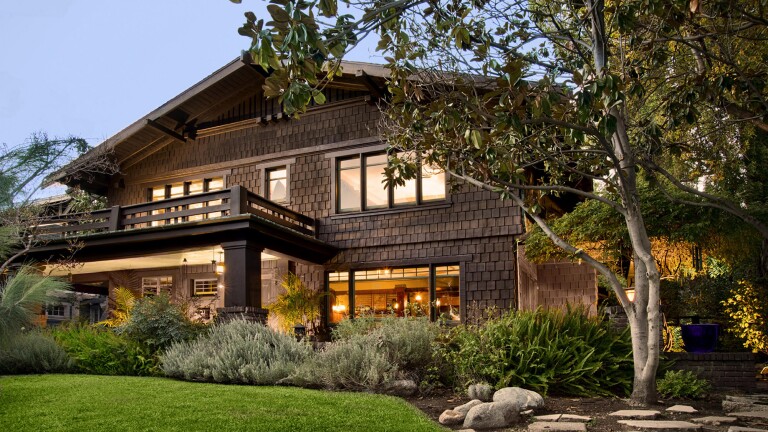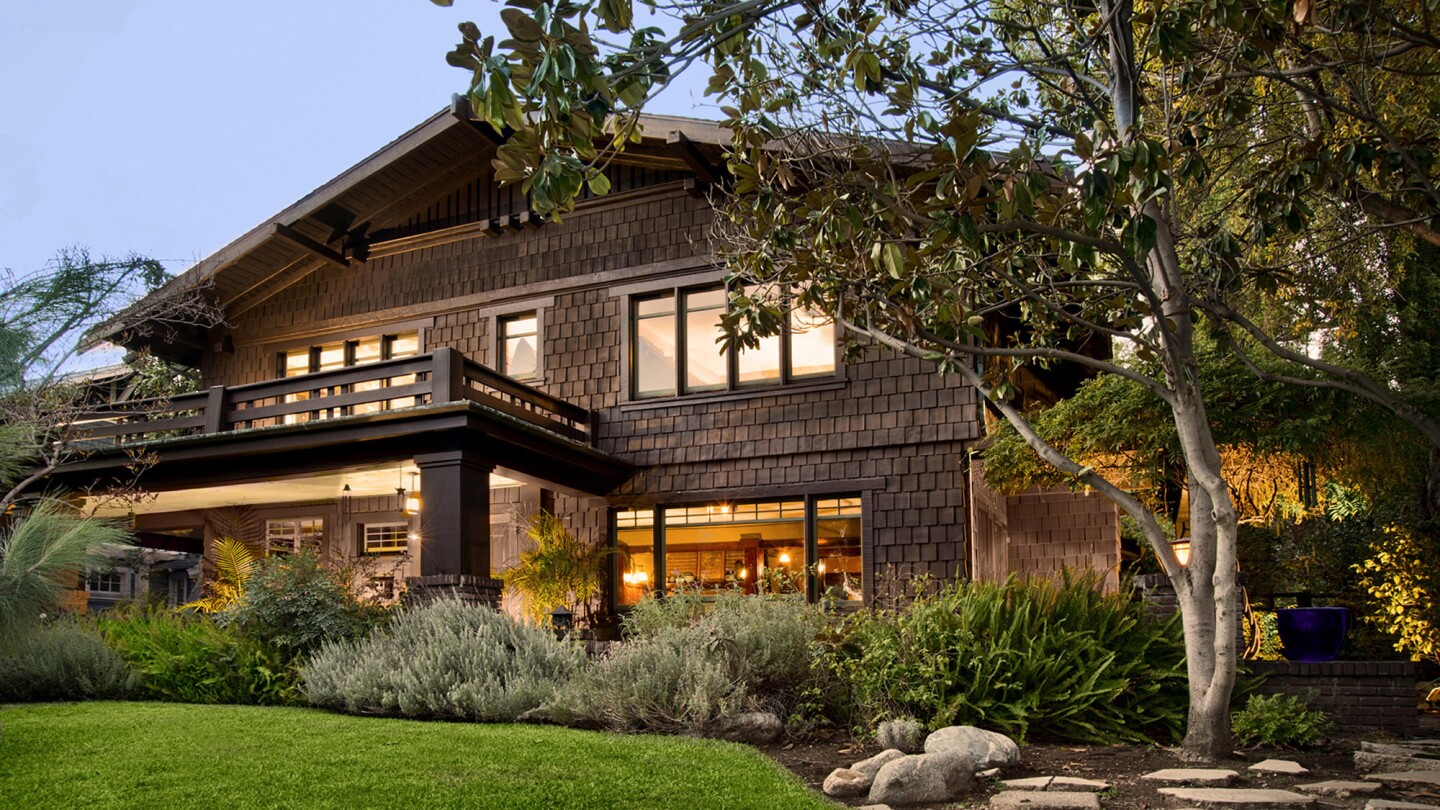 The Billett House is a home tour veteran.
(Dennis Hill )
The Post House has been part of Craftsman home tours.
(Dennis Hill )
The Root House in Pasadena.
(Dennis Hill )
The George and Anna Marston House is in San Diego.
(Allen J. Schaben / Los Angeles Times)
The living room of the George and Anna Marston House in San Diego.
(Allen J. Schaben / Los Angeles Times)
At the beginning of the 20th century, tens of thousands of newcomers from back east arrived in Southern California, looking for a change. Attracted by the climate and landscape, they built homes that embraced their new surroundings.
The California Craftsman bungalow saw its heyday from about 1905 to 1915, when the need for new housing dovetailed with the handmade, back-to-nature ethos of the Arts and Crafts movement.
"It took off here because people who came to California at that time appreciated the more relaxed lifestyle, the climate, the topography," said Edward Bosley, director of Pasadena's Gamble House, the icon of Craftsman architecture. "A fresh architectural style went with that."
Wide, low-slung, gabled roofs emblematic of the style would have groaned beneath snowfall elsewhere, but here they offered plenty of shade for the broad porches below.
The abundant windows also maximized year-round sunny days; sleeping porches were used during summer nights and, in the winter, prominent fireplaces kept the homes toasty. The flow of fresh air and natural light united indoors and outdoors in a way not feasible in most other places in the country.
That blurring also came from the choice of of local materials and finishes: California redwood, river rock from the Arroyo Seco, handcrafted Batchelder tiles from Pasadena, earth tones on painted surfaces and dark natural wood for the rest.
With its exposed beams, rafters and other structural details, the Craftsman's lack of pretension rebuffed fussy Victorian architecture, and the unity with nature and handmade details rejected the cheap mass production of the Industrial Revolution.
"When you walk in, you see there is a lot of handwork in there," said Kevin Doherty, a residential design consultant and lecturer who lives in a 1919 Craftsman in Long Beach. "In the back of your mind it's 'Someone made this, and they put a lot of time into it and a lot of love into it.'"
Brothers Charles and Henry Greene, architects of the Gamble House and numerous other pillars of Craftsman architecture, didn't invent the bungalow style, Bosley said, but "they refined it and really set a higher standard for it."
In addition to millionaires' mansions, they also built modest projects and saw their designs copied, emulated and democratized, from San Diego to San Francisco.
But the style became so popular that Sears, Roebuck and other manufacturers soon began shipping pre-cut bungalow kits by the tens of thousands. Cost-cutting from buyers and builders alike led to cheaper materials, smaller porches and eaves and fewer built-ins.
The style further fell out of favor after 1915, when San Diego's Panama-California Exposition popularized Spanish and Mediterranean revival styles. And after the Second World War, bungalows seemed old-fashioned to home buyers craving modern styles and amenities.
In the 1970s, however — fueled by the counterculture, and a desire to embrace nature and return to handmade things — a renewed appreciation for the Arts and Crafts arose, Doherty said, and people began buying and restoring Craftsman homes. The Gamble House was named a national historic landmark in 1977, and Pasadena's Bungalow Heaven became a historic district in 1989.
"They're substantial, and there's a lot of warmth in those homes," Doherty said. "It's like being wrapped in a real wonderful, old woolen blanket."
Or, as a 1907 essay in the Craftsman magazine put it: "Built to suit the needs of one great section of our country, it has developed a beauty and a charm of its own, and because it is genuine, it will be permanent."
Style: California Craftsman bungalow
Features: Low-pitched, gabled roof; wide eaves covering broad porches and held up by thick, often tapered pillars; exposed beams and rafters; stained wood and earth tones; built-in cabinets and furniture; early examples had shingle siding, then redwood clapboard and stucco became more prevalent
Where to find them: Pasadena's Bungalow Heaven; Long Beach's Belmont Heights, Bluff Heights, Bluff Park, Craftsman Village and Rose Park; Old Towne Orange; West Adams in Los Angeles; Anaheim Colony Historic District
Prominent architects: Charles and Henry Greene, Bernard Maybeck and David Owen Dryden
MORE FROM HOT PROPERTY
T. Boone Pickens lists his massive Texas ranch for $250 million
Guess co-founder Paul Marciano sells Beverly Hills estate for $18.25 million
'American Idol' winner Jordin Sparks lists Hollywood Hills home for $1.85 million
---
Inside the homes of the rich and famous.
Glimpse their lives and latest real estate deals in our weekly newsletter.
You may occasionally receive promotional content from the Los Angeles Times.