Architecture Spotlight: Spanish Colonial Revival evokes L.A.'s golden era
With their red-tile roofs and stucco walls so commonplace that they've become part of the landscape, the homes of the Spanish Colonial Revival tapped the climate, local materials and an idealized view of history to become the signature style of Southern California.
Borrowing from and amplifying the simpler mission style of the 1800s, Spanish Colonial flaunts ornate carvings and plaster work, wrought-iron window grills and railings, and extensive use of tile: terra cotta floors and vivid Malibu or Catalina stair risers, hearths and fountains. The homes embrace the outdoors; even the smallest lots manage to squeeze in postage-stamp courtyards.
The style "seems like the spirit of California," because of its indoor-outdoor harmony — admittedly also seen in Craftsman and midcentury-modern homes — but also because of its nod to regional history, said Kimberly Bahnsen McCarron, a board member of the Southern California chapter of the Society of Architectural Historians.
The genre really took off after 1915, when organizers of the Panama-California Exposition in San Diego chose to build the fairground buildings in Spanish Colonial style. They and their chosen architect, Bertram Goodhue, eschewed Greek or Roman grandeur for the influences of Spain, Mexico and the missions. Within Balboa Park, Goodhue said, they built "a city in miniature … meant to recall to mind the glamour and mystery and poetry of the old Spanish days."
An architecture magazine of the time said the style, though unknown to the rest of the U.S., was "historically and logically appropriate" for the San Diego fair, which more than 2 million people attended.
Then, after a magnitude-6.8 earthquake destroyed downtown Santa Barbara in 1925, city leaders opted to unify the rebuilding in the Spanish Colonial style. Around the same time, San Clemente founder Ole Hanson decreed his entire community would be built that way.
The genre's adaptability contributed to its success, McCarron said. The arches, carved wood and ornate tile at play in mansions or public or commercial buildings could be dialed back for small single-family homes and modest bungalow courts.
When engineer Ramon Grijalva and his wife bought their 1926 Spanish Colonial Revival house in L.A.'s Whitley Heights four years ago, they wanted "something with character, something with personality. We wanted something that said 'L.A.' "
"Every corner that you look at is its own little cameo — barrel ceilings, Juliet balconies. It's just cool," he said.
According to L.A.'s Office of Historic Resources, the ubiquity of Spanish Colonial Revival homes in Whitley Heights — and the cachet of their residents, including Rudolph Valentino, Gloria Swanson and Marlene Dietrich — led to the style's popularity throughout Los Angeles.
The Casa del Prado, along a pedestrian promenade in San Diego's Balboa Park boasts extensive ornamentation. The genre's popularity really took off after a 1915 expo in the park whose buildings brought back the glamour of "the old Spanish days."
(Don Bartletti / Los Angeles Times)
Santa Barbara's mission was built in 1787, but it took a 1925 earthquake for the city to get a Spanish Colonial downtown.
(Wally Skalij / Los Angeles Times)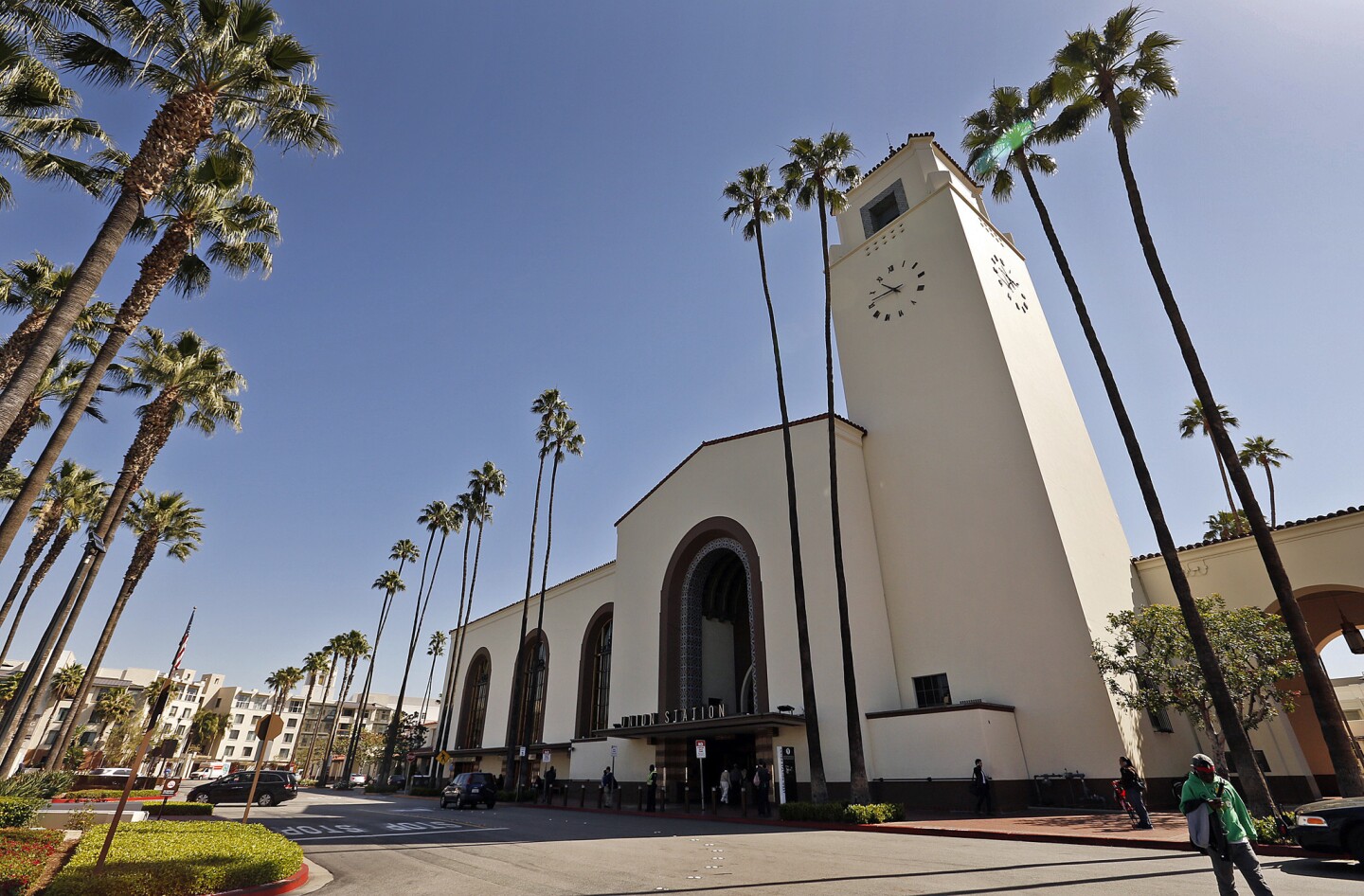 Union Station in Los Angeles was built when Spanish Colonial was in favor. But the style's popularity waned in the 1960s and 1970s.
(Al Seib / Los Angeles Times)
The look spread even farther, conveyed in the stations of the Santa Fe Railway, in evocative orange-crate art, and the Zorro movies of Douglas Fairbanks, said Michael Burch, a La Cañada Flintridge-based architect who specializes in Spanish Colonial. No surprise the style appeared in formerly Spanish Florida and Texas, but Burch said he's even seen it on Cape Cod.
"Spanish Colonial Revival really won the hearts of the people," he said.
"And why not?" he added. "It's deeply romantic."
But after World War II, nostalgia fell out of favor, and in the 1960s and '70s, Spanish Colonial reached its nadir, Burch said, with designs veering toward tokenism and kitsch. In the 1990s, homeowners began to appreciate the old homes once more, and intact versions continue to sell for a premium.
Meanwhile, new developments such as Crystal Cove and Shady Canyon in Orange County sell in the seven figures, or more — nostalgia for the architecture's heyday nearly a century ago, which itself was nostalgia for the days of Alta California.
The popularity endures, said Marcello Vavala, preservation associate with the L.A. Conservancy, because Spanish Colonial Revival echoes not only the heritage of Old California, but the prosperity and glamour of classic Hollywood as well.
"The style as it flowered in the '20s and '30s really became tied to the identity of Los Angeles," Vavala said. "It really harkens back to that golden era in the city's history."
INFOBOX:
Style: Spanish Colonial Revival
Features: Low-pitched roofs of red tile, stucco walls, multi-pane windows, courtyards, wrought-iron fixtures, decorative tile, arched windows or doorways
Places to find them: Santa Barbara, Palos Verdes Estates, Ojai, Rancho Santa Fe, San Clemente, San Marino, Pasadena, Glendale, Beverly Hills, California Heights in Long Beach, and the Whitley Heights, Carthay Circle, Carthay Square, Windsor Square, Spalding Square, Hancock Park, Leimert Park, Hyde Park, Los Feliz and Miracle Mile North neighborhoods of Los Angeles
Prominent architects and builders: George Washington Smith, Bertram Goodhue, Carleton Winslow, Wallace Neff, James Osborne Craig and Mary McLaughlin Craig, Paul Williams, John Byers, Reginald Johnson, Gordon Kaufman, Myron Hunt, J.J. Plunkett, Richard Requa, Winsor Soule, Lutah Maria Riggs, Julia Morgan
MORE FROM HOT PROPERTY:
Dr. Dre picks up a custom estate and studio in Calabasas for $4.9 million
'Lethal Weapon' star Damon Wayans snags triplex in Burbank's Media District
Studio City home where Oscar winner Cuba Gooding Jr. got his feet wet gets new owner
Neutra's Chuey House in Hollywood Hills to be preserved, one way or another
---
Inside the homes of the rich and famous.
Glimpse their lives and latest real estate deals in our weekly newsletter.
You may occasionally receive promotional content from the Los Angeles Times.