Actor Douglas Tait has a thing for monsters — and his backyard gym/party zone
"Hellboy" actor and professional monster Douglas Tait discusses his unorthodox workout routine.
Sporting frightening masks while crawling on the ground like an animal might seem an unorthodox workout routine, but for actor and professional monster Douglas Tait, this is any old day in his backyard.
The expansive space and privacy of his Northridge yard are ideal when preparing for roles such as the boar-like villain Gruagach in the new "Hellboy" reboot (where he wore a 50-pound vest while "pouring in sweat" to train).
"Some of the stuff I do seems so strange and awkward that if I were to go to a park or a gym people would be like, 'What is wrong with this weird guy?'" said Tait, 40. "Here, I'm able to have my own space, the neighbors can't see me, the trees are high and I can just do my thing and not worry about what anyone thinks."
He moved into the 3,600-square-foot home a year and a half ago, and it features a roofed, insulated patio, where Tait reads scripts, and a swimming pool that he and his family enjoy during the summer. Beyond those a trampoline and sports court serve as his main training zone for Animal Flow workouts ("animal movements, cardio and flexibility all in one").
Lemon, orange and avocado trees adorn the fragrant backyard (the orange blossoms are in bloom), and a young magnolia tree holds a special meaning.
"When I was struggling as an actor, I was taking care of my grandpa, and he had this magnolia tree that he loved. When he passed away the huge tree died a year later. So we planted this magnolia tree back here for him," Tait said.
Why is this your backyard so special to you?
It's so relaxing to be outdoors. I don't know if it's the oxygen I'm breathing, but it's just different than being in a house; it makes me feel more creative and I'm able to focus more. Even if I'm not doing work, I just like sitting here and appreciating where I'm at, not only in my career but in life. This space is absolutely zen.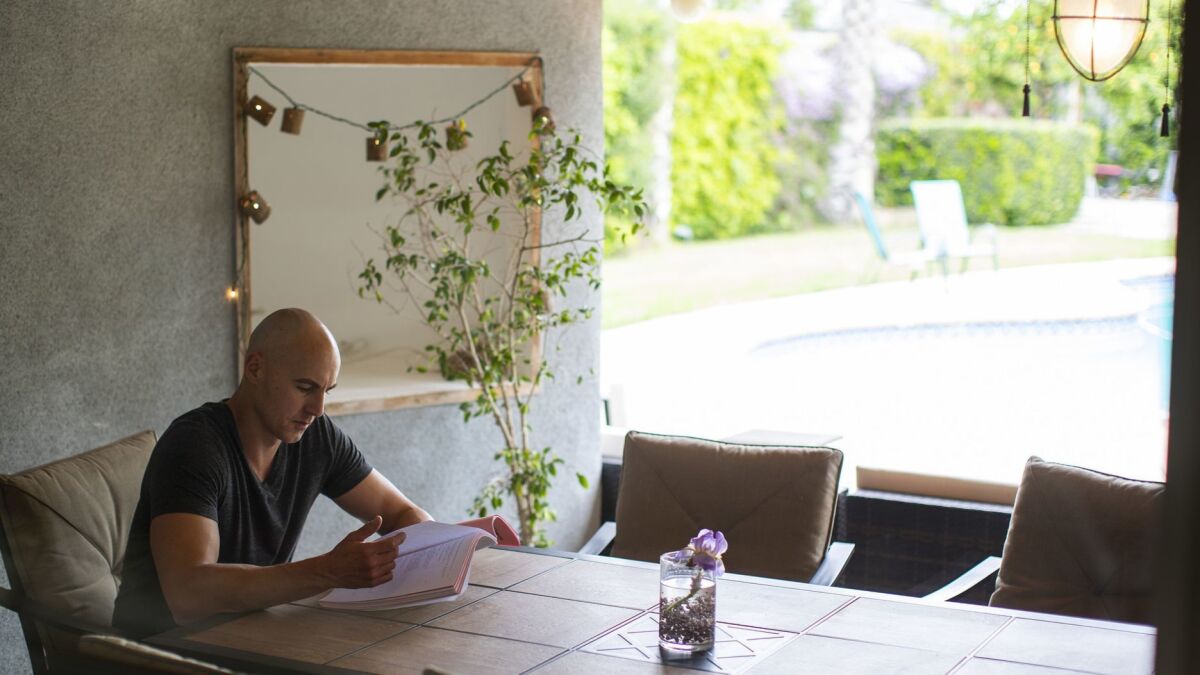 This seems like a great space to have a party too.
Absolutely! We'll have the barbecue going or we'll rent a taco stand. We have the bar area with drinks flowing. When it's hot the fans are going, people are swimming and playing basketball, and kids are on the swing set. You can ride your bike and scooter all around here.
What attracted you to Northridge?
Our last house was nice but it had a tiny backyard. I was an athlete growing up and played outdoors all day long, but nowadays it doesn't seem like kids do that as much. We wanted to be somewhere where we could let them play outside on bikes and play basketball without worrying about kids being safe. One of the reasons we chose the section of Northridge called Sherwood Forest is because they have these homes with circular driveways and huge backyard lots.
How do you use this space to relax?
When it's warm out I like to lay out on the lounge chairs — they're super comfortable — with a ginger beer or a green drink. I do a lot of blended drinks with kale, ginger and bananas. That's a daily thing.
You have some interesting masks in your shed.
I played Jason at the end of "Freddy vs. Jason," so I've gotten a lot of Jason masks that fans and artists made. My buddy Jonathan Fuller made this mask with the hair and veins; it's all hand-painted. When I was 12, I saw Frankenstein at Universal entertaining the crowds and I was like, "I'm going to do that when I'm 16." And that's exactly what I did for 10 years while I was pursuing acting; it was my side job. But that's how I started playing these roles — people knew I was tall, and good in makeup, and hired me. Frankenstein was the character and seed that made it happen. And this is the actual mask; somehow it left the park — I'm not sure how!