'Flip or Flop' star Christina Anstead's triple threat: new house, show and husband
HGTV "Flip or Flop" luminary Christina El Moussa has a new show, a new house and a new husband: British TV star Ant Anstead — and yes, the couple's December Newport Beach wedding brought forth a new name. Make that Christina Anstead.
Anstead weathered a tabloid-splashed split with "Flip or Flop" co-star husband Tarek El Moussa in 2016; the couple divorced last year. Still, the exes forged ahead to film their popular show's eighth season; it airs this summer. Anstead's new show, HGTV's design-centric "Christina on the Coast," premieres May 23.
The show features remodels in Anaheim Hills, Costa Mesa, Fullerton, Tustin and Huntington Beach. The season also includes a backyard makeover of the Ansteads' new four-bedroom Newport Beach home, purchased last year for a reported $4.1 million.
The Ansteads have children from their previous marriages and are expecting the birth of a boy in September.
Have you recovered from the sticker shock of moving from Yorba Linda, where you shared a home with your ex, to pricey Newport Beach?
About the same type of house you can get in Yorba Linda is about double the price in Newport. Inventory was pretty low and people were not being very negotiable. I was definitely getting frustrated.
Open floor plans rule — but we understand your new home felt a bit too … spacey.
The floor plan was so extremely open. It felt too echoey, too empty. It didn't feel homey enough. I've never closed up a floor plan, but we closed up parts of it. I closed up the kitchen and added a large refrigerator where there was an opening that went to an office. In the master bedroom, there were so many doors that I ended up closing off a set of French doors. And there was a loft, and I closed that up too and added a wall there.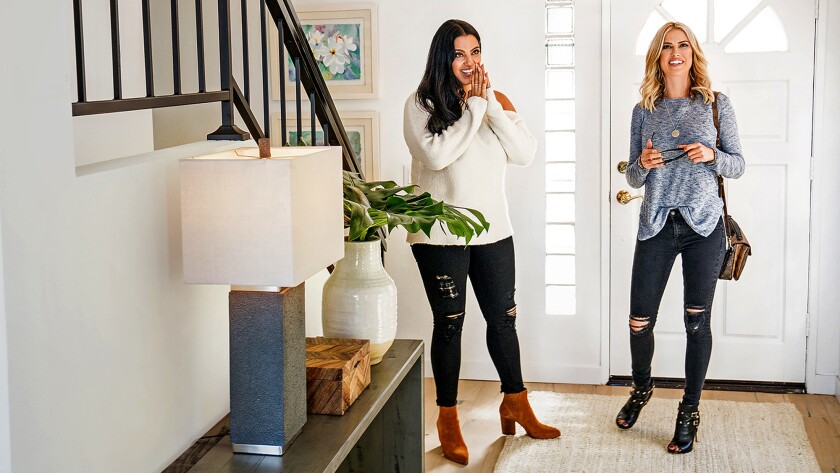 How has your design style, which you've described as "California contemporary," evolved?
On "Flip or Flop" this season we used so much cement tile, which I was really into a couple of years ago. But now I feel I used too much and I'm kind of steering away from it. I feel like I used so much gray in the past. Now, I'm leaning more toward light woods, more of a teak color — because I used a lot of gray, and people know that.
You're also known for loving black — your Yorba Linda house had an all-black kitchen. For the timid, what are some tips for exploring black?
On the show, we just did black lowers and white uppers [on kitchen cabinets], so you don't feel it's too much black. You could incorporate it in a backsplash or just accessorize with a lot of black — black cutting boards or plates and then a lot of greenery. I think that's really pretty and classic.
Your renovation budget for your Newport Beach home is no doubt large. One study found that people regretted not spending enough on remodels.
That's something I've seen a lot in flips — not going the extra mile. People do regret that. I'm doing my backyard right now and there's a yard specialist. Trust me, there's things that I'm like, "Oh gosh, really? That much for these new plants?" But at the end of the day, if I don't do it, I'm going to wish that it looks more lush. It costs a lot of money and hurts at the time, but I'm going to be happy I spent it.
Regret can also stem from being swamped by a glut of product choices, even for pros. How do you deal?
I walk into stores and I see the same tile in 16 patterns. Instead of getting lost in it, I just focus right away — like right away. What's my first instinct? What jumps out at me? And then I just pick it and go. I don't linger. You can start second-guessing yourself. Don't overthink it because that'll make you crazy.
---
Inside the homes of the rich and famous.
Glimpse their lives and latest real estate deals in our weekly newsletter.
You may occasionally receive promotional content from the Los Angeles Times.