Meet a new breed of hipsters: flipsters, millennials who flip homes
Thomas Bayles, left and his business partner, Alan Quach, at one of the properties they're renovating.
(Ricardo DeAratanha / Los Angeles Times)
Quach in the Neal Drive property.
(Ricardo DeAratanha / Los Angeles Times)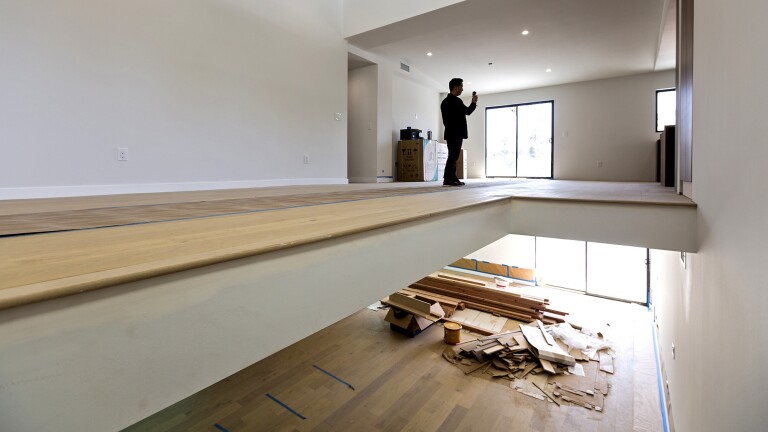 Bayles at the Neal Drive property.
(Ricardo DeAratanha / Los Angeles Times)
The backyard pool at the Neal Drive property.
(Ricardo DeAratanha / Los Angeles Times)
That ever-present real estate breed, the home flipper, has spawned a new progeny: flipsters, or hipsters who flip homes — often to a hipster market.
If you picture millennial flippers wearing flannel and pork pie hats as they peer through ironic eyewear at fixer-uppers, that might be a fairly accurate — if stereotypical — summation of the group that's finding its niche in real estate.

For the record:
10:04 p.m. May 16, 2019An earlier version of this article said Thomas Bayles previously worked as a loan officer. He still works as a loan officer.
Paul Habibi, a professor at UCLA Ziman Center for Real Estate, said he's seeing a growing number of flipsters.
"In my classes, I always talk about 'eating your own cooking,'" Habibi said. "It's easier to design something that's palatable to both you and the end user. Hipsters know what other hipsters like best."
Think of hipsters as updated 1940s hepcats or '50s beatniks: youth who favor a style and sensibility found outside the cultural mainstream (stereotypically beards, obscure music and bicycles in car-smitten Los Angeles).
Since 2013, Alan Quach, 28, has flipped about a dozen homes in the L.A. area with his high school friend Thomas Bayles, 30. Their flips take from four to six months to complete, with sale prices ranging from $750,000 to $2.4 million.
The duo's home buyers are all millennials, said Quach, qualifying his team as purebred flipsters.
Though Quach, whose success with Bayles now includes new builds as part of their company, Urban Asset Group, notes: "I wouldn't say I'm hip."
These flipsters — who also include older flippers who deal in hipster-centric neighborhoods — are rousing today's market with more than a cheeky name. There's a flipster aesthetic that begins with a home's (literally) flipped fence. Instead of a traditional vertical fence, flipsters are said to favor horizontal board fences that boldly box in frontyards.
"That immediately identifies a house — OK, someone has come in and hipsterized this," said David Raposa, who heads Los Angeles-based City Living Realty. It's a way for flipsters "to put their stamp on a house, a kind of advertisement for buyers who can then expect an upgraded, hip house."
Flipster Sheena Schwartz has put in three horizontal fences out of the four homes she has flipped that included new fences. "I like the continual clean, crisp line," said Baldwin Vista-based Schwartz, who began flipping in 2014.
Schwartz, 36, has flipped five homes; her just-sold 1920s Spanish Jefferson Park flip is her biggest success to date. She bought the home last June as a duplex for $490,000, invested $200,000 in converting the property into a single-family 2,200-square foot residence and sold it for $940,000.
"In my opinion, it was uninhabitable," Schwartz said of the duplex, citing an aboveground sewer pipe that traversed the backyard to an illegal bathroom. She tore that out, along with interior walls, gracing the new home with an "organic modern look" that blends pervasive white interiors with warmer wood accents.
Quach and Bayles favor a "transitional style" (sans the flipster fence), blending elements of "super-modern, contemporary and traditional" in their flips.
All three flipsters source their looks through Pinterest boards and home design sites. Designs are skillfully executed by trusted contractors — Quach quickly burned through his first contractor and needed to redo some features. "You learn by making mistakes," he said. "At first it was trial by fire."
The trio of flipsters borrowed money from family for their initial flips, covering 20% of total costs; they've used hard-money loans for the bulk of financing.
Excellent industry networks help the flipsters lure cash-rich young buyers.
Schwartz got her start in late 2010 "scraping paint off windows" for a real estate developer. She became a flip project manager within six months. Bayles is a loan officer who is well-connected to Realtors, which helped him and Quach launch Urban Asset Group.
And, of course, flipsters have plenty to work with in Southern California.
Flipsters, and their hipster clientele, key to locales where they can find stocks of older, cheaper homes in highly urban areas — perfect for young buyers who disdain long commutes. Those neighborhoods include among others: West Adams, Mid-City, Baldwin Hills, Jefferson Park, Baldwin Hills, Atwater Village, Echo Park, Silver Lake, Chesterfield Square, Historic Filipinotown and Vermont Knolls.
MORE FROM HOT PROPERTY
Traditional house takes its cues from East Coast design
Fashion designer Jeremy Scott lists Outpost Estates spread for $1.875 million
Grand Pasadena estate was home to one of Hollywood's first female talent agents
---
Inside the homes of the rich and famous.
Glimpse their lives and latest real estate deals in our weekly newsletter.
You may occasionally receive promotional content from the Los Angeles Times.