Crooner Tom Jones is singing a seller's tune in gated Mulholland Estates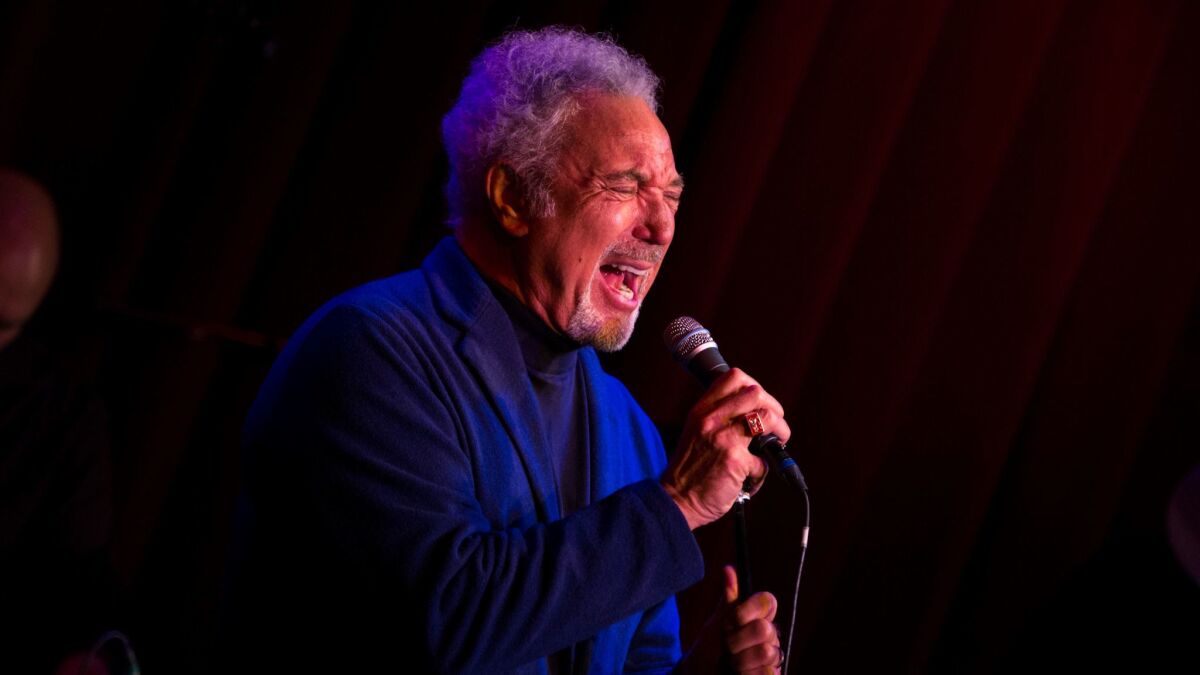 It's not unusual, really, but Tom Jones' contemporary Mediterranean-style villa is grand and takes in awe-inspiring views of Mt. Baldy and the cityscape. The singer-entertainer's home is on the market in Sherman Oaks for $8 million.
First shopped off-market, the towering gated and walled house features a two-story entry with a skylight and curving staircase. French doors open to a loggia for alfresco dining. The media room has a drop-down screen. There are also five bedrooms, a wood-paneled library and five bathrooms in the 8,146 square feet of living space.
A swimming pool, where he no doubt kept up his perpetual tan, and lawn complete the more than half-acre of grounds.
Jones, 76, has been a force in the music scene for six decades. Among the sexy baritone's hits are "It's Not Unusual," "What's New Pussycat" and "She's a Lady." He is a coach on "The Voice UK."
The Grammy winner bought the property in 1998 for $2.65 million, public records show.
Joyce Rey of Coldwell Banker and Cecelia Waeschle of Sotheby's International Realty are the listing agents.
Sports pundit exits with a bang
Take note, clones: Sports talk radio host Jim Rome has sold his home in Irvine for $12.5 million, a record for the Orange County community, property records show.
At the end of a private drive in Shady Canyon, the roughly 1-acre property takes in city, golf course and mountain views and includes a sprawling villa of 12,300 square feet, an attached pavilion and a saltwater swimming pool.
The three-story house, built for Rome in 2007, features an elevator, a wine cellar and a wood-paneled lounge that contains a game room, a gym and a speak-easy-style bar. A pair of executive offices sit within a dedicated wing, and there is tiered seating in the theater room. There are six bedrooms and 8.5 bathrooms in all.
The home had been listed for $13.995 million since it came to market last year. The sale bests the previous price record for a single-family home in Irvine. That record was set by another Shady Canyon estate, which changed hands in 2009 for $10 million.
Jacqueline Thompson of Surterre Properties was the listing agent. Virginia Alspaugh of Alspaugh Properties represented the buyer.
Rome, 52, has been a mainstay on radio airwaves since the mid-1990s with "The Jim Rome Show." More recently he hosted the premium-cable sports-talk series "Jim Rome on Showtime" from 2012-15.
Coupling up in Hollywood Hills
"Grimm" costars David Giuntoli and Bitsie Tulloch, who are engaged to wed this year, have found their marital home in Hollywood Hills. The couple recently paid $1.94 million for a Spanish-style spread that was once owned by Oscar-winning filmmaker Jana Sue Memel.
Tucked behind hedges and gates, the 1920s home boasts such details as original hardwood floors, arched windows and an artistic Batchelder-tile fireplace in the living room. Pastoral hues lend a country note to the kitchen, which has a backsplash of subway tile and an island/bar.
Period tile sets off the three bathrooms, which have been updated with new cabinetry and countertops. A total of seven bedrooms lie within more than 3,500 square feet of interior space.
Lawns, mature trees and drought-tolerant landscaping fill the grounds.
Andrea Thompson of Rodeo Realty was the listing agent. Karen Lower of Compass represented the buyers.
Giuntoli and Tulloch wrapped up production on "Grimm" in March after six seasons on the supernatural series.
The 36-year-old Giuntoli last year appeared in the film "13 Hours" and has a part in the upcoming TV movie "Mission Control." Tulloch, 36, has credits that include the 2015 drama "Concussion" and the Oscar-winning silent film "The Artist" (2011).
All in the NFL family
Kyle Shanahan is busy putting his stamp on the 49ers roster as its new head coach, but earlier this year he was making another move of sorts. A limited liability company with ties to Shanahan was the buyer of Trent Dilfer's Saratoga home, which sold in March for $6.775 million.
The property had been priced at $6.998 million and went from listed to closed in just over a month.
The Spanish-style home, built in 2006, sits at the end of a tree-lined drive. The property, which is more than an acre, has a swimming pool, a boccie-ball court and a small vineyard.
The 5,460 square feet of living space includes formal living and dining rooms, a wood-paneled office, a center-island kitchen, five bedrooms and 5.5 bathrooms. There are two craft/project rooms and family rooms on both floors.
Edward Graziani of Sereno Group was the listing agent. Melanie Ventura of Better Homes and Gardens Real Estate represented the buyer.
Shanahan, 37, is the son of former Broncos and Redskins head coach Mike Shanahan. He joined the 49ers as head coach this year after two seasons as offensive coordinator for the Falcons.
Dilfer, 45, was among the on-air talent let go from ESPN during last month's layoffs. The former NFL quarterback, who won a Super Bowl with the Ravens in 2011, spent nine seasons covering the NFL for ESPN.
Another star turn in Studio City
Miles Teller of "21 & Over" and "Fantastic Four" fame has shortened his commute to the studio lots, buying a newly built home in Studio City for $3.075 million.
The Spanish-inspired two-story with a swimming pool was developed by Jon Goldstein, a Sherman Oaks, Studio City and Encino home builder who once estimated that 60% of his homes sell to celebrities. Two years ago True Religion co-founder Kym Gold paid $6.3 million for her Goldstein-built home. Loni Anderson and Rodney Carrington are others to have owned homes by the builder.
The home Teller bought has all the fixings for a young Hollywood star. A screening room, a temperature-controlled wine wall and an over-the-top kitchen are among the amenities. The master suite has two walk-in closets and a fireplace, for a total of five bedrooms and 5.75 bathrooms.
Avi Barazani of Coldwell Banker Residential Brokerage was the listing agent.
The 30-year-old Teller has credits that also include "Project X," "Whiplash" and "Allegiant." He is set to appear in the upcoming films "Granite Mountain" and "Thank You for Your Service," due out this year.
He's tackled this sale
Former NFL linebacker and Super Bowl champion Nick Barnett has sold his home in Carlsbad for $2.2 million.
The traditional-style two-story was remodeled during Barnett's ownership and features vibrant wallpaper in the entry, distressed wide-plank floors and modern fixtures. A broad center island topped with polished concrete is among additions to the chef's kitchen.
Former NFL linebacker Nick Barnett has sold his home in Carlsbad for $2.2 million.
The master suite sports a glass-enclosed shower, a claw-foot tub and a wet bar. A total of six bedrooms and six bathrooms lie within the 6,053 square feet of living space.
Outdoors, grounds of about half an acre include a gazebo, various patios and a swimming pool and spa. Views from the site extend from the nearby La Costa Golf Course to the Pacific.
Steve Lincoln of Lincoln Realty Group, a partner with Windermere Homes & Estates, was the listing agent. Bryce Lucore of Klinge Realty repped the buyer.
Barnett, 35, played for Green Bay, Buffalo and Washington over the course of 11 NFL seasons. The former Fontana A.B. Miller High School student spent the majority of his 11-year career with the Packers, earning All-Pro honors in 2007.
He bought the house, built in 2001, three years ago for $1.9 million.
Twitter: @NJLeitereg