Incubus frontman Brandon Boyd finds peace in his yurt
Brandon Boyd, singer, songwriter, musician, author, and visual artist best known as the lead vocalist of the multi-platinum rock band, Incubus, in his yurt where he creates his art and music.
(Kirk McKoy / Los Angeles Times)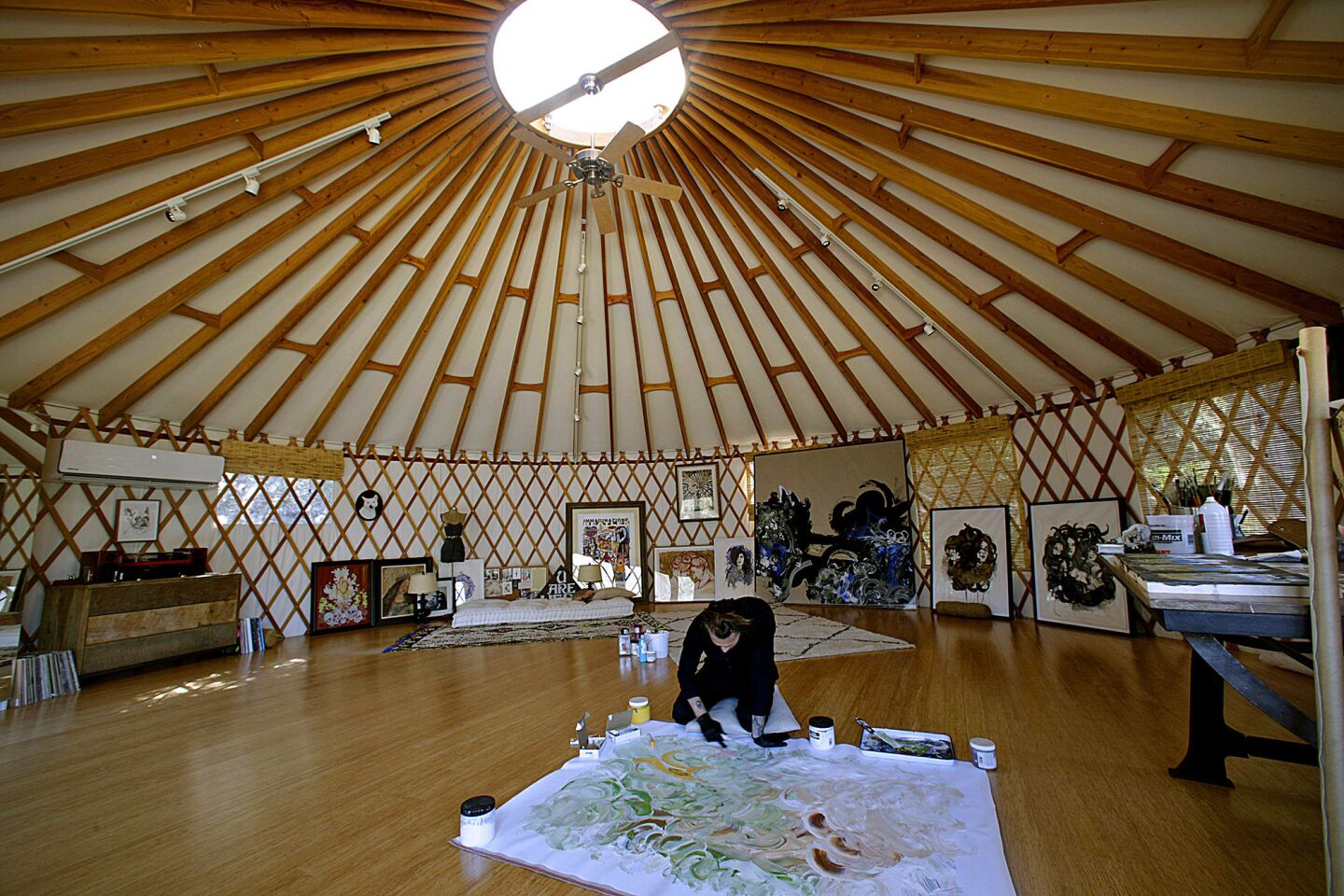 Incubus frontman Brandon Boyd in his yurt
(Kirk McKoy / Los Angeles Times)
Paintings by Incubus frontman Brandon Boyd in his yurt
(Kirk McKoy / Los Angeles Times)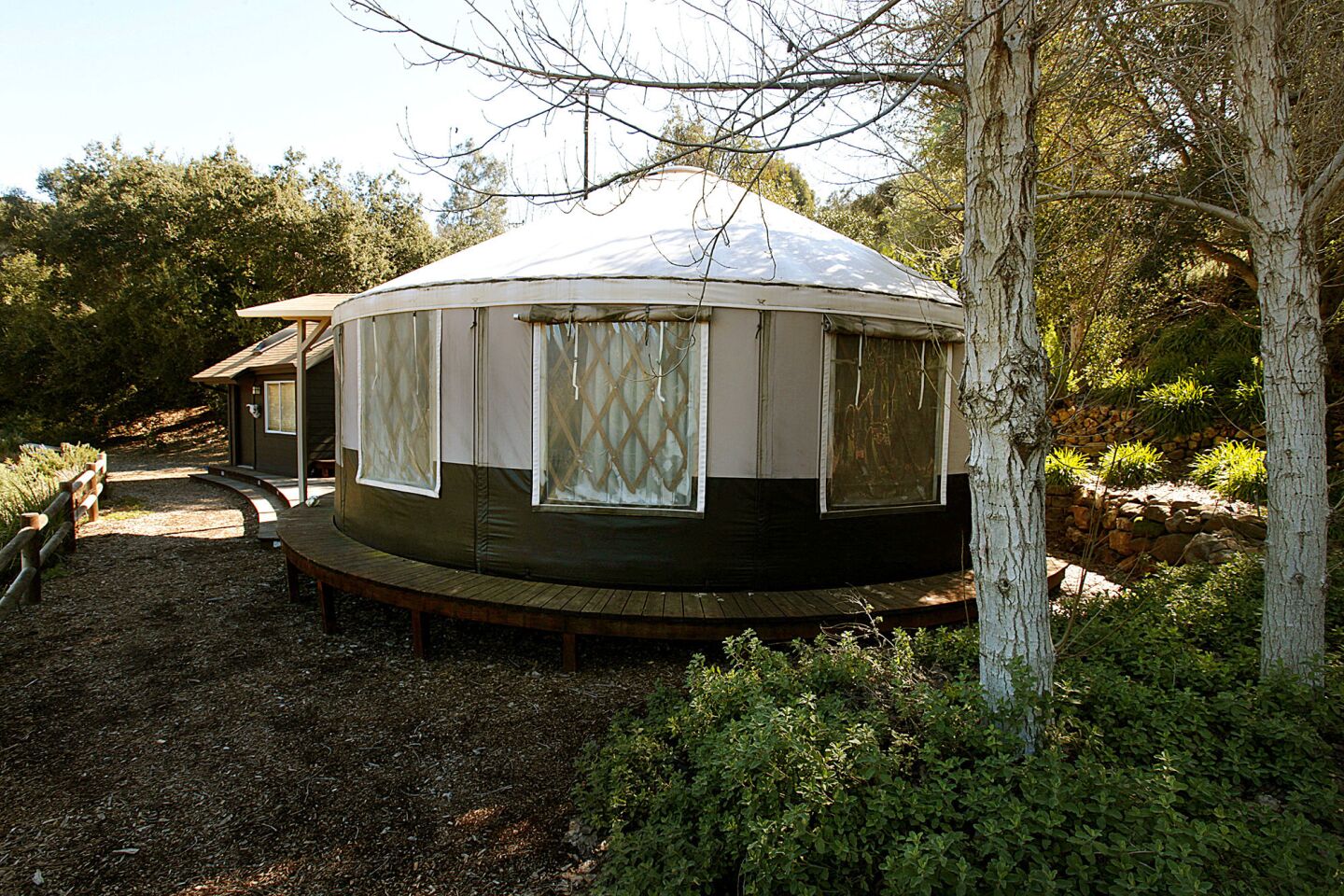 Incubus frontman Brandon Boyd's yurt in the Santa Monica mountains
(Kirk McKoy / Los Angeles Times)
Surrounded by three acres of private wilderness in the Santa Monica Mountains, Incubus frontman Brandon Boyd escapes to his 600-square-foot yurt to paint and commune with nature.
To retreat from the structure, goals and associated "group ritual" of making music, the singer created an environment devoted to "activity that is pointless, aimless and intuitive."
Yet, not always aimless — many paintings do leave the canvas yurt to be sold. And he turned a series of watercolors into what he called an "opti-mystic" card-matching game, called "Two Doors/Deux Portes," which he released March 30.
The real objective of his painting, he said, is "to let go into the process, and if something beautiful comes of it, that's an amazing reward — like you've been given a gem from your expedition, but the search for the gem is not necessarily the point."
Inside the circular structure, which is supported by lattice walls and wood rafters, jars of green and earth-toned acrylic paint surround a 45-by-20-inch canvas, spread across the hardwood floor.
"The amount of space afforded to me in this room has changed the way I paint, because it's given me the chance to roll out unstretched canvases on the floor, sometimes in very large ways," he said, applying wave-like strokes of white acrylic pen to the base color.
The yurt is located down a dirt pathway from his main house, surrounded by trees, a babbling creek and a cliffside waterfall. Boyd, 43, said a bobcat visits nightly, while birds and frogs chatter their own music.
"The biophony that exists out here at all times is incredibly inspiring to me," he said. "It has a tendency to inform my process in really special and unique ways."
Why is this yurt so special to you?
I've always been fascinated by yurts, maybe because they're sort of synonymous with a wilderness life. Also, I've never had a space that was this large to paint in. Before, I was always working on a table, or an upright pre-stretched canvas, but there was always something kind of uncomfortable about that for me. So I stopped trying to overthink it and just decided that maybe I'm better at what I do when I'm pointed down.
Do you have a favorite object in here?
That wood triangle that says, "U Are Here." A good friend of mine named Zen painted it; it was above his shop in Santa Monica for a few years. I've always loved the simple sentiment. You look at it and think, "That's right, I am right here, where else would I be?" I'm probably going to hang it above the door at some point.
Do your dogs enjoy it in here?
They do, as a matter of fact. Bruce (a French bulldog) is 14 and has been around the block a few times — he kind of stays away from my art. Billie, the new puppy, is a chihuahua and pug mix (a rescue from Love Leo Rescue) and has no fear of painting, art or the process. There are probably six or seven large paintings that all have her fur and footprints on them, but unless it's, like, freshly wet paint, which is going to track on the floor, I don't really stop her. I think it's kind of funny.
Describe a perfect moment in here.
Last night I was in here, the sun was fully down and the door was open and you could hear the sound of the creek, the frogs and the pitter-patter of wildlife around. There are moments where I stop painting and perk up and listen. Those are some of the most peaceful moments that I could recall. I enjoy lots of complex things and activities in my life, but some of the things I gravitate toward the most, that bring the most happiness, are simple moments like that.
ALSO
---