Matt Leinart's journey from finding open receivers to open houses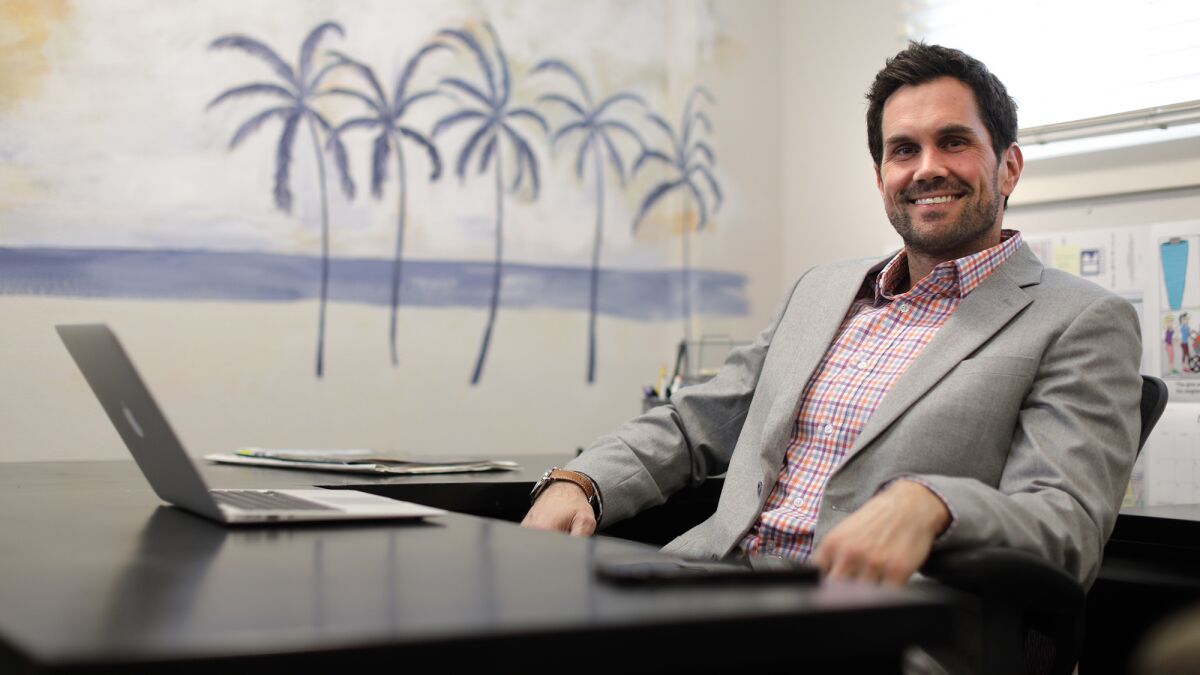 After leaving the NFL, Matt Leinart did what a lot of retired athletes do: He became a television sports analyst.
That's still his weekend job at Fox during football season, but now he's trying his hand at something a bit further afield. Last April, he passed his real estate exam on the first try and became a licensed agent.
"Every year, I make it my goal to learn something new, but I never end up sticking to it," said Leinart, 34, recalling failed attempts to learn the piano and perfect his golf swing. After his mother, Linda, died of leukemia in January last year, he vowed to break out of his comfort zone.
"Part of my healing process was accomplishing something that she'd be proud of," he said.
Leinart isn't the first athlete to dabble in real estate. Former MLB second baseman Adam Kennedy works as a real estate advisor in Newport Beach, and former NFL defensemen Monty Beisel and Morgan Trent are active agents in Beverly Hills.
The second career enables former athletes, comfortable with cutthroat deal-making and big monetary figures, to use their connections and flex their competitive spirit.
Leinart, the former USC star quarterback, is part of the four-person team of Schneider Properties in Manhattan Beach, where he has lived for nearly a decade.
"My ties to this city help," said Leinart, who has been longtime friends with Nick and Chelsea Schneider, the team's founders. "I'm active in this community. I coach my son's baseball team here."
That, combined with his celebrity status in L.A., has gotten his new venture off to a promising start. He's still chasing his first solo sale but has closed on a handful of homes alongside his team.
Leinart said he sees himself as someone who can use his experience as an athlete and a South Bay resident to better inform home buyers.
"Between the Rams, Chargers and the new soccer stadium coming in, I'd love to be an ambassador for athletes looking to buy a home, since I've been in the same shoes," Leinart said.
He added that the frenzied L.A. housing market provides plenty of opportunities. Now, instead of analyzing defenses and finding ways to score, he's analyzing homes and finding ways to sell.
"In both worlds, you get out what you put in," Leinart said. "In real estate, if you're hustling and maintaining a good work ethic, you'll get deals."
He admits that the learning curve is steep. He has spent days shadowing the team's other agents, figuring out the right lingo, questions to ask and people to know.
He equated the process to memorizing a playbook.
"To an outsider, understanding an NFL playbook is like trying to read Japanese. After spending so much time with it, though, I can read it like the back of my hand," Leinart said. "Learning the intricacies of the real estate industry is the same."
During open houses, Leinart pays careful attention to which questions are most common. That way, when a future buyer asks about the type of roof, or what tops the counters in the kitchen, he'll be prepared.
"I walk into the office like a sponge, absorbing knowledge and taking criticism," he said.
Unique challenges present themselves every day. The nuances of contracts and contingencies can be difficult to nail down. People show up to open houses more interested in grabbing a photo with him than exploring the home.
With the college football season concluded, he's had more time to get a grasp of things, scheduling time for meetings, open houses and private home showings.
"Every day is different in real estate, which is why I love it," Leinart said. "The job gives me flexibility, so I'm still trying to perfect the balance."
As of now, Leinart still loves his career at Fox and has no plans to abandon broadcasting. He's simply treating his foray into real estate as a chance to learn and grow.
Whether his future will find him one day selling homes full time, Leinart isn't sure. For the time being, he said, it's nice to not have a game plan.
Twitter: @jflem94
MORE FROM HOT PROPERTY:
Akiva Goldsman's Old World estate charms a buyer in Beverly Hills Post Office area
Tyra Banks flips Pacific Palisades town home back on the market
Rooney Mara reintroduces her restored Midcentury home in Los Feliz at $3.45 million
Former Men's Wearhouse CEO George Zimmer sells Hawaiian haven at a steep discount