My Favorite Room: Derek Waters gives his own history prime spots in his living space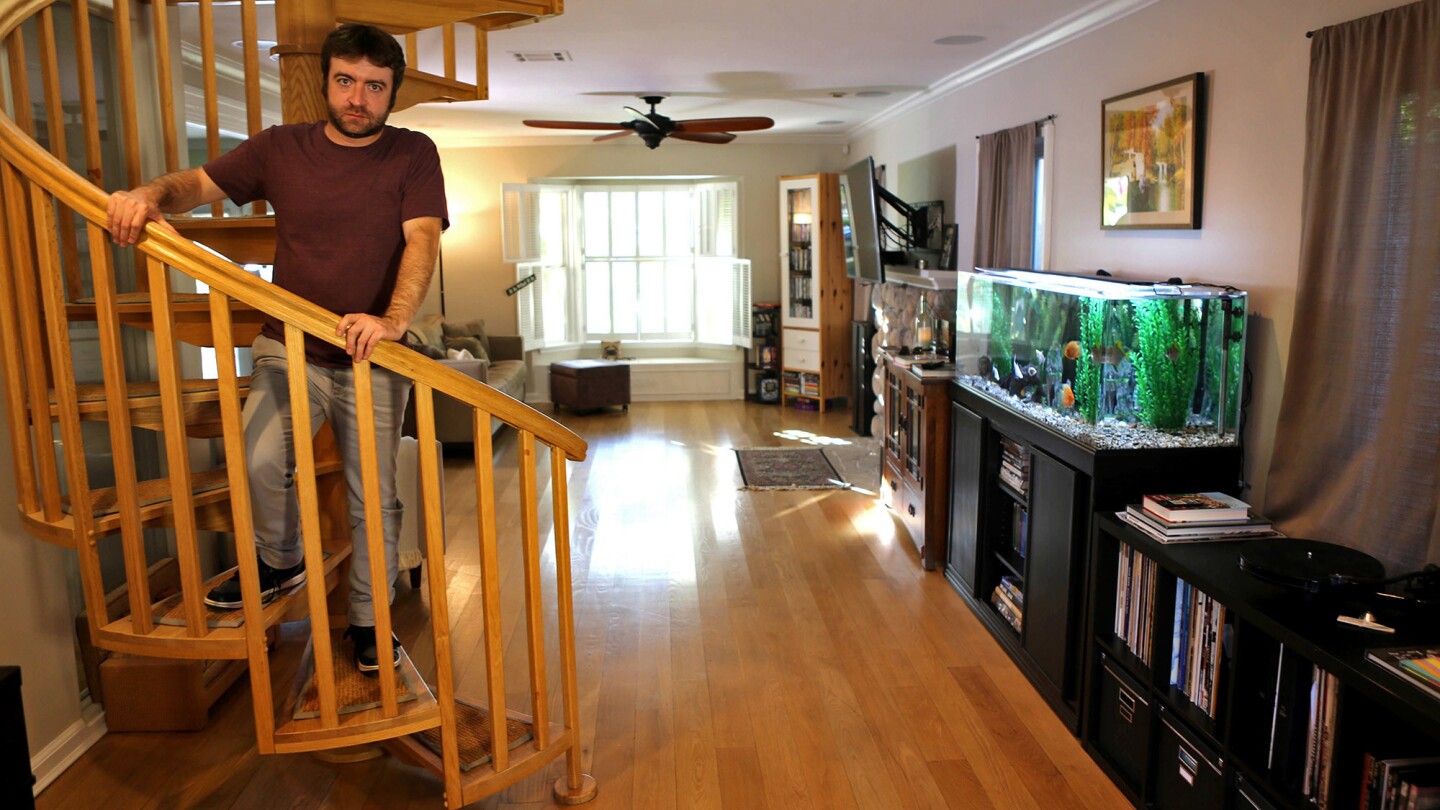 "The spiral staircase felt like a treehouse," says the comedian and actor. "So my favorite room is the trunk of the tree."
(Jesse Goddard / Los Angeles Times)
Waters opts for casual decor.
(Jesse Goddard / Los Angeles Times)
The fish tank transports Waters to the Caribbean.
(Jesse Goddard / Los Angeles Times)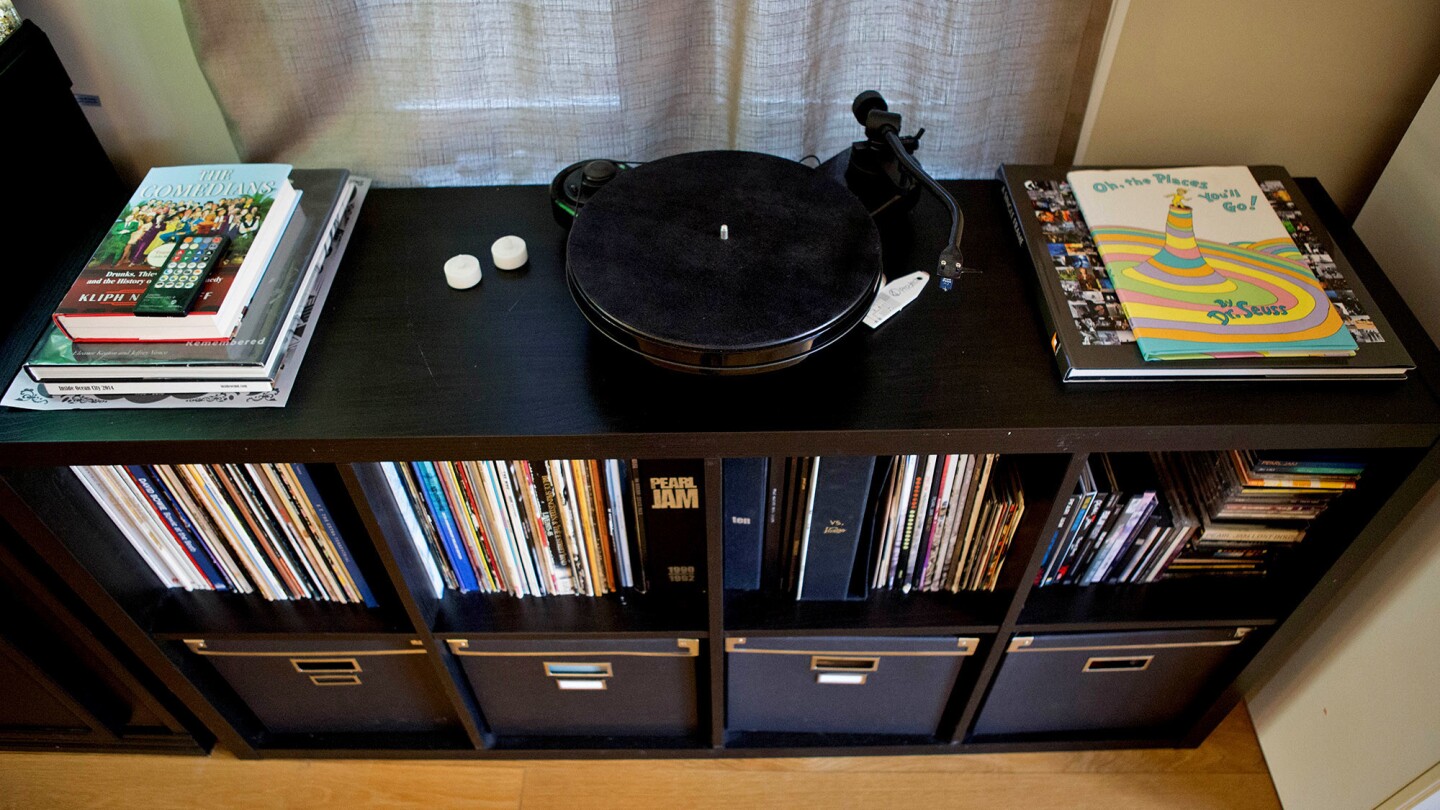 "It's nice to have a room that's not just my room — it's everyone's room," says Waters, who loves to have people come to his home.
(Jesse Goddard / Los Angeles Times)
Crabs and Maryland images take Waters back home.
(Jesse Goddard / Los Angeles Times)
Waters doesn't have a favorite fish, but he has a least favorite.
(Jesse Goddard / Los Angeles Times)
His grandfather's words, Maryland and Johnny Cash are important elements in the living room.
(Jesse Goddard / Los Angeles Times)
Although Derek Waters has lived in Los Angeles for 17 years, his love for his home state of Maryland is present throughout his Toluca Lake home.
Crab-themed decor surrounds the white bench under his living room bay window, including a crab pillow boasting the Maryland state flag from his brother and sister-in-law.
"I've had crabs since I was a kid. Maryland crabs," said the co-creator and host of Comedy Central's "Drunk History." "I love where I live, but I also love where I came from, so I like to combine those things."
Other nautical elements, such as the fish tank equipped with "trippy" LED lights, create a transportive space that helps Waters relax.
"When I come home from work and put on my Acorn slippers, pull the chair out in front of the TV, put the ottoman out and kick my feet up, I'm in the Caribbean," he said.
The space is characterized by a prominent, wooden spiral staircase leading to the master bedroom and features collectibles, such as a miniature couch from the movie "Team America" and a large print of Johnny Cash above the couch.
"The Drunk History Christmas Special" will air on Comedy Central on Nov. 28.
Why is this your favorite room?
My favorite thing in life is people, and I love having people over in here. It's nice to have a room that's not just my room — it's everyone's room. And the spiral staircase felt like a treehouse. So my favorite room is the trunk of the tree.
What's your design philosophy?
Cozy, safe and warm. I only wanna live in places that feel like home the moment you walk in.
Do you have a favorite piece?
My Chris Farley painting of his "Saturday Night Live" character Matt Foley. Farley was my reason for wanting to do comedy. When I was growing up, I would tape "Saturday Night Live," and my family would watch it on Sunday after church. When he died, I decided to leave Baltimore and come out to L.A. He's always been a guardian angel to me.
Did you decorate this room yourself?
I did. I just had [actor and comedian] Bob Odenkirk over and asked him if he liked the house. He said, "Yeah! When you first come in, your focal point goes right to the fish tank." I'm not great at decorating, so when you have people complimenting you on anything in your house, it feels good.
That is a nice fish tank. Do you have a favorite fish?
No, but I have a least favorite. The biggest one always steals the food from the rest. But she's getting to know me better. I know everyone talks about their fish being the greatest, but my fish are. They move when I move; it's really weird. Their whole life is "When am I going to get fed?"
Besides the crabs, any other keepsakes that remind you of home?
The "It Is What It Is" sign. My grandfather would always say that. No matter what you do in life, everything seems crazier than it really is. It's reminding yourself that it's OK. My grandfather will always be my ultimate hero.
MORE FROM HOT PROPERTY
Comedian Kathy Griffin unloads her Hollywood Hills home for $4.49 million
Beverly Hills penthouse once owned by Ellen DeGeneres is ready for a new host
Temecula compound built for 'Odd Couple' actor Jack Klugman seeks $5.8 million
---
Inside the homes of the rich and famous.
Glimpse their lives and latest real estate deals in our weekly newsletter.
You may occasionally receive promotional content from the Los Angeles Times.