My Favorite Room: Erika Jayne goes for the glam in her city workspace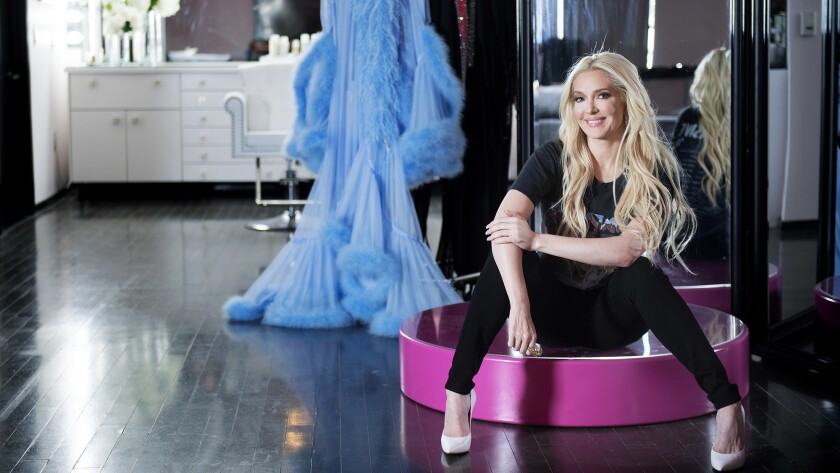 There's plenty of room at Erika Jayne's Pasadena house — 17,000 square feet, including a chapel — but the reality star needed another space to house her costumes and to "get glam" for parties and appearances.
So last summer the singer-songwriter, who stars on "The Real Housewives of Beverly Hills," leased a 1,600-square-foot apartment in Hollywood. She brought on interior designer Roxy Sowlaty to transform it from a "brown, oatmeal and really depressing space" into a Hollywood Regency-inspired city retreat.

For the record:
9:20 PM, May. 16, 2019An earlier version of this story incorrectly said Erika Jayne is 47. She is 45.
"My philosophy is glitz, glamour, love, fantasy, escape, and I wanted there to be a lot of that in this room," Jayne, 45, said.
Why is this your favorite room?
I was running my entertainment business out of my house, and even though it's large, I had just so much stuff. It also became a Los Angeles traffic time issue. I needed a place where everything was central, where I could have my meetings in town, come here, shower and be out again.
What do you mostly do here?
We film some of "Housewives" and have a lot of production meetings around that and a new album coming out next year.
How often can you be found here?
At least four or five days a week. Sometimes I'm here at 5 a.m. to meet my glam squad and am ready by 7 for the film crew.
What are some of your favorite furniture pieces?
I love the Z Gallerie white desk in the corner. The chairs are covered in banana leaf print, inspired by the Beverly Hills Hotel, which is one of my favorite places. And of course the huge tri-fold, mirror which is next to a rack of my stage costumes.
Did you splurge on the design?
I wanted to keep things reasonable. We got pieces from Wayfair, Anthropologie and Lamps Plus. But I also love Murano glass chandeliers and anything from Kartell.
Were you very involved with the design process?
I helped redo our house in Pasadena, but that was a very different process. We took it down and restored it to its former glory. For this, Roxy and I went back and forth. Once you've done it, you know what you like.
What look were you going for?
I wanted it to be character-driven, lots of pinks and reds, a little outrageous even, a place where my friends could get together, glam up and have fun. My record label is called Pretty Mess, and that's my signature.
MORE FROM HOT PROPERTY
Sleek, luxury living space in Venice has an industrial vibe
Green Day bassist Mike Dirnt bids adieu to quaint home in Ojai
Big Sean parts ways with house and sound studio in Hollywood Hills West
---
Inside the homes of the rich and famous.
Glimpse their lives and latest real estate deals in our weekly newsletter.
You may occasionally receive promotional content from the Los Angeles Times.