My Favorite Room: Tim Allen's office improvement: a window to his world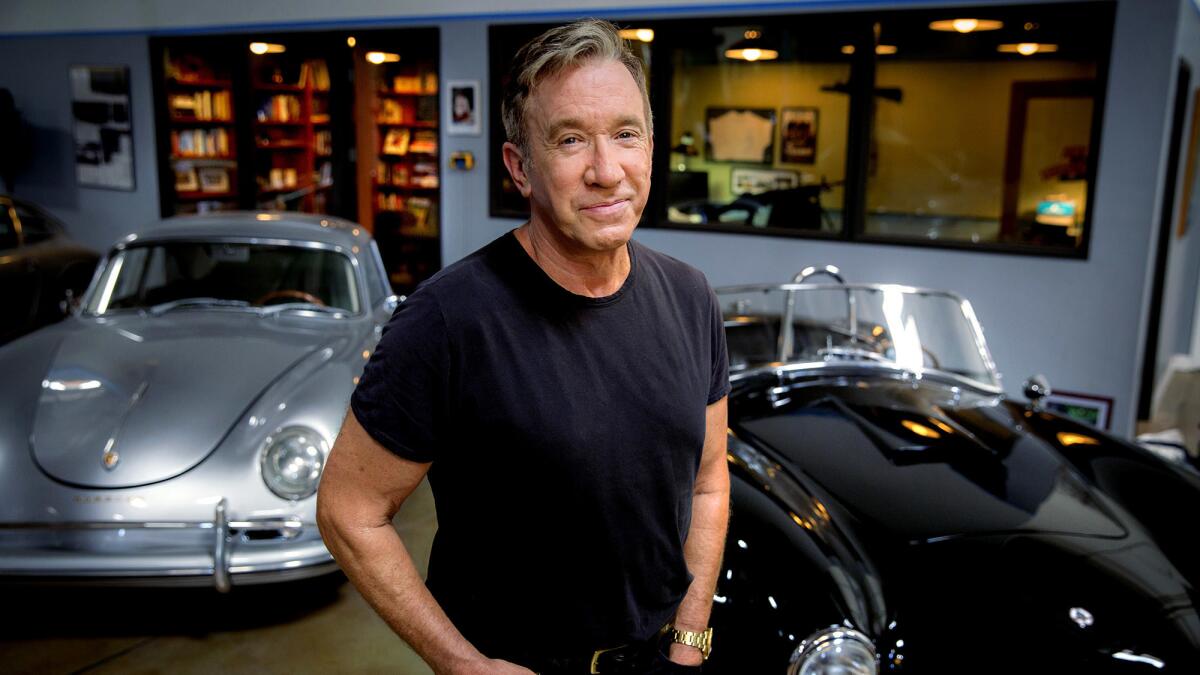 Tim Allen became a household name as the star of the long-running sitcom "Home Improvement," but his favorite room is less suburban homey and more office industrial.
When he's not on the set of ABC's "Last Man Standing," which premieres its sixth season Friday, or on the road performing stand-up, the funnyman likes to get creative in the main office of his 50,000-square-foot North Hollywood compound.
The cavernous space is home to a library, an art department, production offices and a shop floor that houses a well-used tool bench and a collection of about 30 cars.
Choosing a favorite room wasn't easy for Allen, though.
"I am one of these people who likes wherever I am," said the actor, 63, who will reprise his role as Buzz Lightyear in "Toy Story 4" next year.
"I have a cabin in the hills of Colorado that I love. I have a science bench at my home that I love doing science projects on. And I use the phony office on the set of 'Last Man Standing' a lot — I have a working phone and get my computer and sit there between takes. Sometimes the director will see me in the background and say, 'Eh, you know, Tim, you are not in this shot.'"
What makes this room special?
I bought the building about 15 years ago. It was an old print shop, and I rebuilt it to make hot rods and appeal to my other interests. But the second-floor office didn't have a window overlooking the main shop. I had a bunch of creepy video cameras everywhere, because I love technology and wanted to be able to see what was going on. Then one Christmas about five years ago, my staff gave me a window next to my desk. Now my office overlooks my whole shop so that I can see the various projects I am working on.
How much time do you spend in the office?
When I am not shooting, about four hours a day.
How would you describe your design aesthetic?
Industrial. I was a design student in college. I did a major in philosophy and a minor in design. I wanted to be an industrial designer. That's where my interest is. First and foremost, I wanted the space to be functional. But functional doesn't have to be unattractive. So I had some very good people help me — so good in fact that the room still looks current, even though it was done a long time ago; that's good design.
Have any cool set pieces from your movies or TV shows ended up in your office?
I have something from almost every single movie I've done. I have pictures from sets. I have Santa Claus' desk. I have a ton of stuff from "Galaxy Quest." I've got Buzz Lightyear everywhere. Someone just sent me another one that talks in my voice.
What about art?
I'm a big Roy Lichtenstein fan. So I have a lot of his paintings. I love art. There's art everywhere in this room.
Do you have a favorite?
I have a Richard Bunkall. He is one of my favorite artists, and he does paintings about scale. I have a series of his.
Let's say Emperor Zurg is about to blast your office to bits. What three things would you grab?
A self-portrait from my older daughter and a picture of my wife and kids.
That's only two things.
Look, I've only got so many hands.