Scenic Echo Park embraces a tradition of change
Cortez restaurant in Echo Park.
(Francine Orr / Los Angeles Times)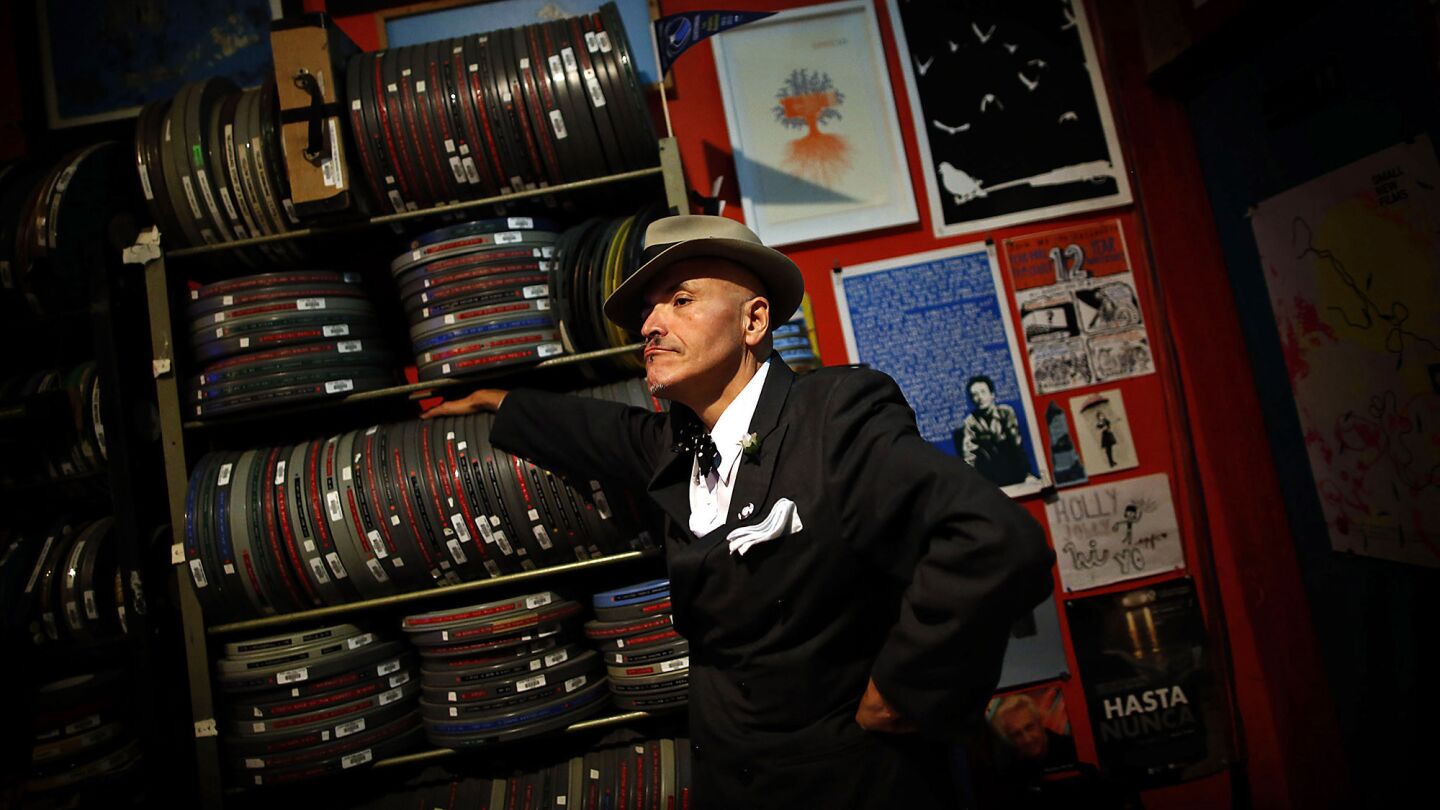 Buzz Saw listens to film makers discuss their films in the cozy Echo Park Film Center.
(Barbara Davidson / Los Angeles Times)
United Oil, an Echo Park gas station, features in the show "Love" on Netflix, and where the main characters, Gus and Mickey, meet.
(Marcus Yam / Los Angeles Times)
The deck of the newly remodeled 1938 guest house by famed architect John Lautner in Echo Park.
(Genaro Molina / Los Angeles Times)
Echo Park Lake
(Luis Sinco / Los Angeles Times)
Home to one of Los Angeles' most beloved parks, ground zero for Southland hipster culture and a neighborhood with a proud working-class tradition, Echo Park is simultaneously one of L.A.'s oldest and most historically significant residential districts and one of its most dynamic.
Echo Park has always been popular: connected by trolleys, and later by freeways, to nearby downtown, the area has drawn an eclectic mix of homeowners and residents in the 125 years since the first subdivided lots were put up for sale near what was then known as Reservoir #4.
That reservoir, like Silver Lake's, provided the neighborhood with a focal point and a name when the city took control of it and incorporated it into a beautifully landscaped park in the 1890s. Echo Park, with its fountains, lotus beds and stupendous views of the downtown skyline, is still the heart of the neighborhood.
Scenic beauty isn't the only natural resource Echo Park was able to leverage. Oil was discovered on the southern edge of the neighborhood around the same time that the park was dedicated to the public. The Echo Park pool now sits on the site of the first oil well, a gusher that helped make the Doheny family fortune and set off the L.A. oil boom.
The area was also home to early motion picture industry pioneers, with Walt Disney and Mack Sennett building studios in the Edendale area of the district, and with many early films being shot on the streets of the neighborhood.
The variety of homes on offer — from cozy cottages in the flats to massive Victorian homes in Angelino Heights — and its central location made Echo Park a destination neighborhood for prominent intellectuals as well as hard-working newcomers to America, including Latinos, Filipinos and the Chinese, a tradition that carries on to today.
Although the revitalization of the Sunset Boulevard corridor and the growing influx of hip, young Angelenos searching for an urban lifestyle has raised concerns about gentrification, Echo Park remains economically and racially mixed, and the feel of the neighborhood is still that of a solid working-class neighborhood that also has bars with extensive craft brew lists.
Neighborhood highlights
On the shores of Echo Park: One of L.A.'s most scenic neighborhood parks, Echo Park offers killer views, pedal boats and a laid-back vibe.
Eat, drink and watch live music: With diverse cuisines, plenty of neighborhood watering holes and live music venues, there's always something to do.
In the heart of the city: Densely built and close to downtown, Silver Lake, Los Feliz, Koreatown and Hollywood, Echo Park is a thriving urban neighborhood in the center of it all.
Neighborhood challenges
Rough edges: Echo Park's authentic air comes with some of the urban ills you might expect, but overall, crime is lower than Silver Lake and Downtown.
Expert insight
Alex Lozano, a Realtor at John Aaroe Group, said he sees a balance between modernization and history in Echo Park.
"I see the old and the new coming together comfortably here," Lozano said, "a vibrant and growing community that treasures its past but is not stuck in time."
The marriage of cultures has spurred progressive developments such as Blackbirds, a small-lot subdivision that was completed last year. Designed by architect Barbara Bestor, the 18-unit housing project replaced five single-family homes occupying less than an acre.
Market snapshot
Portions of the 90003, 90012, 90026 and 90039 ZIP Codes overlap the Echo Park area.
In the 90003 ZIP Code, based on 19 sales, the median price for single-family homes in April was $275,000. In the 90012 ZIP Code, the median price was $433,000 based on 5 sales; in the 90026 ZIP Code, the median price was $974,000 based on 13 sales; and in the 90039 ZIP, 11 sales resulted in a median price of $975,000.
Report card
Within the boundaries of Echo Park is Gabriella Charter, which scored 892 out of 1,000 in the 2013 Academic Performance Index. Clifford Street Elementary had a score of 861, and Elysian Heights Elementary scored 820. Betty Plasencia Elementary scored 786; Mayberry Street Elementary scored 780; and Logan Street Elementary came in at 745. School for the Visual Arts and Humanities scored 685.
---