A restored classic.
(Genaro Molina / Los Angeles Times)
A park at Zelzah Avenue and Chatsworth Street honors members of the military.
(Sandy Banks / Los Angeles Times)
Granada Hills Charter High School has won the national Academic Decathlon three years in a row.
(Al Seib / Los Angeles Times)
Horse and hiking trails are abundant.
(Ricardo DeAratanha / Los Angeles Times)
Named after the city in southern Spain, Granada Hills was originally marketed as a rabbit-raising community, with developers even adding hutches to the initial batch of homes in the 1920s.
Although the land on which the neighborhood sits is just a few miles from Mission San Fernando Rey de España — the foothold for European colonization in the Valley after it was founded in 1797 — the area remained largely agricultural for more than 100 years.
The friars of the mission used the land for cattle grazing and some grain production, and the lack of abundant water and its distance from the pueblo of Los Angeles made it an unappealing locale for homesteaders.
The first settlers of note were Geronimo and Catalina Lopez, who were pioneers in more ways than one. According to the city's history of Granada Hills, after the couple purchased a 40-acre stake in 1861, they established the Valley's first English-language school and its first post office, and their adobe became a Butterfield Overland Mail Stage Co. stop and a stop for the mule trains hauling silver to L.A.
As is the story across the San Fernando Valley, the advent of plentiful water via irrigation supercharged agricultural production on the former ranch land.
That trend continued up to the opening of the Los Angeles Aqueduct in 1913, which brought water in such abundance that developers began eyeing the area for residential possibilities instead of farming.
By 1927, a new neighborhood had been subdivided, and streets and sidewalks had been laid out. At first it was called simply Granada; the "Hills" was added in the 1940s.
Sales in the neighborhood stumbled during the Great Depression, but the population climbed to 5,000 by 1950 before exploding to 50,000 by 1960. In fact, much of Granada Hills was built in between 1950 and the late 1970s, and it is entirely typical of the Valley in the suburban Golden Age of that era, with seemingly endless low-rise commercial drags serving countless acres of ranch-style tract homes.
In the 1980s, development crept up into the hills, and the 118 Freeway was built to funnel commuter traffic to Burbank, Pasadena and Los Angeles, cementing Granada Hills' popularity as a family-oriented bedroom community.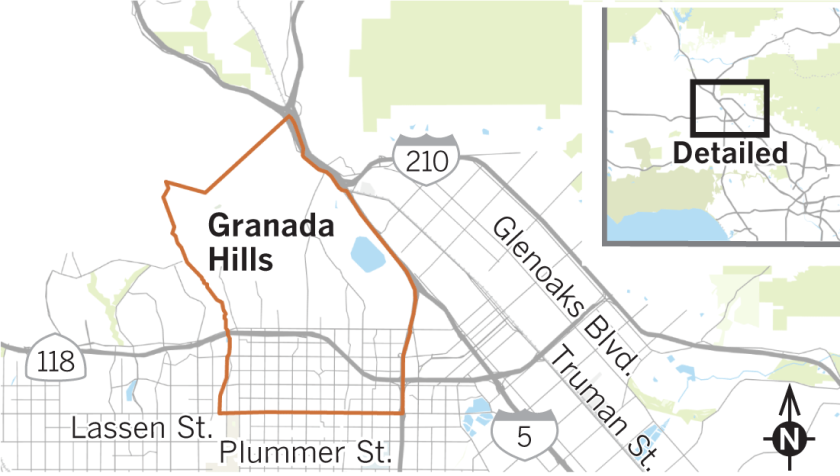 Neighborhood highlights
Home, sweet suburban home: Granada Hills is proudly suburban, as its vociferous resistance to a recently proposed mixed-use development makes clear.
Calling all mid-mod fans: The Balboa Highlands tract is a stunning collection of midcentury modern homes built by Joseph Eichler and boasting designs by A. Quincy Jones and others.
Wide open spaces: Granada Hills has the city's second largest public space in O'Melveny Park, and the Santa Susana Mountains offer stunning views and plenty of hiking trails.
Neighborhood challenge
Life in your car: Opposition to change may help preserve the suburban character of Granada Hills, but it also puts shopping, jobs and other activities at the other end of a long freeway commute.
Expert insight
Mathy Fisher of Century 21 Peak Realty has seen Granada Hills grow slowly but surely during her 20 years operating in the area.
"This neighborhood offers cheaper homes on larger lots compared to neighbors like Porter Ranch or Northridge, and that's led to an uptick in population over the last 15 years," Fisher said.
New modern and Mediterranean-style homes are being developed, but the neighborhood's days of massive yards and wide open spaces may be limited.
"There are plenty of horse trails and mountains to climb but only so much flat space left to build on," Fisher said. "Granada Hills will get more congested as it grows."
Market snapshot
In the 91344 ZIP Code, based on 51 sales, the median sales price for single-family homes in December was $675,000, down 15.8% year over year, according to CoreLogic.
Report card
Of the 12 public schools within the Granada Hills boundaries, two scored 900 or above on the 2013 Academic Performance Index: Van Gogh Street Elementary, with 935, and El Oro Way Elementary, with 900.
Other highlights include Robert Frost Middle, which scored 874, and Danube Avenue Elementary, which scored 848. The area's public high school, John F. Kennedy High, scored 723.
Times staff writer Jack Flemming contributed to this report.
MORE FROM HOT PROPERTY
Former MLB closer Robb Nen hopes to strike a deal for Lake Havasu retreat
Actress Rolonda Watts looks to shed her 1920s spot in Hollywood Hills
Beverly Hills home of Detroit Tigers great Hank Greenberg pulls in $7.75 million
---