Neighborhood Spotlight: Norwalk stars as Hollywood's idea of small-town USA
Norwalk Civic Center in Norwalk, Calif.
(Jesse Goddard / For The Times)
Norwalk Regional Library
(Jesse Goddard / For The Times)
Zimmerman Park
(Jesse Goddard / For The Times)
Don Knabe Golf Center
(Jesse Goddard / For The Times)
Moffitt Elementary School.
(Jesse Goddard / For The Times)
Norwalk Town Square.
(Jesse Goddard / For The Times)
The Brothers Sproul were a pair of erstwhile Oregonians who'd fallen in love with Southern California during a jaunt through the state. So in 1869, when they heard about land for sale on a recently subdivided rancho, they sprang into action.
They bought 463 acres halfway between the Whittier Hills and the Los Angeles River, on the site of a former Native American village 16 miles downstream of the burgeoning metropolis to the north.
In 1873, the duo transferred a portion of the ranch to the Southern Pacific railroad, to build a branch line that would connect Los Angeles with Anaheim. As part of the deal, the brothers secured an agreement from the railroad that it would create a stop on their land.
The resulting depot became the center of a small village located in an area of the ranch called "North-walk," a place name that was shortened to Norwalk in 1877. Front Street was established as the central thoroughfare for the burg, which initially attracted those who were looking for a rural, small-town lifestyle.
Whereas other Southern California towns built their industrial bases through oil extraction and refining, railroading or heavy manufacturing, Norwalk's first factory, which opened in 1882, turned out cheese. The town built on this initial investment to become a center of dairy production, with the local economy also being supplemented by sugar-beet fields.
In 1886, would-be ostrich magnate Edwin Cawston opened the first permutation of his famous flightless bird farm and tourist attraction in Norwalk. Success eluded him there, and in 1895, he moved the operation to South Pasadena, where it became an instant hit.
The state of California gave Norwalk a boost in 1913, when it opened the 300-acre Metropolitan State Hospital, which specialized in the treatment of mental illness. The hospital, which was originally a self-supporting farm, is still in operation in the city and remains a major employer.
Despite a one-two punch from Mother Nature in the 1930s, when the Long Beach earthquake and a devastating flood struck the town, Norwalk continued its development and began to take on a more suburban character, especially in the wake of World War II.
Returning GIs and their families flocked to suburbs such as Norwalk, and the car-centric culture of the era is reflected in the Norwalk Town Square shopping center, with its large parking lot dominated by a landmark neon sign.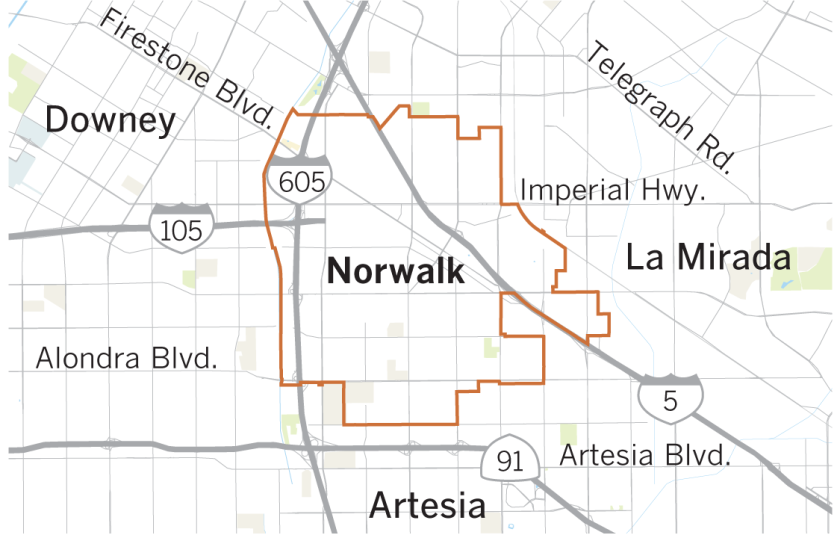 Neighborhood highlights
Main Street, U.S.A.: Norwalk's historic Front Street, with buildings that date as far back as the 1800s, often plays small towns in Hollywood productions.
Commuting options: Freeways, a Metrolink stop and the upcoming interlining of the Green and Crenshaw Lines (which will give riders a one-seat trip to the Expo Line) make Norwalk a great choice for commuters.
Midcentury SoCal: The Norwalk Town Square with its neon tower sign ranks among many architectural landmarks in the city.
Neighborhood challenges
Breathing uneasy: The freeways, manufacturing and transportation centers that surround Norwalk can contribute to unhealthy air conditions during summer months.
Expert insight
Edith Villa of Century 21 Realty Masters said Norwalk draws those seeking more bang for their buck compared with surrounding areas.
"Most clients have used Norwalk as a steppingstone area for a few years because of its turnaround value," Villa said. "This is why home sales have kept steady year after year."
In addition to a few new residential developments on the southeast side of the city, the local government has kept development steady by offering grants and other incentives for low-income homeowners looking to improve their properties.
Market snapshot
In the 90650 ZIP Code, based on 57 sales, the median sales price for single-family homes in November was $495,000, up 8.8% year over year, according to CoreLogic.
Report card
All 21 public schools in the Norwalk boundaries scored above 700 on the 2013 Academic Performance Index, and 11 scored above 800. Lakeland Elementary scored the highest at 876, followed by Paddison Elementary and Julia B. Morrison Elementary, which both scored 867.
The area's two main high schools, John H. Glenn High and Norwalk High, scored 706 and 701, respectively.
Times staff writer Jack Flemming contributed to this report.
---
Inside the homes of the rich and famous.
Glimpse their lives and latest real estate deals in our weekly newsletter.
You may occasionally receive promotional content from the Los Angeles Times.