Neighborhood Spotlight: Pico-Robertson an evolving hub of Jewish culture
The Simon Wiesenthal Center.
(Michael Robinson Chavez / Los Angeles Times)
Kosher offerings in Pico-Robertson.
(Brian van der Brug / Los Angeles Times)
Exhibition at the Museum of Tolerance.
(Katie Falkenberg / Los Angeles Times)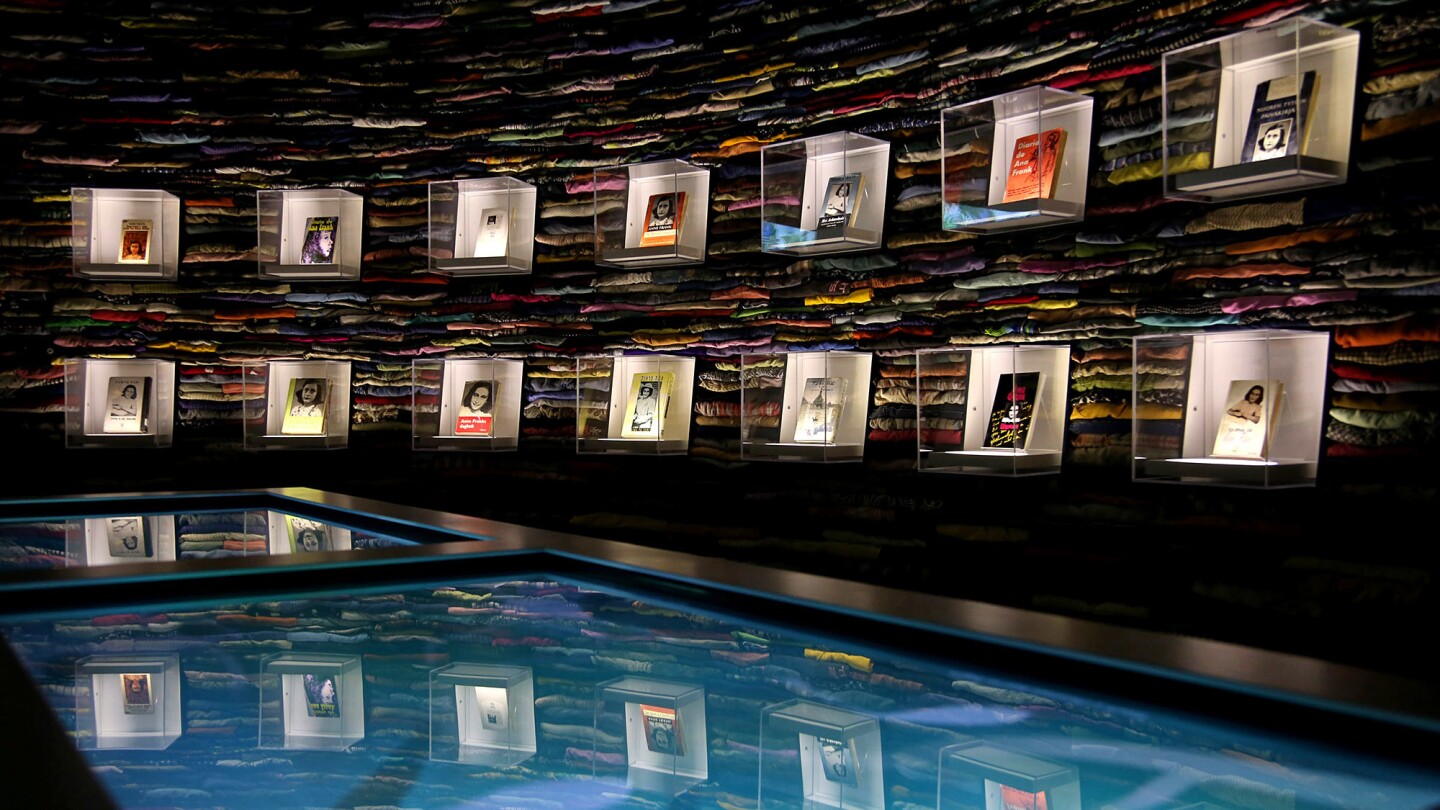 Museum of Tolerance exhibition.
(Katie Falkenberg / Los Angeles Times)
Over the years, the center of gravity of L.A.'s Jewish community, along with that of the city as a whole, has shifted ever westward.
Boyle Heights was at the core of Jewish life in Los Angeles during the late 1800s and early 1900s, and the Fairfax District could claim that title until the 1980s. But the spiritual heartland of the Jewish community is now in Pico-Robertson.
This bustling neighborhood became a popular destination for Jewish Angelenos after World War II, but Jews were in West L.A. long before that. German Ashkenazi Jews were the first to make the area home in the 1910s (back when Pico Boulevard was still a dirt road), and they were among the founders of Hillcrest Country Club.
Proximity to 20th Century Fox made the surrounding neighborhoods a draw for Jewish entertainment professionals, both in front of and behind the camera. New businesses and homes began to pop up along Pico Boulevard, which had become a popular road to the beaches of Santa Monica.
The farms and oil fields that had provided the scenic backdrop to many a bumpy, dusty ride to the ocean gave way to development, as the empty spaces between the beaches and the city began to fill in.
By the end of the 1930s, Pico-Robertson was fully built out, with a mix of single-family and apartment buildings that were within easy walking distance of the shopping and business districts on Pico and Robertson boulevards.
That walkability would become a crucial part of the appeal the neighborhood has for Orthodox Jews, who began to move in ever greater numbers to Pico-Robertson in the 1980s, and who, being prohibited from driving on the Sabbath, appreciated the convenience of having synagogues just a few steps away.
They joined a newly established population of Iranian Jews who had settled in the neighborhood, having fled the revolution to make their new home in Los Angeles. Members of the diaspora from all over the world now lived in one L.A. neighborhood, and the torch had firmly been passed from the Fairfax District to Pico-Robertson.
Neighborhood highlights
You can get there from here: Pico-Robertson is convenient to Century City, Beverly Hills, Culver City, Sawtelle, the Wilshire District and more, making it a great place to live for people who hate long commutes.
Restaurant row: Love kosher food? Chinese food? Kosher Chinese food? Good, because Pico-Robertson has all of this and more.
A center of Jewish culture: With one of the largest concentrations of synagogues in the city, and as the home of important institutions like the Simon Wiesenthal Center and the Museum of Tolerance, Pico-Robertson continues to play a central role in Jewish life in L.A.
Neighborhood challenges
Sticker shock: With the vast majority of homes going for well over a million dollars, the neighborhood is becoming less affordable, leading to some residents moving east of La Cienega Boulevard in search of better deals.
Expert insight
Redfin real estate agent Alec Traub said Pico-Robertson's central location is a big draw.
"People who want to be close to Beverly Hills but don't want to pay Beverly Hills prices can live in the Pico-Robertson area and literally be on the border in a lot of cases," he said. "Then I also think that proximity to the freeway — you're not far from the 10. So if you're going to Santa Monica or downtown, it's equally easy."
He said the neighborhood has a good mix of housing stock: condos, duplexes, triplexes and single-family homes.
That being said, "for someone looking for a single-family home in that area, most of the homes are older, a lot of them are built long enough ago that they probably need some updating or fixing up," he said. "I'd say you have a much better chance of finding a really nice condo."
Market snapshot
Portions of the 90019 and 90035 ZIP Codes overlap the Pico-Robertson area. In December, based on 16 sales, the median sales price in the 90019 ZIP was $820,000, down 2% year over year, according to CoreLogic.
The median sales price in the 90035 ZIP Code, based on 10 sales, was $1.358 million. That was a 9.5% drop from the same month the previous year.
Report card
Public schools found around the Pico-Robertson area include Canfield Avenue Elementary, which scored 889 out of 1,000 in the 2013 Academic Performance Index. Crescent Heights Boulevard Elementary scored 833, and Carthay Center Elementary had a score of 777. Alexander Hamilton Senior High scored 741.
MORE FROM HOT PROPERTY
Def Leppard drummer Rick Allen sells his offbeat spot in Calabasas
Former Angel C.J. Wilson seeks $2.7 million for Corona del Mar home
Martin and Sandy Davidson list their Hollywood Hills West home for nearly $3 million
---
Inside the homes of the rich and famous.
Glimpse their lives and latest real estate deals in our weekly newsletter.
You may occasionally receive promotional content from the Los Angeles Times.