Neighborhood Spotlight: Watts awaits those who are looking for opportunity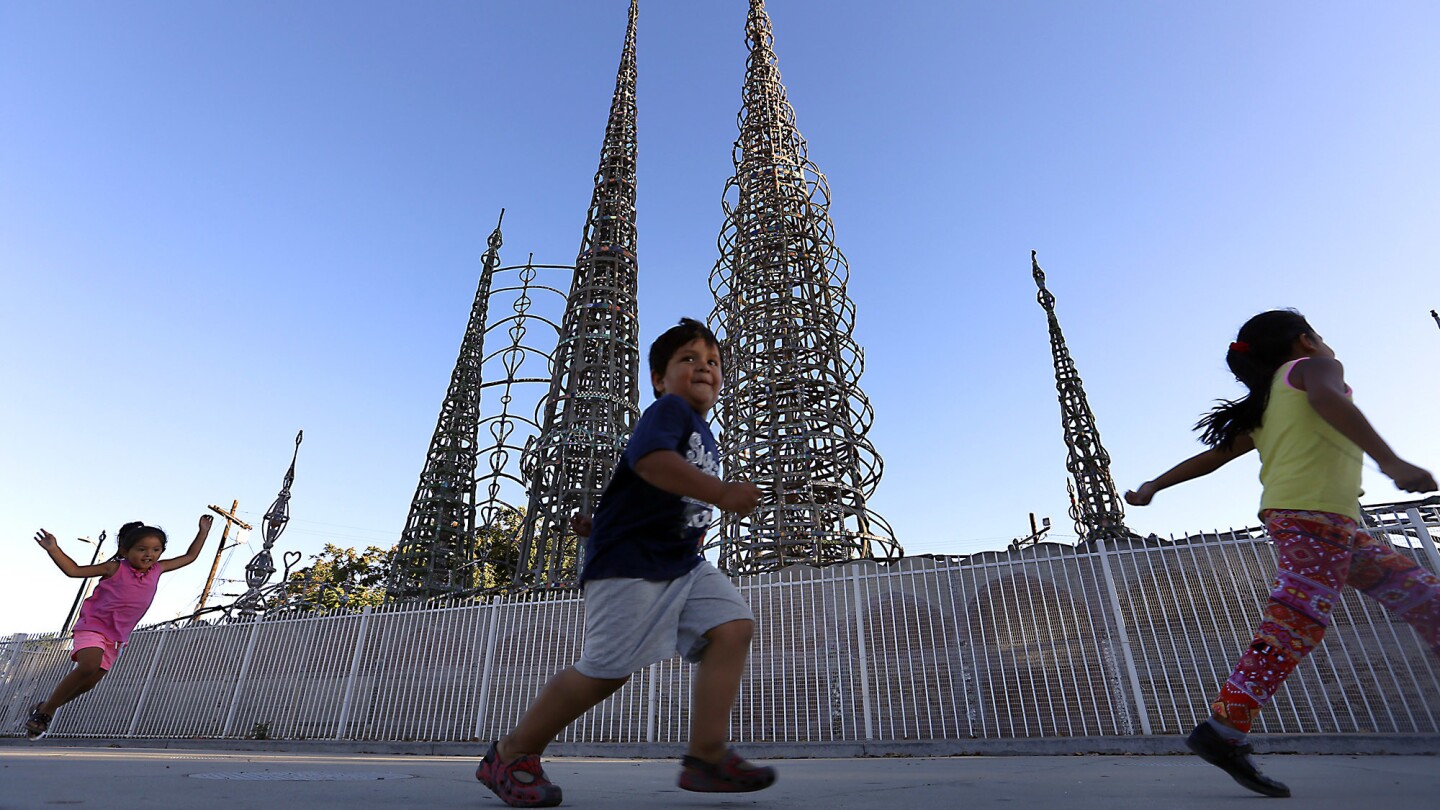 The Watts Towers were begun in 1921 and completed in 1954.
(Francine Orr / Los Angeles Times)
Volunteers build a stone walkway at an elementary school.
(Allen J. Schaben / Los Angeles Times)
Chef Roy Choi, here at an L.A. food event, opened Locol on 103rd Street.
(Patrick T. Fallon / For The Times)
A redevelopment project to convert the housing project site to residential/retail has begun.
(Mel Melcon / Los Angeles Times)
At just about the midpoint of the long, empty plain that separated the cities of Los Angeles and Long Beach in the 1880s, one Charles Watts, an immigrant from the Midwest by way of Pasadena, staked out a claim to 220 acres of land and established a ranch.
In the early 1900s, the Pacific Electric Railway began planning an interurban line that would knit together the two cities via 20 miles of track running from downtown L.A. to North Long Beach. Because the line crossed land purchased from the Watts family, Pacific Electric named the nearby passenger depot Watts Station.
Around that station a settlement grew, and the area to the north and south of Main Street (now 103rd Street) was subdivided into small residential parcels that, at an average of 25 feet across and 130 feet deep, were sized and priced to fit the budgets of the working people who staffed the interurban railway.
The lack of zoning laws meant landowners could build whatever type of homes they wanted, across as many lots as they could accrue. Cottages were often built across two lots, with a garden or chicken yard behind.
That absence of restrictive zoning would be crucial in the development of Watts. Unlike the larger, more established cities to its north and south, Watts had no racial restrictions on the ownership of land, even after its incorporation in 1907.
The city's ability to provide services to its residents was soon outstripped by its growth, and in 1926 Watts consolidated with Los Angeles. The new neighborhood became increasingly popular among black Angelenos who, free from restrictive racial covenants, could buy a nice home conveniently located near well-paying manufacturing jobs.
After World War II, the city built a number of apartment complexes in Watts to try to meet the housing needs of waves of recent arrivals from the South, white and black. Eventually, white flight and the postwar deindustrialization of vast swaths of L.A. left Watts in economic isolation from the rest of the city.
Structural unemployment, prohibitions against moving to nearby suburbs as their white neighbors had, and rampant abusive and discriminatory policing led inexorably to the Watts uprising in 1965.
Fifty-two years later, Watts is the focus of a massive redevelopment effort. The outdated Jordan Downs housing complex is set to be replaced by a modern mixed-use project, and 103rd Street will be transformed into a environmentally friendly pedestrian and transit corridor as part of the Watts Greenstreets project.
Neighborhood highlights
Simon's towers: Begun in 1921 and completed in 1954, Simon Rodia's Watts Towers are a National Historic Landmark and one of the most famous examples of American outsider art.
Watts resurgent: The city-led investment in Watts is long overdue but could be transformative for residents who have weathered the neighborhood's ups and downs over the years. There's a reason chef Roy Choi chose Watts as the location for his first Locol.
Neighborhood challenges
The long road back: The challenges Watts faces built up over decades, and whether the city will deliver on its ambitious plans for redevelopment of the neighborhood is an open question.
Expert insight
Butch Grimes, an agent with Team Equity L.A. Property Inc., grew up in Watts and said that despite its economic struggles and bad press, the neighborhood is seeing positive changes.
"There is a lot of culture, a lot of history, a lot of opportunity here," he said. "With the redevelopment happening in the area, there are bigger and better things to come going forward."
Grimes said Watts is strategically located in the middle of L.A. It connects with the beach communities in the South Bay, is not far from LAX and is central to downtown L.A. He called Watts an up-and-coming neighborhood that is affordable and a good place to purchase a starter home.
"For your money, there is no greater opportunity," he said. "You have to buy for the future."
Market snapshot
In the 90002 ZIP Code, based on 31 sales, the median sales price for single-family homes in June was $320,000, according to CoreLogic. That was a 24.3% increase in median price over the same month the previous year.
Report card
There are more than a dozen schools within boundary of Watts, as defined by the L.A. Times' mapping tool.
Among them is Compton Avenue Elementary, which had a score of 712 out of 1,000 in the 2013 Academic Performance Index. Grape Street Elementary scored 709; One Hundred Twelfth Street Elementary scored 642; and Florence Griffith Joyner Elementary had a score of 616. Edwin Markham Middle had a score of 632, and South East High scored 689.
Times staff writer Rachel Spacek contributed to this report.
MORE FROM HOT PROPERTY
New Sony Pictures TV co-president makes a change to his home lineup
TV writer Neal Baer buys former home of nuclear strategists for $4.35 million
Dodgers manager Dave Roberts picks up a new home plate in La Cañada Flintridge
---
Inside the homes of the rich and famous.
Glimpse their lives and latest real estate deals in our weekly newsletter.
You may occasionally receive promotional content from the Los Angeles Times.