Downtown Whittier
(Jesse Goddard / For The Times)
Nixon Plaza
(Jesse Goddard / For The Times)
Whittier Village Cinemas
(Jesse Goddard / For The Times)
Whittier Christian Church
(Jesse Goddard / For The Times)
Whittier Transportation Center
(Jesse Goddard / For The Times)
Whittier College
(Jesse Goddard / For The Times)
Home in Whittier
(Jesse Goddard / For The Times)
Puente Hills Preserve
(Jesse Goddard / For The Times)
Whittier came to life in 1887 when a group of Quakers, operating as the Pickering Land and Water Co., bought nearly 1,300 acres to build a new community.
They were not the area's first nonnative settlers. The Society of Friends established their colony around a nucleus of homes built by earlier arrivals.
Those pioneers included Pio Pico, the tycoon and last Mexican governor of Alta California; he lived on the banks of the San Gabriel River for nearly 40 years starting in 1853, in a ranch house that survives today. The home that held the first meetings of newly arrived Friends was built by an early German immigrant in the late 1860s, and also still stands.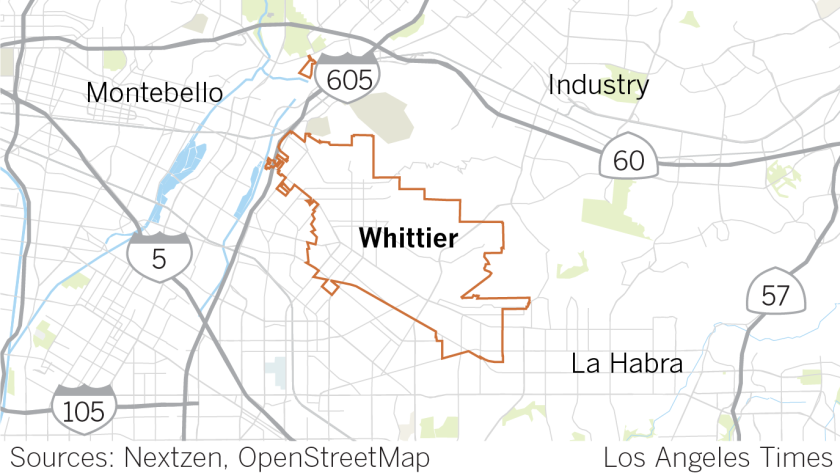 Although the Pickering Co. bought and subdivided the land to sell to California-bound members of their sect from the East Coast, in true Quaker fashion they opened ownership to all "fair-minded people."
The company named the town after the Quaker poet and abolitionist John Greenleaf Whittier, who dashed off a brief bit of verse to mark the occasion. Its title, appropriately enough: "My Name I Give to Thee."
It wasn't long before the industrious Quakers had started a newspaper to chronicle the goings-on of their growing little town, which by 1888 had its own stop on the Southern Pacific Railway, along with a brand-new hotel. Within another year, a postmaster had joined the mix.
These civic milestones, as impressive as they were for a community that had barely marked its second birthday, belied an economy stunted by a lack of water for irrigation.
Seeking to boost job growth, community leaders successfully lobbied for a state reform school to be built nearby. The Whittier State School opened its doors to troubled youth in 1891, and soon became a primary driver of the town's economy.
It also became a regional landmark as the first building in Whittier to have electrical lighting. The Los Angeles Times noted that once the power was turned on in October 1891, "the lights could be seen plainly from this city."
Although the school remained a cornerstone of Whitter's economy up until its closure in 2004, the city's employment base did diversify. Construction of a flume to carry water from the hills in 1891 finally provided a reliable irrigation source, and agriculture took off, with farmers growing citrus and walnuts.
After World War II, Whittier became a freight and transportation hub, experiencing explosive growth. From 1940 to 1960, Whittier grew to more than 30,000 residents, and by 1970 that number reached 72,000.
Neighborhood highlights
Head uptown: The Greenleaf Avenue corridor in Whittier's historic central business district is a trendy, walkable shopping, dining and drinking destination.
Back to nature: With trailheads to three scenic hikes in the city limits, Whittier offers easy access to the great outdoors for hikers of all skill levels.
Living history: Boasting 48 local historic landmarks and seven sites on the National Registry of Historic Places, Whittier has an enviable collection of historic buildings to visit. (The boyhood home of former President Richard M. Nixon hasn't made the cut.)
Neighborhood challenges
On the boulevard: Whittier Boulevard has struggled over the years, with businesses shuttering or going out of style, but the recent groundbreaking of a $500-million mixed-use development on the site of the reform school may give it the boost it needs.
Expert insight
Century 21's Armando Arenas has 14 years of experience in Whittier, and he said the city's latest focus is revitalizing the uptown district around Greenleaf Avenue.
"That area has been tightly regulated in the past, but the City Council is now allowing businesses to extend their hours to conform with neighboring cities," Arenas said. After a recent vote, many bars and restaurants with liquor licenses can stay open until 2 a.m., as opposed to midnight.
He added that Whittier offers a wide array of housing stock, including affordable homes built in the '40s and '50s, and multimillion-dollar Mediterraneans on the northeast side. In one pocket, there's a historic preservation overlay zone full of Victorians and Craftsmans.
"The old architecture has been well preserved, and lots of filming companies use those homes for shooting," he said.
Market snapshot
Of all the ZIP Codes in Whittier, 90604 saw the most homes trade hands in December. There, based on 17 sales, the median price for single-family homes was $480,000, up 1.8% year over year, according to CoreLogic.
Report card
Ten of the 16 public schools in the Whittier boundaries scored above 800 on the 2013 Academic Performance Index. Murphy Ranch Elementary scored the highest at 936, followed by Leffingwell Elementary at 893 and Ocean View Elementary at 883.
The area's two biggest high schools, La Serna High and Whittier High, scored 845 and 771, respectively.
Times staff writer Jack Flemming contributed to this report.
---