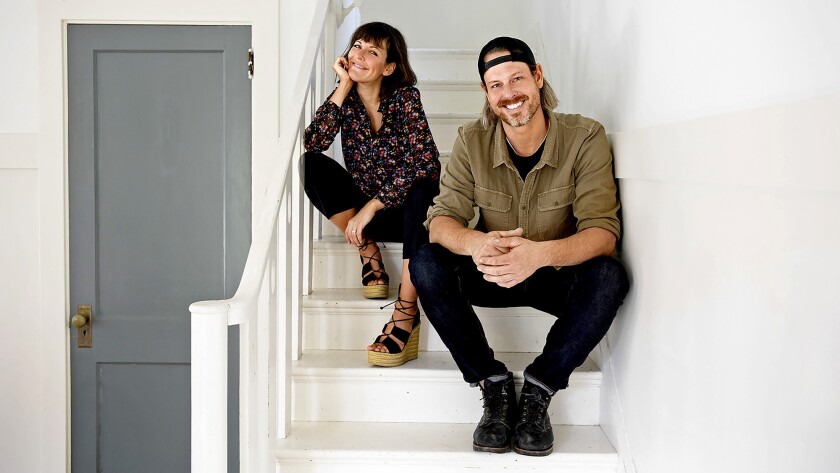 The breakout success of HGTV's "Restored by the Fords" is only enhanced by co-host Leanne Ford's uncanny likeness to Diane Keaton — right down to Keaton's voice, laugh, mannerisms and affable demeanor.
"I'm honored," said interior designer Ford, who hosts the Pittsburgh-based show with brother Steve Ford, a contractor. "I met her at a party here in L.A., and she told me, 'Oh, you're sooo cute!' And I said, 'That's 'cause I look like you.'"
Ford's quirky humor plays off her brother's deadpan takes, as they tackle aging Pittsburgh homes. The second season begins March 19.
The siblings grew up in Pittsburgh, where Steve Ford still lives. Since 2003, Leanne Ford has split her time between the steel city and Los Angeles, among other locales. She recently rehabbed and sold her 1906 Echo Park cabin, saving it from demolition.
Leanne, you're famously known for your devotion to white — pure unadulterated white, while others gravitate to whites with hued sub notes.
Leanne: White is a breather. It lets people relax. It's the blank canvas, right? The silence between the chords. White lightens up the space, makes it large — it's all benefit. In Season 2 we use three favorite whites over and over again in different ways. The white I truly love is called Pure White from PPG Paints — a perfect white.
Some counter that too much virgin white can become soulless — but you seem to understand that such a flawless white, in the end, is all about shadow and gravitas.
Leanne: With lighting and dimmers, a room can be bright and crisp or grow moody and cozy. With all the projects having white paint, you would think they would start to look alike, but it's fun to show that none of them do. Nothing is cold; they're all warm. We bring that in through texture on the walls and natural elements: plants, wood furniture.
You both also gravitate to black. The historic Pittsburgh schoolhouse you renovated has some black floors, walls and ceilings.
Steve: It's my favorite color. I purchased a 1940s abandoned warehouse that's part of Season 2. We renovate it, as my living space and a workshop. We did black windows and doors and the exterior is black. Leanne bought these antique doors — chipped and cracked. We painted right over that; a lot of the character shows through.
A recent Zillow study showed that painting one's front door black can boost a home's sale price by $6,000.
Leanne: See, Steve? We're not crazy. For a Colonial home, we painted a curved staircase a high gloss black to give it an element of modernity. Black is another neutral and it's also timeless. It's having a moment. Especially here in L.A., where there are a lot of houses with black exteriors, which I love.
Open floor plans rule — especially on renovation shows where interiors are gleefully gutted to achieve that all-important flow. But your show sometimes spares the sledgehammer.
Leanne: We consider the history and style of the home. If the walls are natural and correct, we keep them. For a Craftsman we did, it would have been a disservice to that home to open it up. The rooms were large and well-separated. Everything lived in the right spot.
What are your go-to shops in L.A.?
Leanne: The Mart Collective in Venice. Big Daddy's Antiques in Culver City — every vintage style you can imagine in a huge warehouse. And Amsterdam Modern [Echo Park]: all Midcentury Modern pieces that Ellen [owner Ellen LeComte] ships over from Holland. Those three are my secret weapons out here.
---