Top real estate sales of 2016: L.A.'s record year included two $100-million sales
Storied estates and speculative development in Los Angeles County's toniest neighborhoods pushed the high-end market to new heights in 2016.
Of the dozen single-family home sales of $30 million or more, two changed hands at $100 million — a record-setting mark once thought of as unattainable.
Here's a larger look at the most expensive homes sold this year in Greater L.A.
$100 million — Holmby Hills
Daren Metropoulos, the son of billionaire investor C. Dean Metropoulos and principal at the investment firm Metropoulos & Co., made real estate history in August with the purchase of the Playboy Mansion.
The $100-million deal for Hugh Hefner's longtime home and workspace was the biggest sale of a single-family residence ever recorded in Los Angeles County, eclipsing the previous county record set two years ago when the Westside manor known as Fleur de Lys sold for $88.3 million.
The Gothic Tudor-style home was designed by Arthur R. Kelly for department store scion Arthur Letts Jr. in 1927. The 29-room house includes chefs and catering kitchens, a game room and a screening room with a built-in pipe organ. Twelve bedrooms are within 20,000 square feet of living space; the master suite spans two floors.
As part of the sale, Hefner will remain at the estate for the remainder of his life. Metropoulos, who owns a property adjacent to the Playboy Mansion, plans to eventually connect the two estates.
Gary Gold and Drew Fenton of Hilton & Hyland, an affiliate of Christie's International Real Estate, and Mauricio Umansky of the Agency held the listing for the mansion. Jade Mills of Coldwell Banker Residential Brokerage represented Metropoulos.
$100 million — Holmby Hills
In October, Platinum Equity founder and Detroit Pistons owner Tom Gores matched the record set by the Playboy Mansion with the purchase of a mega-mansion built on speculation.
The complex deal saw Gores trade a number of his own holdings as opposed to financing or making an all-cash purchase. He will retain a stake in the other properties in the event that they are developed or sold.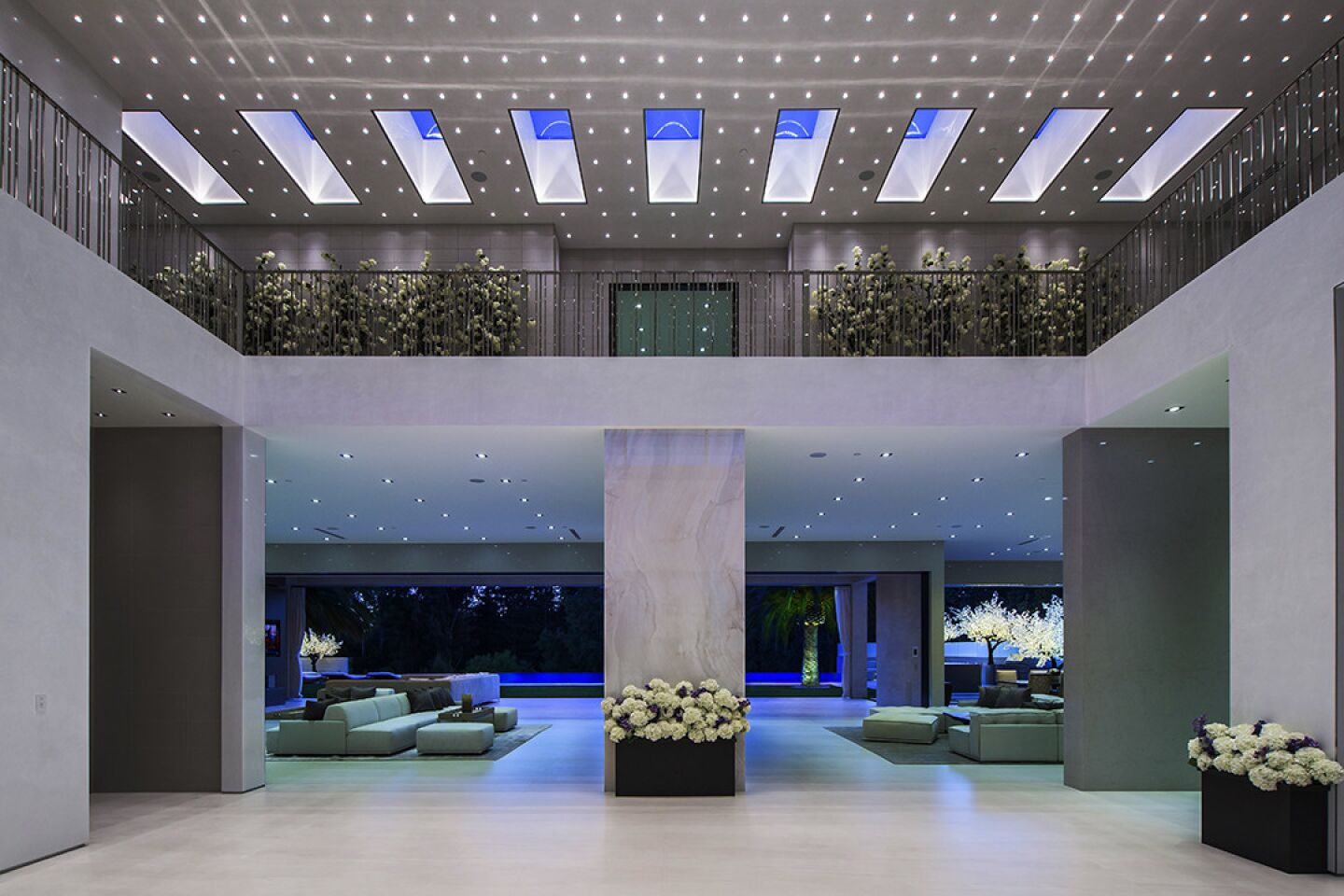 Set on more than two acres, the newly built estate features a lounge, a hiking trail and plenty of room for party parking.
(Marc Angeles / Unlimited Style Real Estate Photography)
Set on more than two acres, the newly built estate features a lounge, a hiking trail and plenty of room for party parking.
(Marc Angeles / Unlimited Style Real Estate Photography)
Developed by Gala Asher and Ed Berman, the more than 30,000-square-foot house is on a site where an estate once owned by Barbra Streisand once stood. Including several guesthouses, the property has 10 bedrooms and 20 bathrooms including a master suite of more than 5,000 square feet.
Ginger Glass of Coldwell Banker Previews International was the listing agent. Tiffany Martin and Christine Martin of the Agency represented Gores.
$90 million — Holmby Hills
Owlwood, the Carolwood Drive estate once home to actor Tony Curtis and later singing duo Sonny and Cher, sold to a development group headed by Woodridge Luxury Homes chief Robert Shapiro. Dawn Arnall, the widow of late billionaire and Ameriquest Capital Corp. founder Roland Arnall, was the seller.
Sitting on 10 acres of grounds, the residence includes a 12,200-square-foot Italian Revival-style mansion, two guesthouses, a swimming pool and a tennis court. The development group intends to retain the main house and subdivide the property to build four additional homes, according to sources not authorized to comment on the deal.
The Arnalls bought the home in 2002 along with two adjacent properties — the former homes of actress Jayne Mansfield and actress-swimmer Esther Williams — that were combined into one estate. Both residences were later razed, though the pool house and 70-foot-long swimming pool from Williams' former home were retained.
Ann H. Dashiell of Douglas Elliman held the listing. Adam Rosenfeld and Kyle Giese of Mercer Vine represented the buyer.
$40 million — Beverly Hills
Tom Gores, as part of his $100-million purchase, sold a mansion on Beverly Park Lane to a California limited liability company.
Although details are scant, tax records show that the sprawling Mediterranean has 20,013 square feet of living space with seven bedrooms and 15 bathrooms. A large motor court, a swimming pool and spa, lawns and formal landscaping fill more than two acres of grounds.
Gores, through a limited liability company, bought the property six years ago for slightly more than $21 million, records show.
$39 million — Bel-Air
Developers Jonathan Adler and Joe Englanoff, through a Nevada-based LLC, sold a contemporary-style mansion built on speculation for $9 million less than the original list price of $48 million.
Designed by Paul McClean, the 14,230-square-foot home includes such amenities as a media room, a billiards room and a gym with a steam room. A wine cellar is accessed by way of a thumbprint security system.
Motorized glass doors open to an outdoor lounge and expansive decking. A 90-foot infinity-edge swimming pool also lies within the grounds.
Brandon and Rayni Williams of Hilton & Hyland Ben Bacal of Rodeo Realty, Mauricio Umansky of the Agency and Jade Mills of Coldwell Banker were the co-listing agents. Fred Bernstein of Westside Estate Agency repped the buyer.
$38.75 million — Beverly Crest
Designer and filmmaker Tom Ford finally found his trophy estate in December, buying the home of late socialite Betsy Bloomingdale for about two-thirds of the rumored asking price of $55 million.
The Roland Coate-designed home, built in 1929, sits on more than three acres in the 100 block of Delfern Drive and has a formal rose garden, a tennis court, a swimming pool and a pool house.
Architectural firm Marmol Radziner has been commissioned to update the home, which includes a wood-paneled library, a billiards room, formal and informal dining rooms and a pair of kitchens. There are a total of nine bedrooms and seven bedrooms in 9,680 square feet of living space.
Josh Flagg of Rodeo Realty was the listing agent. Kurt Rappaport of Westside Estate Agency represented Ford.
$38.27 million — Beverly Hills
Speculative developer and film producer Nile Niami, through a California LLC, sold a newly built home on Williams Lane to a Delaware-based LLC in an off-market deal completed in May.
Assessor information shows that the contemporary-style home has nearly 11,600 square feet of living space with five bedrooms, four bathrooms and a basement level of 5,514 square feet. The garage measures 2,188 square feet — nearly the size of the average U.S. home.
Public records show that the property previously changed hands three years ago for $7 million.
$38 million — Beverly Hills
Box-office star Tom Cruise registered another of the 90210's priciest transactions in June, when he sold his home on Calle Vista Drive for $38 million. The buyers were Leon Black, who co-founded the private equity firm Apollo Global Management, and his wife, Debra, who made the off-market purchase through an LLC.
The acre-plus estate quietly came up for sale last year with a whisper price of $50 million. Cruise bought the property in 2007 for $30.5 million in another deal finalized outside the Multiple Listing Service.
Tax records show that the hedged and gated estate centers on a main house of more than 10,000 square feet. Seven bedrooms and nine full bathrooms are among 35 total rooms. A swimming pool, a tennis/basketball court, two detached structures, lawns and formal landscaping make up the grounds.
Michael Eisenberg of Keller Williams held the pocket listing. Sharyn Gertz and Deedee Howard of the Agency and Fred Bernstein of Westside Estate Agency represented the buyers.
$34,928,200 — Bel-Air
In June, the Bellagio Road estate of late Indiana Pacers owner Melvin Simon sold to a California-based LLC for about $2.5 million less than the asking price of $37.5 million.
The Italian villa-style mansion was originally commissioned in the late 1990s by the family of the sultan of Brunei but was sold unfinished and later completed in 2003.
Sitting on 1.5 acres of manicured grounds, the 20,000-square-foot home was designed for large-scale entertaining and features proportioned formal areas, billiards and screening rooms and a wine cellar. An interior cabana/game room opens to the swimming pool.
Formal gardens, fountains and landscaping fill the property, which overlooks the golf course at the Bel-Air Country Club. There's also a motor court as well as a subterranean garage.
Jerry Jolton of Coldwell Banker Residential Brokerage was the listing agent. Joy Denton of Sotheby's International Realty repped the buyer.
$33.5 million — Malibu
Also closing in June was the sale of an infamous estate formerly owned by Teodoro Nguema Obiang, son of the president of Equatorial Guinea, sold to a California-based LLC.
Obiang agreed to sell the bluff-top home and other assets in 2014 to settle corruption and embezzlement claims levied by federal prosecutors. As part of the sale, a third was to go directly to the U.S. government and the rest to a charity benefiting the people of Equatorial Guinea, The Times previously reported.
The nearly 16-acre estate includes a 15,000-square-foot mansion with six bedrooms and eight bathrooms. A three-hole golf course, a swimming pool, ponds and a tennis court also lie on the property.
$32.5 million — Beverly Hills
Developers Jack and Joseph Kashani in August sold a development property on Trousdale Lane to a California-based LLC. The deal, which was finalized off-market, closed for $3 million less than the asking price of $35.5 million.
Sitting on about two acres, the hillside property includes a 1960s midcentury-modern-style home with four bedrooms and six bathrooms in 5,265 square feet of living space. Views from the home take in panoramic views of the downtown cityscape and ocean.
$32.5 million — Brentwood
On Casale Road, a newly built home designed by architect Paul McClean of McClean Design sold off-market in August to the family trust of Aristotle Capital Management Chairman Richard Hollander and his wife, Jacqueline.
The boxy modern showplace of about 15,000 square feet is visually dramatic with its clean lines, walls of glass and overhanging eaves. An infinity-edge swimming pool and spa extends toward the horizon.
Although the area containing the home is generally accepted as Pacific Palisades, the L.A. Times Mapping Database considers it part of Brentwood.
These are among the most expensive single-family homes sales recorded in the greater Los Angeles from Jan. 1 to Dec. 30, according to Propertyshark and the Multiple Listing Service.
Twitter: @NJLeitereg
MORE FROM HOT PROPERTY
View home takes in the hills of La Cañada Flintridge
Barry Bonds' former mansion in Beverly Park fetches $26.5 million
Starship's Mark Morgan blasts off from modern home above Zuma Beach