Pacific Electric building
Pacific Electric building, looking north up Spring Street. At this time the building functioned as a train station.
()
la-hm13-ibo1zzkf
Bungalow Heaven in Pasadena is a designated historic district based on the prevalence of a certain style of bungalows, usually one-story Craftsman style.
(Gary Friedman / LAT)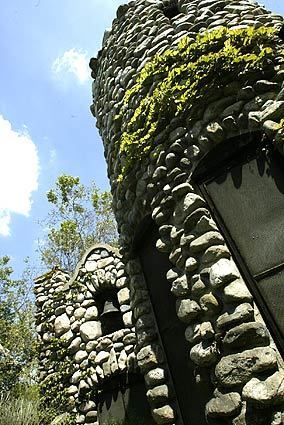 la-hm14-ixmq7nnc
The stone walls of the Lummis house (El Alisal), built over a period of 12 years by Charles Fletcher Lummis next to the Arroyo Seco in Pasadena. Lummis was the first city editor of the Los Angeles Times.
(Iris Schneider / LAT)
la-hm12-ixl2rwnc
A wrought iron fence encircles a home on Hoyt Street in Pacoima.
(Myung J. Chun / LAT)
la-hm15-ixn0jcnc
Entrance to Hollywoodland on Beechwood Boulevard (date unknown).
()
Venice
Gondoliers ply their oars on canals under the romantic bridges of Venice, Calif.
()
la-hm16-ixn0hync
Spadena House located at Walden and Carmelita in Beverly Hills. The story book house was once on a movie lot in Culver City.
()