Prime Century City land is put up for sale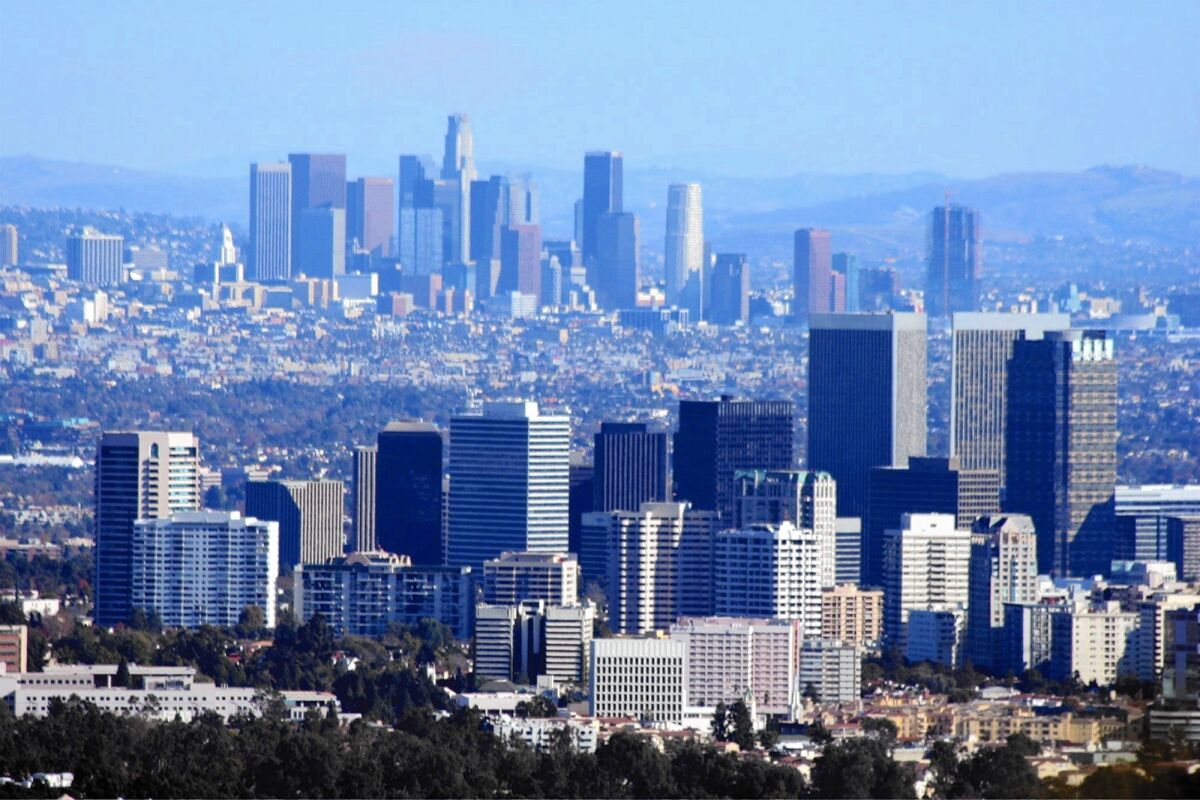 Century City landlord JMB Realty Corp. has dropped plans to develop an office skyscraper on Avenue of the Stars and instead has put the land up for sale.
The property is expected to be developed into condominiums instead of offices as investment in high-end Los Angeles County condos escalates. Most of the biggest land sales in the last few years have involved sites intended for high-density residential development.
JMB already has city approval to build 483 residential units on the vacant lot at 1950 Avenue of the Stars, near the Hyatt Regency Century Plaza Hotel, but pulled the plug on that proposal after the housing market crash.
JMB switched its plans for the site to a 37-story office tower, but now luxury residential sales have roared back and developers are competing for the best condo sites. A new owner could quickly resurrect JMB's plans for the condo development. Inquiries about acquiring the property for housing prompted JMB to put it on the market, a company representative said.
"After receiving several unsolicited offers on the residential, it became apparent that this was a unique opportunity we could not ignore," JMB spokeswoman Marie Garvey said.
A new owner also could choose to pursue office development on the site — Century City is one of the region's strongest office markets — but the big sums paid lately for Los Angeles area land have mostly involved potential residential projects.
Last year, Chinese developer Wanda Group paid the equivalent for $1.7 million a unit for land in Beverly Hills where a 235-unit condominium project has been approved. That's a substantial increase from the equivalent of $878,000 a unit that New York developer Related Cos. paid in 2005 for the site where it built the Century, a luxury condo tower next to the Century Plaza hotel. Units in the Century have sold for as much as $3,000 a square foot.
No price has been set JMB's 5.5-acre property. Opening bids are due July 10, at which point
final competition among the top bidders will begin, said real estate broker Laurie Lustig-Bower of CBRE Group Inc.
Potential buyers from 21 countries have surfaced, she said. Among them are Asian conglomerates seeking to partner with U.S. developers and large overseas developers.
The lot, once part of 20th Century Fox's studio backlot, is now in the middle of prosperous Century City, where several of L.A.'s best and newest office towers stand. Century City also has hundreds of condominiums and an upscale outdoor shopping center operated by Westfield that is now undergoing $800 million worth of improvements. A station for a planned subway line could open on Avenue of the Stars within a decade.
Work is also underway on a long-delayed $300-million apartment building next to the Santa Monica Boulevard entrance to Century City, across the street from the exclusive Los Angeles Country Club. The building's 283 units may end up being sold as condos instead of rented, according to developer Crescent Heights.
If the buyers of JMB's site follow the blueprint approved by the city, they would build 483 units in three buildings: two 47-story towers plus a 12-story tower that where the units would have loft-style open floor plans.
The office tower JMB also planned for the site has been held up by a lawsuit by from opponents including rival Century City office owner JPMorgan Chase that contends the 37-story office tower would be too dense a development for the site and create traffic congestion.
Century City office real estate broker Gary Weiss of L.A. Realty Partners said that the neighborhood could easily absorb another prestigious office building, but that the highest return for investors could come from the hot residential market. Getting into the game would be expensive, however, requiring many millions of dollars to buy the land and then build condos in the hope that the demand for them will still be there a few years later.
"It's not for the faint of heart," Weiss said.
Twitter: @rogervincent

---