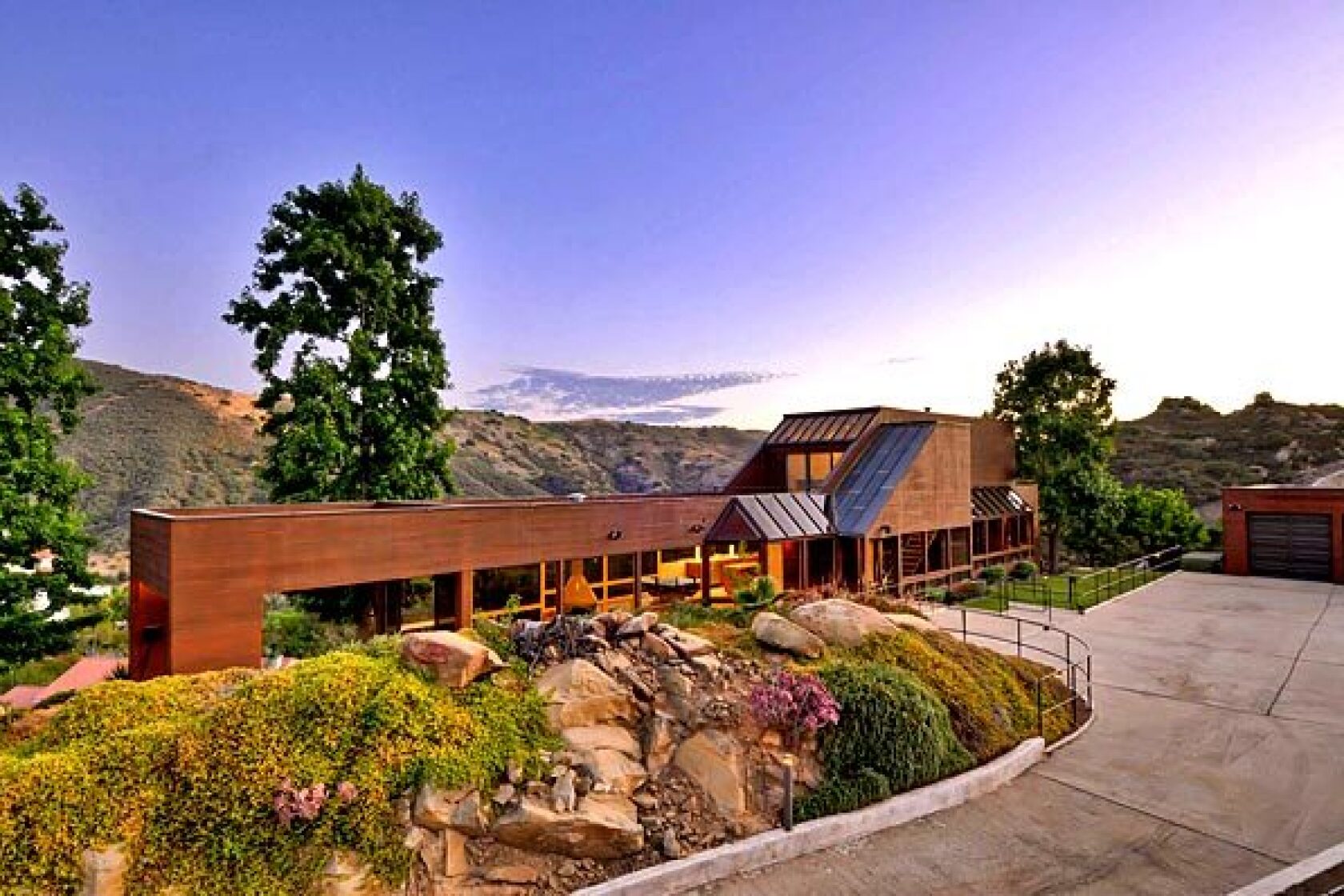 The redwood-and-glass house was designed by modernist Ed Niles.
(Dutch Markgraf)
The dining room flows into the living room of the open plan house.
(Dutch Markgraf)
Stairs lead up to the second-level master bedroom suite.
(Dutch Markgraf)
The sleek lines of the 1979 house continue in the kitchen.
(Dutch Markgraf)
Sliding glass doors open to terrace space.
(Dutch Markgraf)
The house and garage sit on 1.32 acres.
(Dutch Markgraf)
A large pad at the front of the house provides extra parking for guests.
(Dutch Markgraf)
An early work of modernist Ed Niles, this redwood-and-glass house sits on a ridge top to take advantage of the views. The Malibu architect is known for creating homes that connect to the outdoors and maximize the use of natural light.
Location: 19 Buckskin Road, Bell Canyon 91307
Asking price: $885,000
Year built: 1979
House size: Four bedrooms, three bathrooms, 2,573 square feet
Lot size: 1.32 acres
Features: Second-level master suite with two balconies, hardwood cabinetry, copper roofing components, three-car garage, utility room
About the area: In the first half of the year, 127 single-family homes sold in the 91307 ZIP Code at a median price of $432,000, according to DataQuick. That was a 6.6% decrease from the median during the first half of 2010.
Listing agent: Kevin Godley, Re/Max Olson & Associates, Westlake Village, (818) 435-5211
— Lauren Beale
To submit a candidate for Home of the Week, send high-resolution color photos on a CD, written permission from the photographer to publish the images and a description of the house to Lauren Beale, Business, Los Angeles Times, 202 W. 1st St., Los Angeles, CA 90012. Send questions to homeoftheweek@latimes.com. To see more photos of this and previously featured homes, go to latimes.com/realestate.
---