Riverside County development to test vigor of area's housing recovery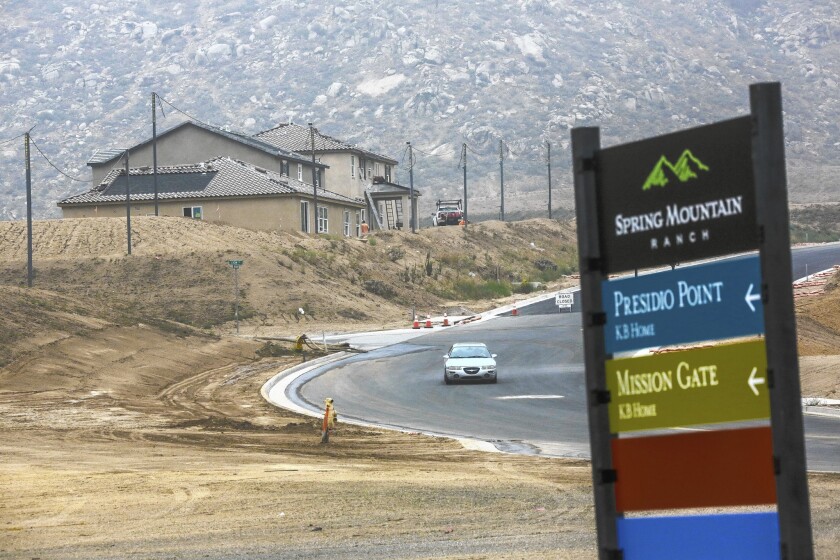 After stalling amid the housing bust, a 1,400-home development in Riverside County is coming back to life.
An early October grand opening is set for the first phase of Spring Mountain Ranch, a 785-acre master-planned community nestled in a canyon northeast of UC Riverside.
The project — one of the largest of its kind in 20 years — represents a big bet by developer IStar Financial that the housing market in this epicenter of the foreclosure crisis has healed significantly. If the homes sell well, economists say, that could persuade others to break ground along this interior stretch, near the 215 Freeway.
"It's a test of starting the whole Inland Empire game again," said Gerd-Ulf Krueger, chief economist with KruegerEconomics.
Work started at Spring Mountain Ranch during last decade's housing bubble, when builders raced to throw up new homes in Riverside and San Bernardino counties — pitching the communities as affordable havens in pricey Southern California.
But original developer RWR Homes didn't get far. The builder constructed a few roads but not much else before work stopped in 2008 after the housing bubble imploded, said Steve Magee, an executive vice president with IStar Financial. A year later, IStar, a lender on the project, took over the property.
As the housing market improved last year, IStar secured KB Home to build houses in the project's first phase. Model home construction started this summer.
"It's time to build," Magee said. "Riverside has turned around quite nicely."
KB, the largest home builder in Southern California, plans 435 homes in two neighborhoods. The single- and two-story houses, equipped with solar panels, range from 1,854 to 3,379 square feet. They'll start in the mid-$300,000s and buyers should be able to move in as early as spring, KB said.
The master-planned development, less than 10 miles from downtown Riverside and the local University of California campus, is located at the base of Sugarloaf and Blue mountains. IStar expects young families looking for an active lifestyle to be among potential buyers. There will be a five-acre public park, 251 acres of open space and more than six miles of trails.
As motorists pass through the adjacent community of Highgrove, signs warn them to yield to burros.
"The ... feel to us is a natural sort of Colorado-esque," Magee said.
The project, which includes two more phases, is expected to be built over 10 years, he said.
Few regions were hit harder than Riverside and San Bernardino counties when the housing bubble popped last decade. Despite recent improvement, there's still an overhang: The Inland Empire unemployment rate was 9.2% in July, compared with 5.7% in Orange County and 8.1% in Los Angeles County.
About 18% of Inland Empire homeowners with a mortgage still owe more on the loan than their houses are worth, compared with 9.3% across Los Angeles and Orange counties, according to Zillow. And like the larger Southern California region, Inland Empire home sales are down this year and price appreciation has slowed.
But IStar and KB see gradual recovery — in both the housing market and the local economy.
The Inland Empire is no longer awash in foreclosures, and despite a higher unemployment rate than in surrounding areas, the general trend is improving. The local logistics industry is growing and most Spring Mountain Ranch buyers will probably work in the Inland Empire, said Steve Ruffner, president of KB's Southern California division.
"We really believe now is the time to grow into a much bigger business in the Inland Empire," Ruffner said.
So far, however, most new construction since the downturn has risen further west than Spring Mountain, along the 15 Freeway, in towns such as Eastvale, said Jeff Meyers, head of Meyers Research in Beverly Hills. Those stretches are closer to major job centers in Los Angeles and Orange counties, where the economy is more robust.
"When you get past the 15 — that becomes the artificial barrier," Meyers said. "It's a tougher commute."
But Meyers predicts that barrier will grow more porous as areas near the coast grow increasingly expensive. Young families, he said, will start choosing a more affordable home with a yard over a quicker jaunt to work.
If homes at Spring Mountain Ranch sell well, other builders may follow, Krueger said.
"They will go to their money people and say: "Look, it's east of the 15. You are worried about being too far out in the Inland Empire. Here is a successful project. Give us money.'"
Twitter: @khouriandrew
---
Inside the homes of the rich and famous.
Glimpse their lives and latest real estate deals in our weekly newsletter.
You may occasionally receive promotional content from the Los Angeles Times.