Will Wall Street turmoil affect Southern California housing market?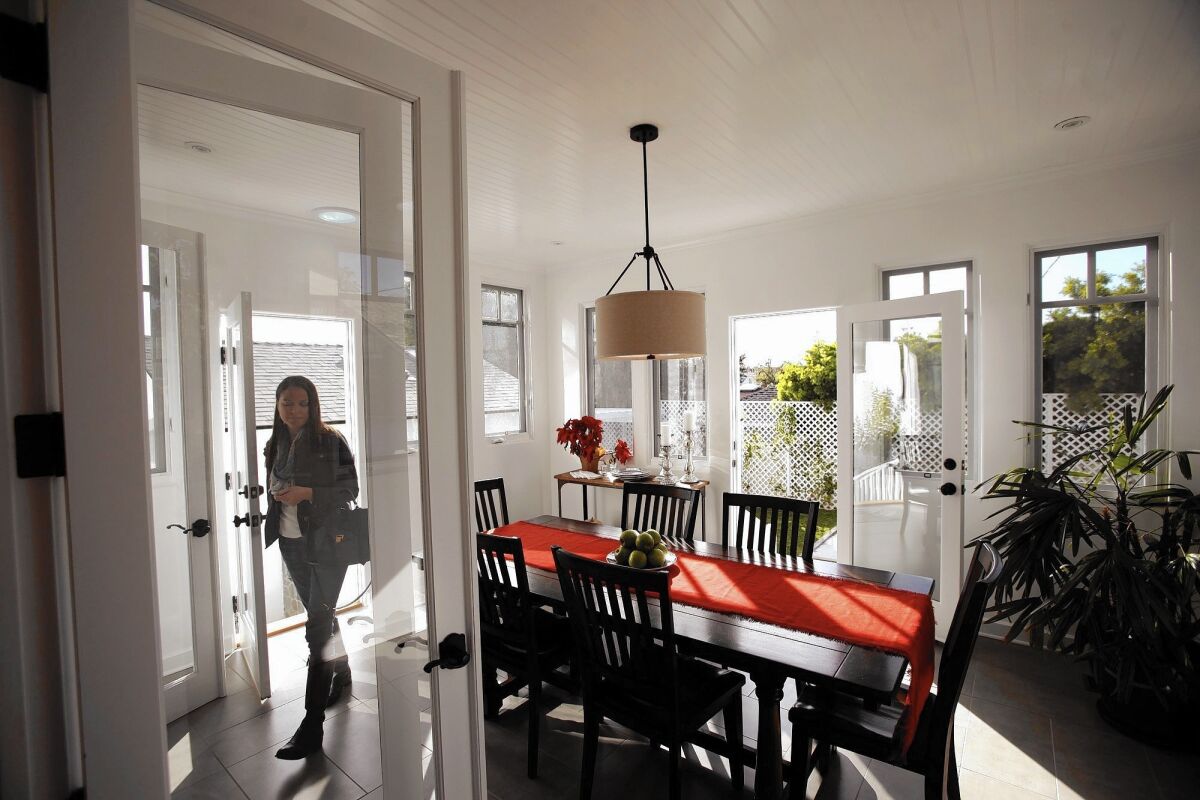 Seven years ago when the housing bubble burst, it nearly took down Wall Street and the entire U.S. economy.
This week, the concern was the reverse: That the prospect of an extended dive in the stock market, or even continued volatility, might spook buyers and sellers in Southern California's housing market — just as it has finally normalized after a bust-and-boom cycle.
Blaring headlines about the three-digit swings in the Dow Jones industrial average weighed on buyers such as Christian Lander, a television writer and author, who put an offer on a Glendale house last week, before the stock market started falling. He's proceeding as planned, because he's investing for the long term and doesn't want to react to fluctuations in the market.
But Lander worries that other buyers may take a different view — because he's a seller too, looking to unload his two-bedroom condo in Koreatown.
"I am just hoping it won't freak people out that this is a bad time to buy," he said.
So far Lander's decision to press ahead is typical of what local real estate agents and mortgage brokers say they have seen in the housing market, though the unease already has prompted some price cuts. But if the Wall Street gyrations continue for a prolonged period, say for weeks, economists believe that the uncertainty could cause a shift in housing market sentiment.
And there's another threat: Much of the blame for the stock market turmoil has been on the weakening economy in China, where investors flush with cash have become the largest source of overseas buyers for Southern California residential real estate.
"One or two days makes people nervous and glued to the TV, but it doesn't necessarily change a life-altering purchase such as a home," said Lindsey Piegza, chief economist at Stifel Fixed Income. "If there's ongoing uncertainty, consumers will pull back."
George Pagano, a real estate agent with Immel Team Luxury Real Estate who specializes in coastal south Orange County, said his buyers are assuming that the stock drop-off is temporary and are not changing their intentions.
But some sellers have been more willing to trim their asking prices from levels he considered unrealistic. This week, the owners of a five-bedroom house in Laguna Niguel reduced their asking price by $505,000, down to $3.9 million.
"They are taking our advice to lower their expectations," he said.
Laguna Niguel mortgage broker Jeff Lazerson said he hasn't heard from worried borrowers, but he dislikes the volatility and is hoping that the stock market doesn't go into a steep decline.
"The best things in real estate are no whipsaws — slow and steady growth and there are no distractions for the consumer," he said.
The recent drops in the stock market have been largely driven by concerns over China's slowing economy, worries that have been heightened by a sharp sell-off in that country's stock market and a devaluation of its currency.
Economists said slowing growth abroad could go two ways. It could sap demand from markets such as Irvine and the San Gabriel Valley, which Chinese families have poured into in recent years, seeking good school districts and a safe place to park their cash. Or it could increase investments as wealthy individuals look to get their money out of China and into the U.S.
John Burns, an Irvine consultant for home-building companies, said one of his clients has seen fewer Chinese buyers shopping for homes at its Southern California communities over the last month. And another client told him that a buyer canceled a deal recently because of the buyer's losses in the Chinese stock market.
"Clearly, there is some uncertainty out there," he said.
Tom Berge Jr., president of the West San Gabriel Valley Assn. of Realtors, has had a different experience. He said three or four Chinese business owners looking to invest in homes have raised concerns to him over economic turmoil in China. But it wasn't because they might no longer be able to afford local real estate.
"Their fear is the government is going to limit the money that can freely move out of China," he said.
Christopher Thornberg, founding partner of Beacon Economics, believes that slowing growth abroad won't slow investment because Chinese residents will become more inclined to move money into what they consider a safe investment.
"If anything, this is only going to intensify the push to get money out of China," he said.
The volatility on Wall Street comes just as home buyers were growing more confident. In July, home sales in Southern California hit a nine-year high and prices rose 5.5% from a year earlier to a median price of $438,000 as the U.S. economy continued its long recovery in a low-interest-rate environment.
Scott Laurie, chief executive of Olson Homes, said he's encouraged by strong job growth within California, so his Seal Beach development company is moving ahead with at least eight new single-family and town-home communities on which it plans to break ground next year.
"A [stock market] correction of 10% to 20% doesn't change that," he said. "We have a full pipeline in place for next year. We are pretty bullish."
Stuart Gabriel, director of UCLA's Ziman Center for Real Estate, is also bullish on housing.
He said the stock market volatility shouldn't change the housing market's upward trajectory, noting the recent drops in the stock market have been driven by worries over economies abroad while the fundamentals of the U.S. economy remain strong.
"At this moment demand for housing remains roughly intact," Gabriel said. "There is nothing about what we're seeing in the last few days that would change that assessment."
Indeed, by the end of the week, the stock market had calmed, with the Dow recovering substantial ground. Still, few people on Wall Street think that all the turbulence is a thing of the past.
Michael Novati, a 28-year-old technology worker in San Francisco, said he wasn't letting the market volatility affect his plans to buy a condo on L.A.'s Westside as an investment and a home for his brother.
Novati has been looking for six months, and during that stretch his biggest obstacle has been his desire to find just the right condo in a market with very limited options. That remained his biggest issue as he forged ahead this week despite all the unnerving news.
"You got to suck it up" and think about the long term, he said.
Twitter: @khouriandrew
MORE BUSINESS NEWS
NLRB ruling on third-party employers could be a game changer for unions
U.S. stocks close nearly flat Friday after a wild week
Column: Here's why drugmakers are held in low esteem
---