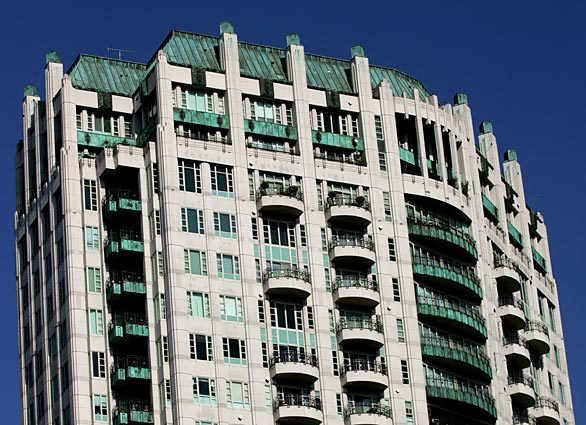 8 Images
Living the high life in Westwood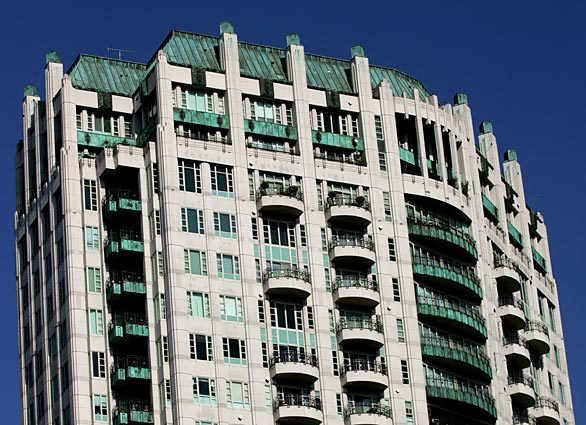 A view of the Wilshire building at 10580 Wilshire Blvd., where the penthouse is listed for $11.5 million
(Ringo H.W. Chiu / For The Times)
L.A.'s luxury penthouse market is centered along the Wilshire Corridor. Among the most expensive on the market is the 8,000-square-foot, two-floor unit offering "unsurpassed elegance" (according to its brochure) at the Wilshire for $11.5 million.
(Ringo H.W. Chiu / For The Times)
Don Byerly, owner of the penthouse, outside his living room. The penthouse, listed for $11.5 million, has two-story ceilings and occupies half of the top two floors in the building.
(Ringo H.W. Chiu / For The Times)
A wall lamp in the penthouse, which is decorated in 19th century European style. Interior rooms feature elaborate moldings, marble fireplaces, antiques and views of the Westside, the ocean and downtown Los Angeles from several angles.
(Ringo H.W. Chiu / For The Times)
"It's being offered furnished as a possibility, so the buyer wouldn't have to do a thing," said Joyce Rey, a real estate broker and executive director of Coldwell Banker Previews International, Beverly Hills, who has the listing.
(Ringo H.W. Chiu / For The Times)
Arriving at the penthouse, visitors are met with stunning views of Bel-Air and an elegant gilt- and crystal-coated, two-story grand salon. The unit also offers a screening room large enough for the extended family, an in-unit elevator and his-and-her dressing rooms.
(Ringo H.W. Chiu / For The Times)
Owner Don Byerly said he wasn't necessarily looking for a penthouse when he bought it 11 years ago but liked the size of this double unit. He said he and his wife were looking to downsize but would like to stay in the building because of its amenities.
(Ringo H.W. Chiu / For The Times)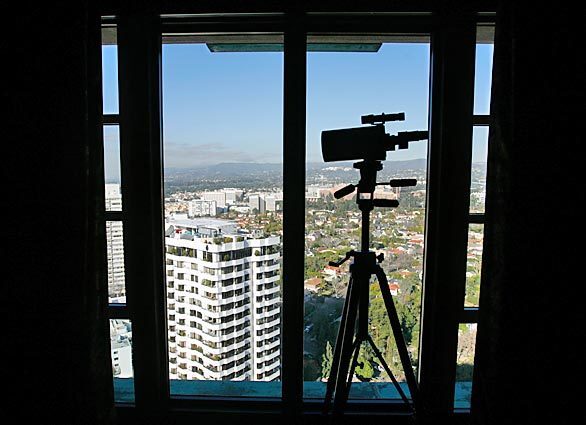 The Wilshire penthouse property has been on and off the market for the last few years, which can be typical for high-priced properties.
(Ringo H.W. Chiu / For The Times)