Stuck in a housing glut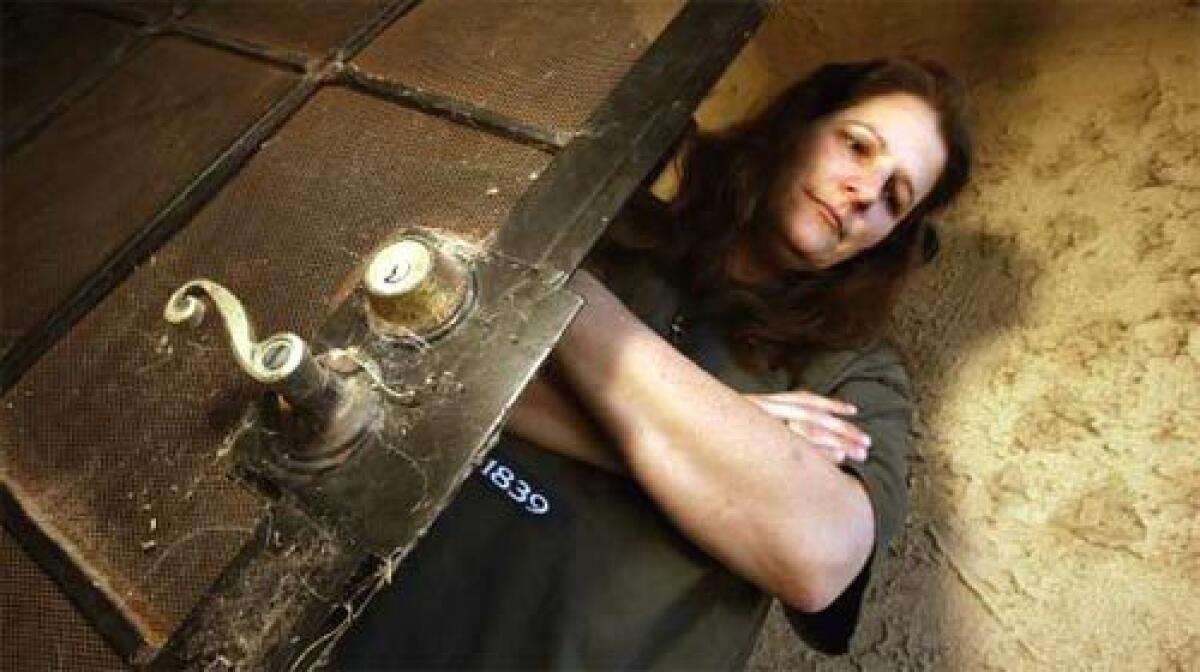 Los Angeles Times Staff Writer
Are you a homeowner who is having trouble selling your house? National housing experts say you can heap some of the blame on those big builders with their much-ballyhooed sales and the banks that have put too many foreclosed homes on the market.
And if that isn't enough to banish those Goliaths to Dante's Ninth Circle, some experts also hold them responsible for dragging down existing homes' sale prices in certain parts of the nation -- including communities in Southern California.
Locally, Delores Conway, director of USC's Casden Real Estate Economics Forecast, points to Riverside County as ground zero -- a place that was overbuilt, with new homes now being discounted by builders, and that is witnessing a sea of foreclosed homes on the market, with more expected. RealtyTrac reported last week that Riverside County led the state in foreclosure activity with one in every 330 households affected. Neighborhoods that just a year ago were flourishing are today blighted with house after house of "for sale" signs and properties abandoned to foreclosure.
How did this come to be? The crisis in the sub-prime mortgage industry doesn't shoulder all the blame, experts say.
There are three kinds of sellers, said Edward Leamer, director of the UCLA Anderson Forecast: builders of new homes, bankers and owners of existing homes. Existing homes' owners, by sheer numbers, dominate the market, yet sadly for them, their fate may be hitched to the wagons of the builders and bankers.
Home builders have excess inventory and are making deals left and right, Leamer said, often undercutting the listing prices of existing homes' owners who are trying to sell in the same development or nearby.
Last month, K. Hovnanian Homes, the nation's sixth-largest housing developer, showed just how low builders could limbo. It held what was dubbed the "Sale of the Century" and reduced prices of its unsold inventory in 19 states, including California, by eye-popping amounts: e.g., $300,000 off a $2-million model in Orange County. Some of the discounting was accomplished through financing incentives and offers of upgrades, but the mere announcement of the three-day fire sale caused Hovnanian's stock to jump 9.2%. Not bad for the builder, which had just posted a third-quarter loss and a 27% decline in sales. It sold 2,100 homes in the three days, compared with 2,579 homes sold in the three months ending July 31.
Dani Babb, a real estate author and consultant, spared Hovnanian no mercy over its banner sale.
"What Hovnanian did hurt everyone, including the long-term, broader market -- which includes them too," Babb said. She explained: The ability to get loans is based on comps -- the sales prices of comparable homes nearby. Now, homes near the ones for which Hovnanian slashed prices will appear inflated by comparison and may make financing more difficult.
"Hovnanian sent a signal to the entire consumer base that things are scary out there," Babb said.
But while Hovnanian's move may have ratcheted up the volume, new home builders have been busy cutting prices since early summer. Builders can't just sit tight and hold firm on listing prices, Leamer said, because they don't make money until the final phases of the project sell. Until then, they have loans to pay, expenses to meet and shareholders to satisfy.
And then there are those foreclosures listed for sale. With rare exceptions, when a lender forecloses on a home, it sits empty while the lender tries to sell it.
That makes sense, said Nicolas Retsinas of Harvard University's Joint Center for Housing Studies. "Banks and lenders aren't equipped to manage properties," he said. They would rather just sell the house at a discount than cope with renting it out to tenants who have no vested interest in keeping the home in tip-top shape for an eventual sale.
"Think about it: Have you ever met anyone who washed a rental car?" Retsinas asked.
Houses quickly deteriorate
Empty houses quickly deteriorate when there's no one to maintain them and can become eyesores, hurting existing home sellers' efforts.
Chris Silva is an agent with Realty Executives in Riverside. His business nowadays is primarily listing bank-owned foreclosures. He has 80 active listings in San Bernardino and Riverside counties and said he gets calls about listing more every week. A year ago, he listed only 10 bank-owned properties; two years ago, none.
Although the crisis in the sub-prime mortgage industry may have made those homes unaffordable for their owners, it is the builders and banks, said Silva, that are driving the home prices down.
"If I appraise a house and list it at $350,000, the tract lowers its prices to $320,000. . . . That's how it's going," he said. "And lately, banks too have been getting into the price-dropping game."
And the snowballing effect on overall prices is being felt. Tomora Tonioli, with Keller Williams Realty, Norco, and a real estate investor herself, has been eyeing a Lennar home in Riverside County's Corona Valley. A year ago, this model sold for $769,000. Now, it's been discounted to $575,000 with $40,000 in incentives on top of that.
"How are you supposed to feel if you paid $769,000 a year ago and now see the same house -- brand-new and never lived in -- going for $535,000?" she asked, adding that it seems as if "every other house in Corona Valley is for sale."
Tonioli, who counts many existing home sellers among her clients, tries to explain to potential buyers that there are financial incentives to buying an existing home that don't apply to new construction: no Mello-Roos taxes to pay, no special assessments, and you pay taxes on the actual selling price, not an artificially high sales price padded by free incentives that don't reduce the house's tax base.
But amid the rush to find the "best" deal -- i.e., lowest-priced house -- her words are falling on deaf ears.
Even if existing homes' sellers are not in close proximity to a new development or a cluster of foreclosures, it becomes a matter of losing potential buyers to these sales or having buyers read accounts about prices falling in these areas.
It also takes only one or two short sales in a neighborhood to skew comps, Tonioli and others said. A short sale is when a lender agrees to accept less than what is owed on a mortgage so that the seller can unload an unaffordable home. The problem occurs with future sales: Buyers see that an identical house down the street sold for $30,000 less than what another seller is asking.
Two years and counting
Although she isn't facing foreclosure, Rebecca Knowlton is approaching the two-year anniversary of listing her Corona home for sale. A block in any direction, she said, there used to be dairy farms, but now there are new home developments.
Her 1,871-square-foot, four-bedroom house has new appliances and hardwood floors. It is listed at $850,000 and sits on more than two acres, adjacent to another three-acre parcel she owns. Knowlton, who now lives near Austin, Texas, bought the 1970s home from her parents in 2000.
Ironically, although the new home developments that engulf her property may have contributed to its sale stagnation, she believes that her eventual buyer will be a developer. For a time, developers were scarfing up multi-acre lots like hers to build new projects. That too appears to have come to a screeching halt.
"We've had some offers," she said, "just none that I wanted to take. We decided to sell at the wrong moment." The right moment, she added, may not come for a while, since developers aren't looking to buy more lots.
Barbara Rodarte, an agent with Century 21 Award in Temecula, sees firsthand the problems facing Riverside County. Rodarte lives in Murietta, where, she said, things are "simply awful." People have walked away from homes, which have fallen into disrepair, she said.
Of course, not everyone listing an existing home that sits in the midst of new developments is panicked.
Agent Tonioli represents Carol and Ty Moss, who bought their 1993 home in Riverside County's Lake Mathews area seven years ago for $650,000 and added several hundred thousand dollars in improvements. The equestrian property sits on 2 1/2 developed acres and is listed for $1,799,000.
The 4,000-square-foot home with five bedrooms and four baths has a tennis court and pool. It is surrounded by new home developments, and a big sign nearby reads, "Homes starting in the $700,000s."
But Carol Moss has a "What, me worry?" attitude.
"Our property is completely different. People who drive by heading for the development's models aren't our buyers," she said. Her strategy, she said, was to pick a listing agent very carefully. "I researched and found someone who focuses on the luxury market. Tomora does targeted audience marketing," Moss said.
As for the people shopping in the development, she says, "They aren't my buyers; let them drive by."