10 Images
Home of the Week: Agoura home of TV's "The Bachelor" listed for $12.9 million
The Agoura home where episodes of the ABC reality shows "The Bachelor" and "The Bachelorette" were filmed is now listed for sale at $12,995,000
(Jeff Elson)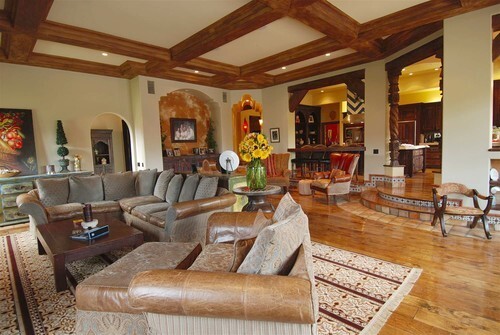 The vast estate, dubbed Villa de la Vina, has an Italian and Spanish aesthetic, including the living room, where the bachelor and bachelorette handed out roses to the winning contestants each week.
(Jeff Elson)
Owner Marshall Haraden, a contractor who has built a number of Southland restaurants, including Kumo in West Hollywood, said he and his wife, Joanna, wanted "to create a home that looks 100 years old, by using textures, materials and techniques you don't often find in this country."
(Jeff Elson)
The property has 45 mature olive trees, whose fruit is harvested each year by the owners, taken to an oil press in Ojai, bottled and later distributed as gifts.
(Jeff Elson)
Marshall Haraden used a custom, dye-infused concrete on the home's exterior walls. The six-coat process, done by hand, produced a finish resembling that found on a centuries-old villa in Tuscany.
(Jeff Elson)
The home has six bedrooms and 7 1/2 bathrooms in about 8,000 square feet. The property also has a 4,000-square-foot finished building, complete with a bathroom and air conditioning, for use as a hobby studio.
(Jeff Elson)
The kitchen's granite-and-limestone cooking island, which Haraden describes as being the "size of a Mini Cooper," overlooks the family room and has views of the aqueduct and waterfalls in the pool area.
(Jeff Elson)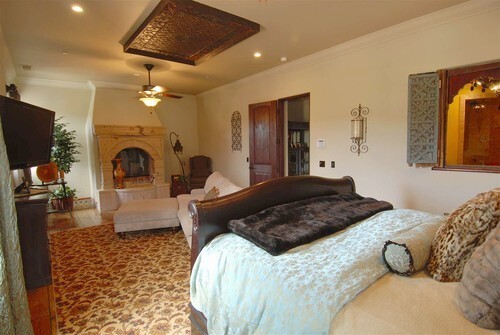 Each bedroom suite has a walk-in closet and a bathroom.
(Jeff Elson)
Although taping of this season's "The Bachelorette" has wrapped at the estate, viewers don't know whom DeAnna Pappas -- rejected by last season's "Bachelor," Brad Womack -- has chosen as her One True Love.
(Jeff Elson)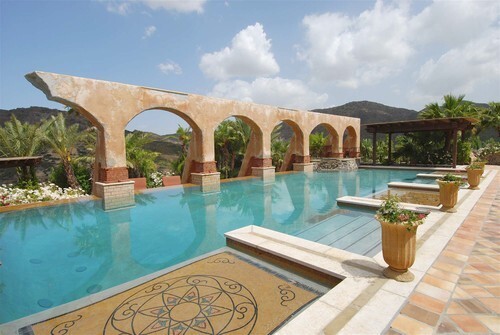 The private, gated estate also has a pool, a motor court, two spas, three cabanas and mountain and canyon views.
(Jeff Elson)