Hackers hijack Twitter CEO Jack Dorsey's account and send racist tweets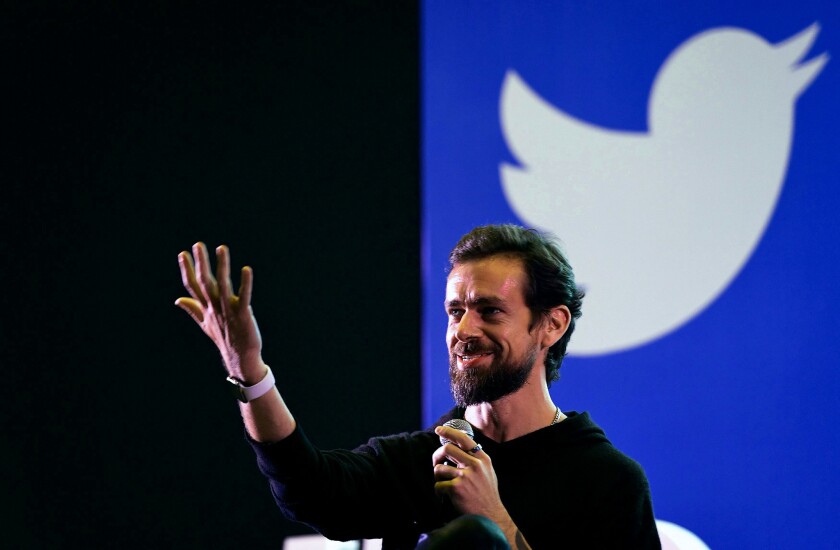 Twitter has struggled for years to balance a commitment to free speech with meaningful protections against bigotry, harassment and incitement. Twitter's purveyors of extremist hate face no such dilemma: They just want to amplify their messages to as many people as possible. On Friday, they achieved that in spectacular fashion with a temporary hack of Chief Executive Jack Dorsey's official Twitter account.
Within a span of minutes, the @jack account blasted out more than a dozen unauthorized tweets, many of them containing racist and vulgar language, to his 4.2 million followers. The person responsible sent tweets such as "Hitler is innocent" and, using a vulgarity, asked Dorsey, referred to as "bald skeleton head," to unsuspend his account. One tweet contained a link to a server on Discord, a private message board service popular with both gamers and alt-right provocateurs. Discord quickly deactivated the server.
Twitter said the takeover happened after "the phone number associated with the account was compromised due to a security oversight by the mobile provider." The unauthorized tweets were posted through an app called Cloudhopper, which Twitter acquired in 2010. It connects Twitter to mobile telephone networks to enable the posting of tweets via SMS.
The tweets were up for about 30 minutes before Twitter took them down. The company also suspended accounts that the hacker or hackers retweeted while they had control of Dorsey's account.
Dorsey, who was among Twitter's co-founders and returned to the company as CEO in 2015, has come under intensifying criticism for policies that allow users to post violent incitement, racist harassment and white nationalist propaganda without having their content removed or accounts suspended. He has been publicly sympathetic toward complaints that Twitter over-polices conservative speech, saying the company has been at times "way too aggressive" in handing out bans and must be careful not to let its employees' "left-leaning" politics dictate content policy.
Under Dorsey's direction, the company has said it would prioritize user safety but has failed to make steady progress. Last year, it considered a new rule against "dehumanizing" language but pulled back after concluding its effects would be too broad. The final rule only outlawed speech that dehumanizes people based on religion — meaning a tweet referring to an "infestation" of immigrants, for example, would be permitted.
It's not the first time Dorsey has temporarily lost control of his account. In 2016, a hackers-for-hire group called OurMine took it over to highlight its vulnerability and advertise the group's security services. OurMine also successfully commandeered accounts belonging to Facebook CEO Mark Zuckerberg and Google CEO Sundar Pichai.
The Associated Press was used in compiling this report.
---
For reporting and exclusive analysis from bureau chief John Myers, get our California Politics newsletter.
You may occasionally receive promotional content from the Los Angeles Times.