Virgin Galactic's Richard Branson plans to visit space before Jeff Bezos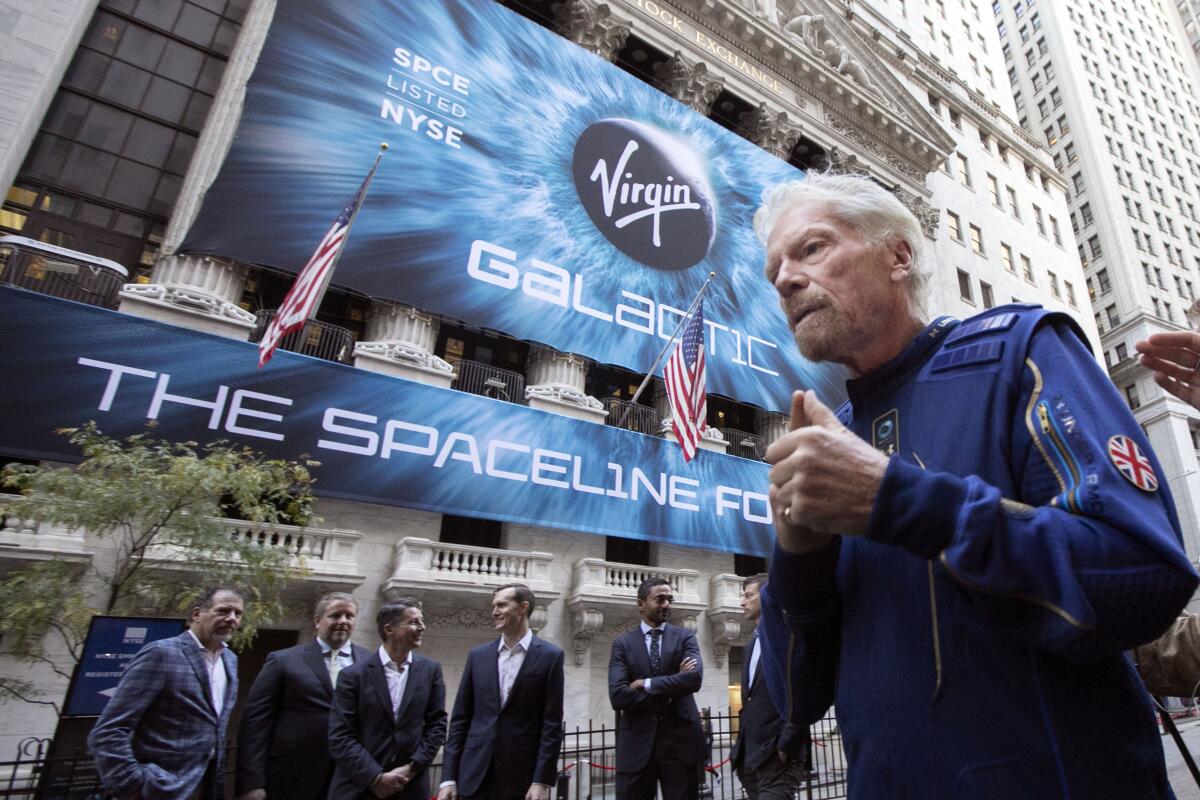 Virgin Galactic's Richard Branson is aiming to beat fellow billionaire Jeff Bezos into space by nine days.
Branson's company announced Thursday that its next test flight will be as soon as July 11 and that its founder will be among the six people on board, all company employees. The winged rocket ship will soar from New Mexico — its first time carrying a full crew.
Bezos, meanwhile, plans to blast into space from West Texas on July 20, the 52nd anniversary of the Apollo 11 moon landing. He'll be on the first crewed flight of a Blue Origin rocket, accompanied by his brother, a female aerospace pioneer and the winner of a $28-million charity auction.
As late as Wednesday, Branson declined to say when he would go to space, citing restrictions placed on him by his publicly traded company. But he emphasized he was healthy and fit to fly. He'll turn 71 a week after the scheduled launch.
A small satellite is speeding to its demise in a test that could help clean up space.
Virgin Galactic launches its rocket ship from an aircraft, reaching an altitude of roughly 55 miles. Blue Origin launches its New Shepard rocket from the ground, with its capsule soaring to about 66 miles above the ground. Both those heights are considered the edge of space. By comparison, SpaceX launches its capsules — both crew and cargo — into orbit around the world.
Branson is to be joined on his flight by Beth Moses, Virgin Galactic's head astronaut instructor; Colin Bennett, the company's lead operations engineer; and Sirisha Bandla, the company's vice president of government affairs and research operations, the company said.
Branson's task during the trip will be to "evaluate the private astronaut experience" so he can improve it for future fliers, the company said.
Virgin Galactic plans three more test flights to the edge of space this summer and in early fall before launching customers. The company originally scheduled Branson on the second upcoming flight but has now moved him up to the sooner one.
Branson said Wednesday that it's "very important" for potential customers to see him strap in for a ride before opening the doors to the paying public.
The thrill-seeking adventurer said he's "not apprehensive at all" about launching into space. "It's a dream of a lifetime," he said.
Last week, Virgin Galactic got the Federal Aviation Administration's approval to start launching customers. More than 600 people have reserved a ride to space. Tickets initially cost $250,000, but the price is expected to go up once the company starts accepting reservations again.
Virgin Galactic made its third flight to space in May, with two pilots in the cockpit of the winged spaceship. The company uses an aircraft to get off the ground and waits until it reaches high altitude before releasing and firing the rocket.
From their living rooms and pickup trucks, amateur radio operators reach out to the International Space Station, circling 240 miles above Earth.