Column: A spineless Walgreens bows down to antiabortion crusaders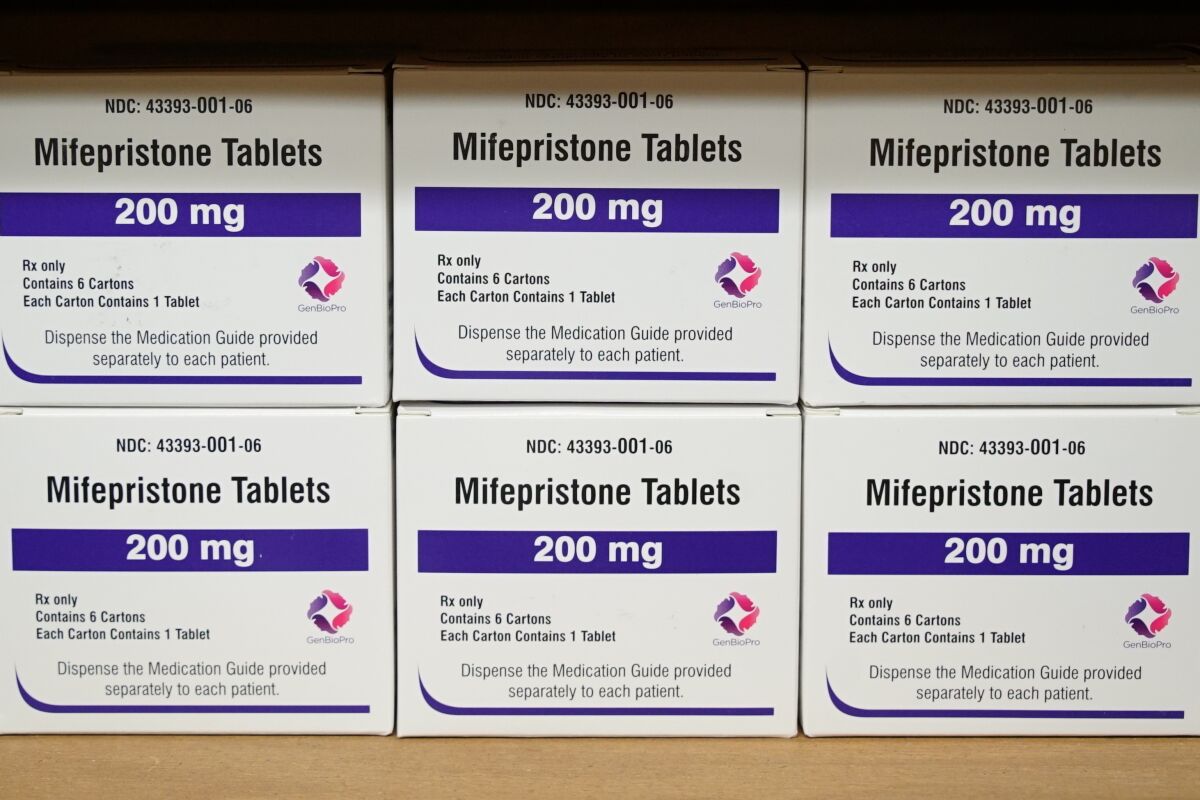 There has long been reason to question whether, despite its pledges to do the right thing, corporate America will stand up for environmental, social and democratic principles.
Here comes Walgreens to extinguish any doubt.
Last week, the giant pharmacy chain stated that it won't distribute or ship a drug used for medication abortions in at least 21 red states, including at least four where abortions remain legal.
We intend to be a certified pharmacy and will distribute Mifepristone only in those jurisdictions where it is legal to do so.
— Walgreens statement
What rattled Walgreens' cage was a letter sent Feb. 1 by the attorneys general of 20 states, warning vaguely of "consequences" for shipping mifepristone, a drug used to induce abortions. Kris Kobach, the Republican attorney general of Kansas, added his voice to the chorus in a separate letter.
Both letters cite the Comstock Act, which was enacted in 1873 chiefly as an anti-obscenity statute.
Get the latest from Michael Hiltzik
Commentary on economics and more from a Pulitzer Prize winner.
You may occasionally receive promotional content from the Los Angeles Times.
Among the 20 attorneys general who signed the joint letter are those of Iowa, Montana and Alaska, where abortion is still legal. In Kansas, despite Kobach's antiabortion peacockery, voters overwhelmingly rejected an antiabortion constitutional amendment last year.
Walgreens properly pleads that the legal atmosphere surrounding abortion in almost all respects is a miasma that makes it difficult for law-abiding businesses to know what to do. The antiabortion movement has deployed political posturing, sheer misogyny and healthcare misinformation and disinformation to make it so.
But Walgreens' public position only makes things worse. It's merely giving cover to other pharmacies to express doubts about dispensing a legal medication.
On Monday, California Gov. Gavin Newsom warned those other chains they would face consequences for following Walgreens' precedent, saying in a tweet the state "won't be doing business with @walgreens — or any other company that cowers to the extremists and puts women's lives at risk."
It's true that the law is somewhat unsettled around mifepristone: The Food and Drug Administration ruled in January that the drug could be dispensed by bricks-and-mortar drugstores to patients with a doctor's prescription. Previously, patients had to receive it directly from a physician or through mail order after a telemedicine consultation.
Pharmacies will have to register with and obtain certification by the FDA to dispense mifepristone under those new terms. Previously, Walgreens, CVS and Rite-Aid, the nation's largest drug chains, said they would seek certification.
On the first day of Black History month and after right-wing complaints, the College Board issues a watered-down Black studies curriculum. So much the worse for students.
The FDA's approval of the drug in 2020, however, is under attack before a Texas federal judge with a long antiabortion record. He's expected to rule any day now on a fatuous lawsuit brought by antiabortion activists. It's unclear whether he'll attempt to ban the drug nationwide, in limited circumstances, or not at all.
Under those circumstances, what Walgreens should have said about mifepristone is nothing. The fire-breathing letters from the 21 red-state attorneys general don't currently have any legal force and are based on dubious readings of the law, court rulings and congressional action at best. Capitulating to them in advance, as Walgreens has done, is tantamount to giving the devil a free pass.
(For the record, the company says only that "we are not distributing Mifepristone at this time. We intend to be a certified pharmacy and will distribute Mifepristone only in those jurisdictions where it is legal to do so.")
Let's examine the context. In the broadest sense, this is another example of a business enterprise reacting supinely to the extreme right wing. As I've reported in the recent past, many of the nation's corporate leaders pledged to stand firm against the assaults from the far right on voting rights, women's access to reproductive healthcare and democracy itself.
For example, leading corporations said they would cease making campaign contributions to lawmakers who voted against certifying Joe Biden's election or played a role in the Jan. 6, 2021, insurrection in Washington.
Their steadfastness didn't last. Many companies that once expressed a commitment to end or at least review their contributions to the 147 Republicans who voted against certifying the election on Jan. 6, 2021, went ahead and contributed to those lawmakers in subsequent months.
Toyota offered the most distilled statement of cowardice, saying it "supports candidates based on their position on issues that are important to the auto industry and the company. ... We do not believe it is appropriate to judge members of Congress solely based on their votes on the electoral certification." No, because what could be less important than a politician's position on democracy?
Business after business has rolled over for the tin-pot dictatorship of Florida's Republican Gov. Ron DeSantis. Confronted by his ukases on "wokeness," a code word for ethnic and gender discrimination, and his policies demeaning vaccines and other anti-COVID policies, the National Hockey League, the College Board, even the Special Olympics all caved.
The Special Olympics capitulated to Florida Gov. Ron DeSantis, dropping a vaccine mandate in hopes of escaping a $27.5-million fine.
Walgreens' stance on mifepristone is especially troubling because, like CVS and Rite-Aid, the company has been positioning itself to play a much larger role in America's healthcare system than merely dispensing prescription drugs.
They've placed retail health clinics in their stores, pushed their pharmacists to be more proactive with prescription customers and even entered into partnerships with big medical groups. In 2018, CVS acquired the health insurer Aetna. The big pharmacy chains have played an important role in administering COVID vaccines and boosters, helping to widen access to those lifesaving medications nationwide.
Healthcare is a field that presents practitioners with a multitude of imponderables on a daily basis — with women's reproductive healthcare, especially, in the gun sights of the right wing. If we can't rely on the pharmacy chains to stand up for their customers and patients, then their expanded footprint in healthcare will be tragic.
As for the assertions by the red states about the illegality of dispensing mifepristone, it's abject claptrap. (Mifepristone is one of two drugs typically used to achieve medical abortions; it's usually paired with misoprostol, which is taken a few days later. Misoprostol has non-abortion-related uses and isn't involved in the legal debate.)
The Comstock Act was the brainchild of Anthony Comstock, one of the outstanding bluenoses of American history. As a legal analysis provided by the Department of Justice in December reminds us, Comstock "believed that anything remotely touching upon sex was obscene." The act bearing his name principally outlawed sending purportedly "indecent" matter through the mails. That included anything that could be used for abortion.
The 21 red states think we should be living in the world of the 1870s, but Congress and the federal courts don't agree. They've consistently narrowed the Comstock Act's applicability to printed material and abortion over the subsequent 150 years — federal courts in rulings in 1915, 1930, 1933, 1936, 1938, 1944 and 1962, and Congress through revisions of the act in 1945, 1955, 1958, 1971 and 1994.
Disney's money has controlled Florida politics for more than 50 years. Now the politicians are showing their ingratitude.
Generally, these rulings and revisions interpreted the law as barring the shipment and distribution of abortion-related materials only when they're to be used for "unlawful" purposes. Congress effectively ratified the court rulings in its revisions.
The U.S. Postal Service accepted that narrowed interpretation in its own administrative proceedings and presented its position explicitly to Congress, which never objected.
Last year's notorious Supreme Court decision in Dobbs vs. Jackson Women's Health Organization, which invalidated the 1973 abortion ruling in Roe vs. Wade, didn't turn the clock back on the Comstock Act; it merely opened the door to state-level abortion restrictions.
The Justice Department points out that in most states abortion is still legal until at least 20 weeks of gestation, that some states with more restrictive abortion rules still allow abortions for some weeks of pregnancy, no state prohibits abortions necessary to preserve the life of the mother, and some states provide exceptions to abortion bans in cases of rape or incest.
Furthermore, some state antiabortion laws aimed at physicians or clinics don't prohibit women themselves from inducing their own abortions. Nor does anything prevent a woman from traveling to another state for an abortion, including by taking the drugs there — a right that was explicitly upheld by Supreme Court Justice Brett M. Kavanaugh in his concurring opinion in the Dobbs case.
Walgreens, like the other big pharmacies that dream of playing a larger role in American healthcare, needs to behave like a medical provider with a commitment to serving customers and patients, not run for the hills when it experiences political head winds.
As long as it fails to do so, its advertised principles — Walgreens says its purpose is "to help people live healthier and happier lives" — will be nothing but hot air.
Get the latest from Michael Hiltzik
Commentary on economics and more from a Pulitzer Prize winner.
You may occasionally receive promotional content from the Los Angeles Times.