San Diego crypto-focused bank Silvergate plans to shut down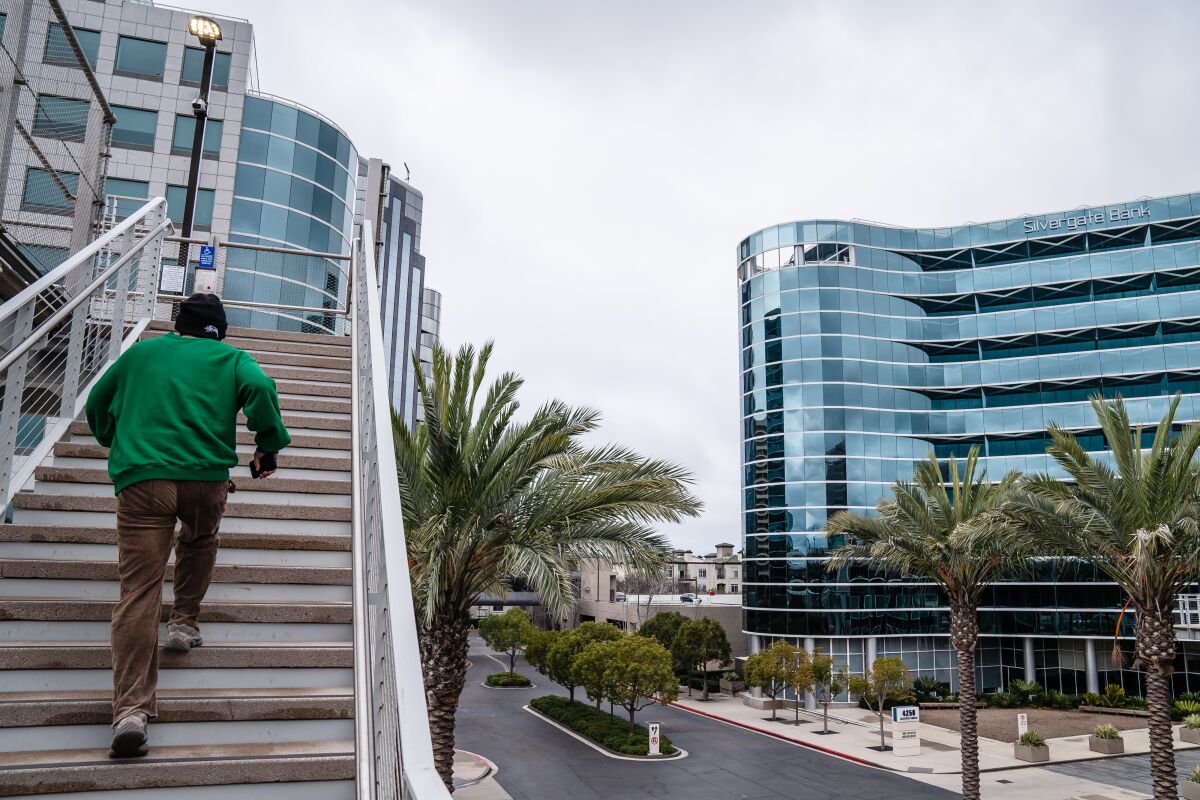 Silvergate Capital Corp. plans to wind down operations and liquidate its bank after the crypto industry's meltdown sapped the company's financial strength. The shares plunged more than 50%.
"In light of recent industry and regulatory developments, Silvergate believes that an orderly wind down of bank operations and a voluntary liquidation of the bank is the best path forward," the company said in a statement.
Silvergate collapsed amid scrutiny from regulators and a criminal investigation by the Justice Department's fraud unit into dealings with fallen crypto giants FTX and Alameda Research. Though no wrongdoing was alleged, Silvergate's woes deepened as the bank sold off assets at a loss and shut its flagship payments network, which it called "the heart" of its group of services for crypto clients.
"Today we are seeing what can happen when a bank is over-reliant on a risky, volatile sector like cryptocurrencies," Sen. Sherrod Brown (D-Ohio), chair of the Senate Banking, Housing, and Urban Affairs Committee, said in a statement. "When banks get involved with crypto, it spreads risk across the financial system and it will be taxpayers and consumers who pay the price."
The company told investors March 1 that it was reviewing whether it would be able to stay in business. It's the first bank failure in the U.S. since 2020, according to the FDIC's website, which listed four during the first year of the pandemic.
Silvergate Capital made one of the U.S. banking world's biggest bets on crypto. Now it's reeling from a run on deposits and a massive loss, intensifying fears the collapse of FTX may seep elsewhere into the financial system.
Silvergate's shares fell as low as $2.30 in extended New York trading after the announcement. The stock topped $220 in November 2021.
The firm's collapse could "put even more pressure on banks to demonstrate that their dealings with crypto are safe and sound," Hilary Allen, a law professor at American University who's testified before Congress on FTX, said earlier.
The firm opened for business in 1988 to make loans to industrial clients, and filings show that it dealt in conventional services such as commercial and residential real estate lending. But in 2013, the La Jolla-based company started to pursue crypto clients.
The idea was to pile up non-interest-bearing deposits associated with services to those customers and then plow the money into what it described as a conservative portfolio of investments in interest-bearing cash at other banks, short-term securities, and loans "that we believe generate attractive risk-adjusted returns."
The crypto-focused services enabled clients to route their money through the company's proprietary platform and send it to one another to pay for digital assets. The network handled only U.S. dollars and euros; the actual trades of virtual currencies didn't take place on Silvergate's system.
Government agencies are moving to crush crypto as a hive of 'fraud and scams.' Congress should stay out of their way, and investors should take note.
With its crypto business growing, Silvergate went public in 2019, telling investors in its prospectus to expect an even bigger shift toward crypto. Eventually, the company's Silvergate Exchange Network helped attract $11.9 billion in digital assets held as deposits as of Sept. 30.
Three months later, after FTX had collapsed into bankruptcy amid charges of fraud, crypto deposits fled and left Silvergate with only $3.8 billion, according to a Jan. 5 statement. FTX was one of its biggest customers, and the sudden drop forced Silvergate to sell securities before they matured at steep losses that eroded its capital and liquidity.
In January, Silvergate Capital cut 40% of its workforce of about 450 people.
The bank's crisis intensified March 2 when investors and business partners were spooked by fresh disclosures of the bank's difficulties and headed for the exits. Coinbase Global Inc., Galaxy Digital Holdings Ltd., Paxos Trust Co. and other crypto firms decided to stop accepting or initiating payments through Silvergate.
In the end, Aaron Klein, a senior fellow with the Brookings Institution who studies financial technology and regulation, said the outcome isn't all that surprising.
"There's nothing new here," he said. "Borrowing short and lending long has been the subject of bank failure for centuries."
Sign up for the California Politics newsletter to get exclusive analysis from our reporters.
You may occasionally receive promotional content from the Los Angeles Times.