Sneaker brand Allbirds posts big drop in sales, replaces CFO, halts store openings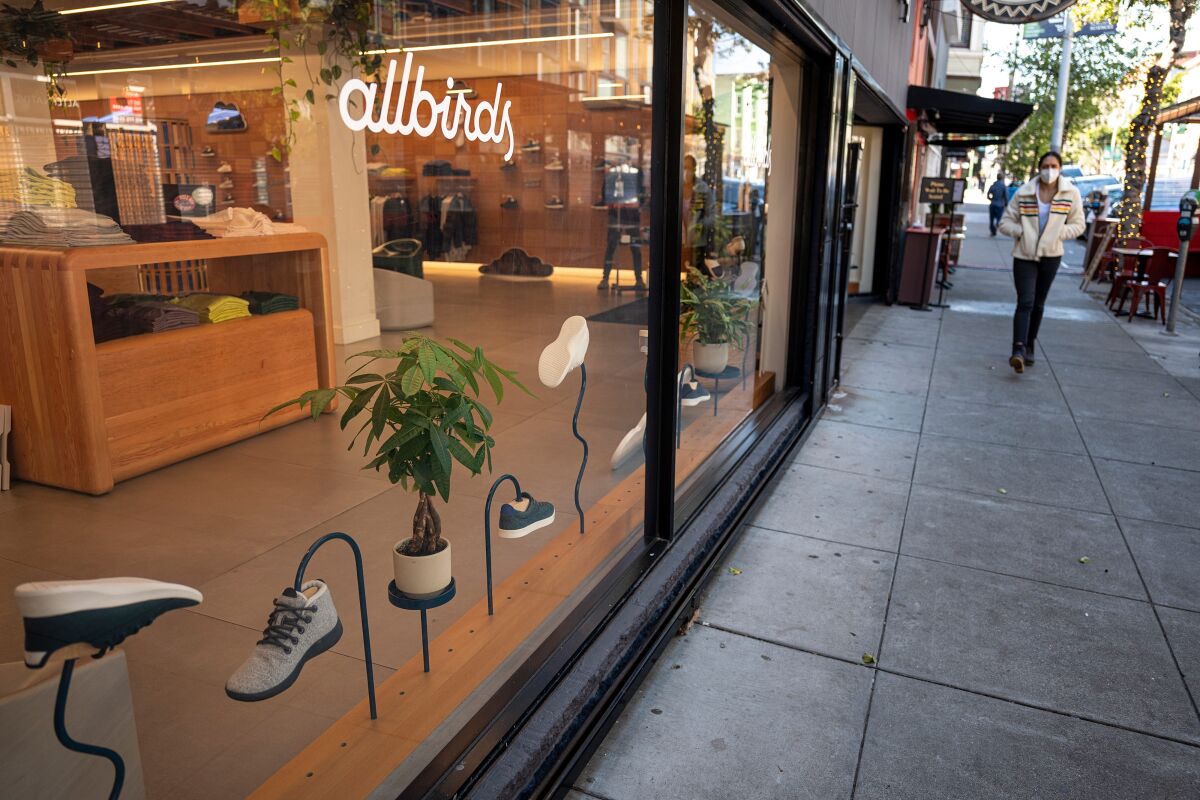 Allbirds sold investors on a growth story when the sneaker brand went public less than 18 months ago. Those sales gains disappeared in the fourth quarter, tanking its stock.
Revenue in the three months through December sank 13% to $84.2 million, trailing the average analyst estimate of $96.7 million. Joey Zwillinger, the company's co-chief executive and co-founder, said Allbirds, which makes shoes from wool and eucalyptus, tried to win over more younger consumers and runners, but those products missed expectations.
"We just didn't see the sell-through on those franchises that we would've hoped for, and that came at the expense of that core franchise," Zwillinger said in an interview. "We took our eye off the ball a little bit."
The company also replaced its chief financial officer, reported a wider loss than expected and announced a cost-cutting plan that includes pausing store openings — one of the pillars of the growth strategy it pitched to investors.
"We know we disappointed in 2022," the company said to begin an investor presentation. "Decisive action" is being taken in what Allbirds described as a "transition" year.
Within three short years, direct-to-consumer shoe brand Allbirds, has gained a cultlike following for its footwear made of natural materials like wool and eucalyptus, and now sugarcane can be added to that list.
The company's forecast for the current quarter also missed. Sales will be as much as $50 million — the average analyst estimate is $67 million. And the company could report a loss as wide as $29 million before interest, taxes, depreciation and amortization during the period — almost triple Wall Street's expectations.
Before Thursday's announcement, investors had punished the company's stock, which was down more than 80% since its initial public offering in November 2021. The shares declined further in after-market trading, falling 17% at 4:41 p.m. Thursday in New York.
Allbirds was part of a surge in direct-to-consumer brands that both make goods and retail them through their own websites and stores. Venture capital firms jumped on the model because they viewed it as potentially more profitable and flooded startups selling everything from beds to underwear with cash.
Years later, the direct-to-consumer era is increasingly looking like a dud. Many of the biggest brands, such as Casper and Warby Parker, have struggled as public companies. Others remain private but face slowing growth and few potential buyers. Firms are also abandoning the go-it-alone approach and selling through retailers, including Allbirds getting into REI and Nordstrom.
In many cases, the profits haven't materialized yet. Allbirds had a net loss of $101.4 million last year. Warby, which is often held up as the best-positioned direct-to-consumer company, posted a similar net loss.
Warby Parker Inc. opened trading at $54.05 a share and held steady, fluctuating barely a dollar from that price to give the eyewear retailer a market value of about $6.1 billion in the second direct listing of the week.
To get closer to profitability, Allbirds won't expand beyond its 50 or so stores and will streamline its sourcing. The company expects savings of as much as $45 million by 2025, primarily due to consolidating production to factories in Vietnam, as well as optimizing materials, Zwillinger said.
Outside of the U.S., the company is evaluating distributor partners that will help grow the brand at a lower cost than opening brick-and-mortar stores.
The company said CFO Mike Bufano will step down, effective April 24. He'll be succeeded by Annie Mitchell, who comes from athletic-wear brand Gymshark and previously worked at Adidas.
Sign up for the California Politics newsletter to get exclusive analysis from our reporters.
You may occasionally receive promotional content from the Los Angeles Times.