AI frenzy pulls Wall Street higher despite D.C. debt woes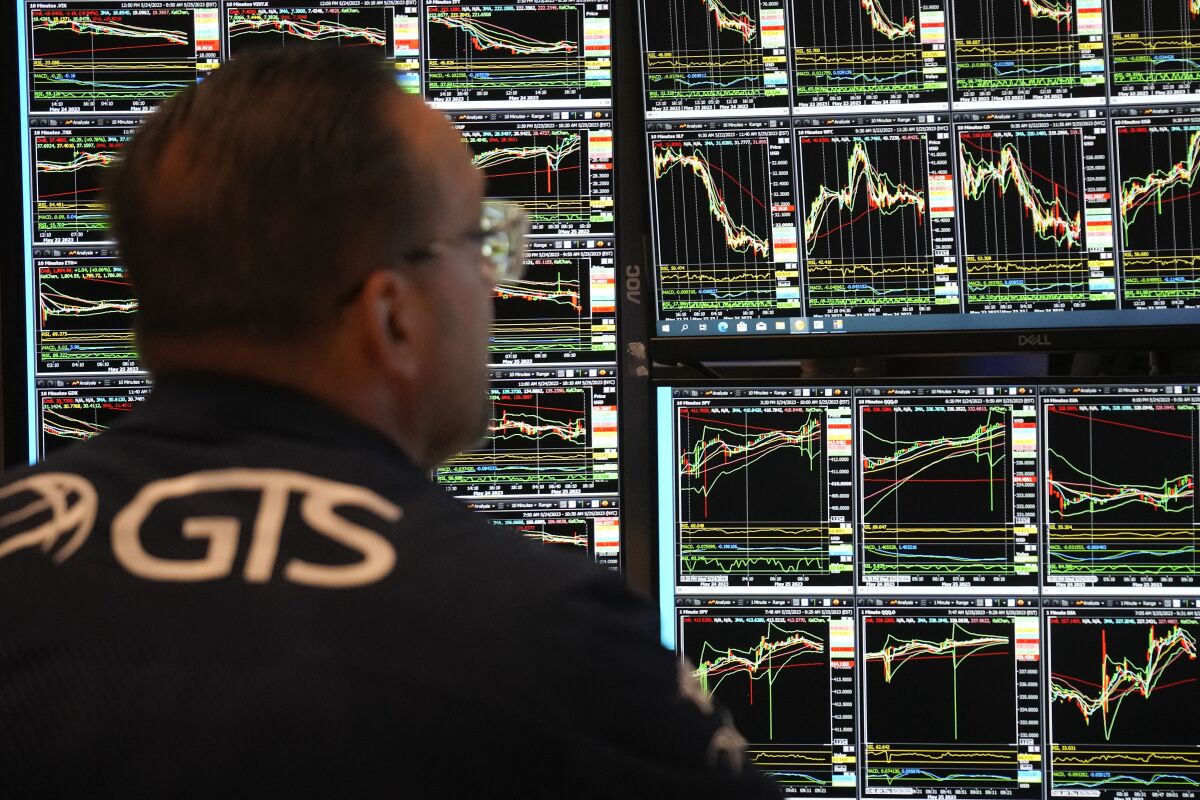 Wall Street's building frenzy over artificial intelligence helped yank the market mostly higher Thursday, even as worries worsen about political rancor in Washington.
The Standard & Poor's 500 rallied 0.9% after chipmaker Nvidia gave a monster forecast for upcoming sales as it benefits from the tech world's rush into AI. It helped the Nasdaq composite leap 1.7%, while the Dow Jones industrial average slipped 35 points, or 0.1%.
Because it's one of Wall Street's most valuable stocks, Nvidia's 24.4% surge was the strongest force pushing upward on the S&P 500. Its forecast of roughly $11 billion in revenue for the current quarter blew past analysts' expectations for less than $7.2 billion. Nvidia's shares have already more than doubled this year, and its total value is approaching $1 trillion.
Stocks of other chipmakers also charged higher after Nvidia described a race by its customers to put AI "into every product, service and business process." Advanced Micro Devices gained 11.2%.
Companies all over are laying off workers while experimenting with new AI-powered productivity tools. The connection is both obvious and maddeningly hard to pin down.
Some Big Tech stocks rallied further, adding to recent gains fueled by excitement about AI. The field has become so hot that critics warn of a possible bubble, while supporters say it could be the latest revolution to reshape the global economy. Microsoft gained 3.8%, while Google's parent company, Alphabet, rose 2.1%.
They helped lift indexes even as the majority of stocks fell on worries about the U.S. government edging closer to a possible default on its debt. Washington could run out of cash to pay its bills as soon as June 1 unless Congress allows it to borrow more.
The widespread expectation on Wall Street has been for Washington to eventually come to a deal, as it has many times before, because a failure would be awful for the entire economy. But the bitter partisanship on Capitol Hill is hurting faith and trust in the government.
Fitch said late Wednesday that it could downgrade the U.S. government's AAA credit rating. It said it still expects a resolution before the U.S. Treasury runs out of cash, but it sees the risk of a mistake having risen.
"The brinkmanship over the debt ceiling, failure of the U.S. authorities to meaningfully tackle medium-term fiscal challenges that will lead to rising budget deficits and a growing debt burden signal downside risks to U.S. creditworthiness," Fitch said.
President Biden and House Speaker Kevin McCarthy say they and their lead negotiators have had a productive meeting on the impasse over the government's debt ceiling.
In 2011, Standard & Poor's cut its AAA credit rating for the United States after a similar political squabble about the debt limit.
Another concern rests on exactly when the "X-date" deadline will hit for the Treasury to run out of cash.
Although Isaac Boltansky, BTIG director of policy research, said he sees an 11th-hour deal happening, "Washington is still arguing over exactly when midnight hits, which remains our primary concern as deadlines are the only viable forcing mechanism in town."
On the losing end of Wall Street was Dollar Tree, which fell 12%. The retailer reported weaker profit than analysts expected for the latest quarter. Customers are shifting their spending toward less profitable products, and, like other retailers, Dollar Tree is also contending with worse-than-expected theft.
All told, the S&P 500 rose 36.04 points to 4,151.28. The Dow slipped 35.27 points to 32,764.65, and the Nasdaq gained 213.93 points to close at12,698.09.
In the bond market, yields rallied after reports suggested the economy is in stronger shape than feared.
One said that fewer workers applied for unemployment benefits last week than expected. That's a signal that the job market remains remarkably solid, even as manufacturing and other areas of the economy slow under the weight of much higher interest rates.
Another report estimated the U.S. economy grew at a 1.3% annual pace in the first three months of the year, stronger than the 1.1% earlier thought. That report also suggested inflation was a touch higher during the start of 2023 than previous projections.
The stronger-than-expected data helped damp fears on Wall Street about a coming recession. But it could also persuade the Federal Reserve to raise interest rates again next month. Traders are split on whether the Fed will take a pause in June after raising rates at a furious pace for more than a year.
Higher rates have helped inflation to slow from its peak last summer, but they do that by slowing the entire economy and dragging on prices for stocks, bonds and other investments.
The yield on the two-year Treasury, which tends to track expectations for Fed action, jumped to 4.53% from 4.38% late Wednesday.
The 10-year yield rose to 3.81% from 3.74%. It helps set rates for mortgages and other important loans.
Stock markets abroad were mostly weaker, but the declines were milder than the prior day's.
Germany's DAX lost 0.3% after data showed its economy shrank in the first three months of the year, the second straight quarter that's occurred.
Hong Kong's Hang Seng fell 1.9% amid worries that China's economic recovery after the government relaxed pandemic restrictions late last year is losing steam. Stocks in Shanghai slipped 0.1%.
AP writers Elaine Kurtenbach and Matt Ott contributed to this report.