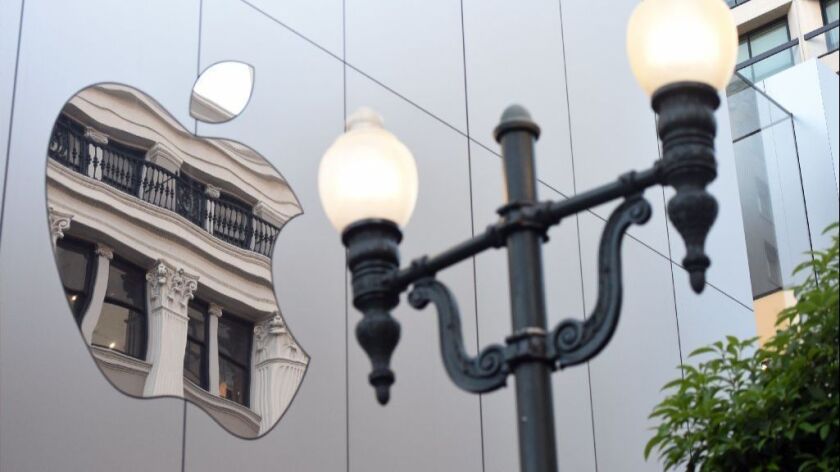 Reporting from CUPERTINO, Calif. —
Apple Inc. shrugged off lower-than-expected iPhone sales Tuesday as shares rose sharply after the market's close, when investors got a glimpse of a far more important number: the company's sales projection for next quarter.
The Cupertino, Calif., company projected that it would take in $60 billion to $62 billion next quarter, exceeding analysts' expectations of $59.6 billion. The forecast is a measure of how well Apple thinks it can fare in a market in which consumer interest in having the latest and greatest continues to wane.
Apple, which derives about 56% of its revenue from the iPhone, has had to deal with slowing sales growth for its biggest product.
The lure of faster, thinner, lighter phones used to send shoppers rushing to stores for the latest smartphones. But for the last couple of years, even premium smartphones have lost some appeal, and consumers are holding on to their phones longer between upgrades.
Samsung Electronics Co., Apple's chief smartphone competitor, cited less-frequent upgrades as a reason its flagship models failed to deliver expected sales in its Monday earnings call. Its mobile unit reported a 22% drop in sales revenue to $20.2 billion compared with the same time last year.
Apple fared far better than its rival. It sold 41.3 million iPhones, missing expectations for 41.8 million.
But the iPhone unit delivered $29.9 billion in revenue, of an overall $53.2 billion. Apple reported $11.5 billion in profit, up from $8.7 billion in the third quarter of 2017.
"Our Q3 results were driven by continued strong sales of iPhone, Services and Wearables," Chief Executive Tim Cook said in a statement.
Shares rose nearly 3% in after-hours trading after rising 38 cents, or 0.2%, to $190.29 in regular trading Tuesday — edging the company closer to its goal of a $1-trillion market value.
Samsung and Apple have countered slowing sales growth by offering more expensive phones, which deliver greater profits. Yet that strategy has its pitfalls. In an earnings call, Samsung acknowledged it has to take a two-pronged approach to growing its mobile business.
"We will also strengthen price competitiveness and actively develop advanced technology in our mass models to aggressively respond to market conditions," Lee Kyeong-tae, Samsung's vice president of mobile communications, told investors Monday.
Apple historically has kept its prices steady and its new premium phones at a premium price. But analysts expect that Apple will release three new models in the fall to diversify its offerings and convince those who did not upgrade to the iPhone 8 or the iPhone X that it's time to buy a new phone.
Smartphones still drive an enormous portion of both companies' revenue, and the devices are projected to generate $78 billion in 2018, according to a new estimate from the Consumer Technology Assn.
Apple and Samsung are also eyeing other areas of their businesses for growth. Samsung has touted its growing chip business; semiconductors were its strongest category in terms of growth.
Apple, meanwhile, has focused more on services such as the App Store and its entertainment businesses as growth drivers. In the last quarter, Apple's services made $9.5 billion, making it the second-largest business segment for the firm. Apple's Mac unit, which has been drawing complaints from consumers, reported a 5% drop in sales.
The results show that Apple is positioned to keep its business growing despite slower smartphone sales, said Gene Munster, a longtime Apple analyst and founder of Loup Ventures.
"These numbers show us this is a franchise," he said. Even when it comes to hardware, Munster said, the numbers prove Apple's strategy is working.
Apart from consumer behavior, there is also concern that Apple's extensive overseas manufacturing operation may suffer from trade disputes between the United States and China.
Analysts cautioned that it's not yet clear how trade conflicts will affect the smartphone companies. In a note ahead of earnings, Andy Hargreaves of KeyBanc Capital Markets said that "the risk of a direct impact from trade conflicts or increased nationalism among foreign consumers that damages international iPhone demand" might offset potential gains for Apple.
When asked about tariffs on an earnings call, Cook said that trade relationships are complex, but Apple considers tariffs to generally act as a "tax on the consumer," which can lower economic growth and spark unintended consequences.
Still, Cook played down fears of lasting consequences. "We're optimistic, as I've been the whole time, that this will get sorted out because there is an inescapable mutuality between the U.S. and China that sort of serves as a magnet to bring both countries together," he said.
Tsukayama writes for the Washington Post.
---
UPDATES:
3:40 p.m.: This article was updated throughout with analysis, additional items from the earnings report and commentary about trade and tariffs from CEO Tim Cook.
This article was originally published at 1:40 p.m.
---