Dollar Shave Club succeeded with razors, but the rest of the bathroom is a challenge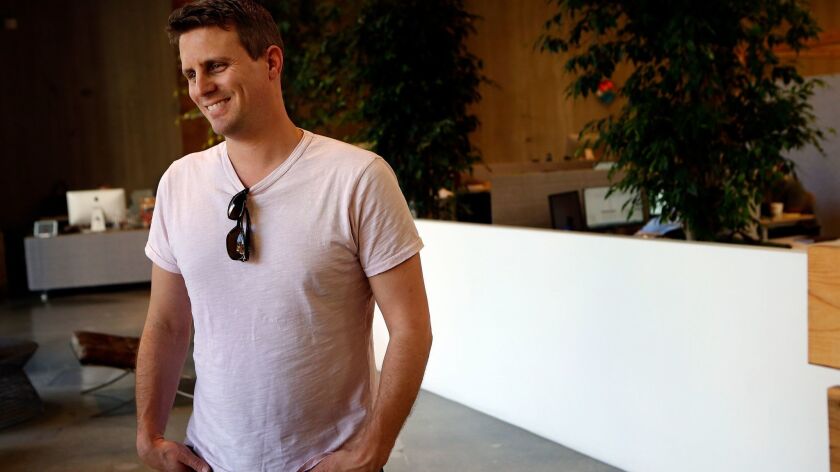 Dollar Shave Club founder and Chief Executive Michael Dubin began using an app this year to track the time he spent on different tasks.
The finding: Organizational issues were eating up his day. Since consumer products giant Unilever spent $1 billion a year ago to buy Dollar Shave Club in the biggest start-up acquisition in Los Angeles County history, Dubin has pored over organizational charts, new marketing ideas and big hiring decisions to set up his discount razor seller to take on bigger goals.
Unilever bought into the idea that Dollar Shave Club could sell more lucrative products than razors and that it could win over consumers abroad. But the initial results of what's expected to be a multiyear transition — Act Two, as Dubin calls it — have been underwhelming, according to two sources familiar with the company but unauthorized to discuss it.
The shuffling of departments, a few layoffs and an even bigger number of new hires have upset the company's cheeky, underdog culture, those people say.
There's work to do, Dubin said in an interview at his lofted, corner office in Marina del Rey.
"Did people just naturally grab [new grooming products] without being told why they should? They haven't," he said. "It's about changing perceptions, which begins this fall with a big campaign. You have to take some steps to get there."
He disputed assertions that missteps over the next couple of years could threaten the corporate independence he won from Unilever as part of the buyout. Another Unilever subsidiary, Ben and Jerry's, has been able to maintain wide autonomy since being acquired 17 years ago. But Dubin acknowledged that he's one voice, alongside three Unilever executives, on Dollar Shave Club's new board of directors.
"Anything can change at any time, but that's not in the cards," Dubin said.
In regulatory filings, Unilever described Dollar Shave Club's growth in the first half of 2017 as strong and said that it "will preserve" the independent unit's "entrepreneurial approach, taking valuable lessons for the rest of our portfolio."
In a statement, Kees Kruythoff, Unilever North America's president, said he expects Dollar Shave Club's success shipping directly to consumers to carry forward as "we work toward accelerating growth and expanding into new categories and regions."
A gateway to something bigger
Near the end of 2018, Dollar Shave Club wants to be an online shop where guys — a term Dubin says is more relatable and less clinical than "men" — can buy everything needed in a bathroom to look, smell and feel their best.
The company got its start in 2012 with a mail-to-home razor blade subscription costing as little as $1 a month. More than 3 million people subscribed, with the help of funny commercials featuring Dubin parodying the complexity and expense of buying shaving supplies. Sales reached $152 million in 2015.
Dollar Shave Club hasn't disclosed financial results since the acquisition closed last August, saying only that it expects a double-digit year-over-year revenue increase and that its razor market share by units sold has increased 3 percentage points to 27% in the last year.
The company is fighting a patent infringement lawsuit filed by rival Gillette prior to the acquisition. Dubin declined to comment on the litigation, which is scheduled for trial next year.
Sources said the razor business is growing more slowly than in years past because of increased competition on price from brands such as Gillette. But for Unilever, Dollar Shave Club was the primary factor behind a 47% jump in direct-to-consumer sales in 2016 compared with the prior year, according to a financial filing.
Newer products haven't taken off. Mostly priced at $5 to $10, the products include moist wipes, cream, hair gel, body wash and shave butter. The products carry Dollar Shave Club-related branding and will continue to be distinct from any rivals within the Unilever family, such as Axe or Dove. They're developed with contract labs and manufacturers.
Dollar Shave Club is on track to launch oral care products this year, Dubin said. That potentially could include mouthwash, toothpaste and toothbrushes. But he noted the company is behind on plans for antiperspirant and deodorant, saying, "You have to get things right from efficacy to safety."
The hope, two sources said, had been that the wide personal care slate could, in short order, more than double Dollar Shave Club's average monthly revenue per user to about $12 from the ballpark of $5.50. The company disputes the figures, though such growth potential could help explain why Dollar Shave Club accounted for almost half of Unilever's acquisition spending last year.
But whether because they're pricier, haven't been marketed enough or just aren't desired, the other products haven't been flying off warehouse shelves.
"Our non-razor product business is a meaningful side of the business, but it is not where we want it to be," Dubin said.
Peter Cowen, managing director of small investment bank Sutton Capital Partners, said dollar razor blades don't necessarily mix well with $8 shaving cream that's made from, as the company says, "top-shelf" ingredients.
"Dollar Shave Club hit lightning in a bottle with charisma and an excellent product at excellent value and should be remembered as a big success," said Cowen, who hosts an annual conference for the subscription-based service industry. "But I'm confident those other products haven't been as successful."
Recently launched trial kits are among the tactics being adopted to get customers thinking about more than blades. The company continues to invest in its online lifestyle magazine Mel, which Dubin has identified as a key avenue to maintain user interest in the brand overall.
Also in the works is a website redesign that Dubin said should help the company grab people more easily at the entryway. Underscoring the changes will be an advertising campaign that starts this month for the company's buttery alternative to shaving gel, its best seller after razor products.
"We've never invested significant attention in making our brand about more than razors and shave," Dubin said.
But he expressed confidence that perceptions will change, pointing to an increased interest in male personal care.
"Guys are hugging guys and looking at each other before they head out for the evening. That didn't happen [five years ago]," he said. "Guys are throwing on the sunblock just to go from home to the car and the car to the office."
A search for the right tone overseas
Dollar Shave Club is playing catch-up in its international business. Besides sales in the U.S., the company ships to Australia and Canada. But its online shop in Australia until last month ran on third-party software that didn't allow for order customization or selling much more than razors. Its Canadian offering may be limited for a few months more.
Upgrading the software to match the U.S. shop hadn't been a priority for a couple of years, Dubin said. European shipping is expected in the first quarter of next year, though the company declined to identify countries it's targeting.
Still to be determined in regions such as Europe, especially in non-English-speaking parts, is whether raunchy humor in marketing materials will work as well as it did domestically. Recent job postings also point to interest in Brazil and India.
"We'll test it and see what happens," Dubin said of overseas marketing.
The company is leaning on Unilever's data to help understand how to customize its subscriptions and products to local tastes. Dubin said such assistance "to get to the next level" motivated him to sell the company to Unilever.
A new reality internally
With Unilever's help, Dollar Shave Club is expanding its Marina del Rey headquarters and has added a net 105 employees.
That takes into account the loss or letting-go of more than 60 employees in the last year. Dollar Shave Club has seen the departure of its vice presidents of brand marketing and design, senior director of business operations and legal affairs, senior experience designer, head of facilities, senior product managers and design director.
Turnover is typical following a big start-up acquisition, and structural changes are common as start-ups mature. But former employees said that they still were taken aback by moves this year, and that keeping employee sentiment on the right track has become ever more difficult.
"Change is not easy," Dubin said.
Staffers accustomed to the company's casual culture have bristled at new formalities, such as filing for sick days rather than simply telling their boss. Redundancies as new hires came aboard have led to infighting. Collaboration with Unilever in areas such as ad-buying has fostered disgruntlement among veterans. The tension has been a twist from the champagne-popping celebrations in July 2016.
"Nobody wakes up at DSC conjuring up ways to be corporate, sterile or bureaucratic," said Jennifer Longnion, Dollar Shave Club's chief people officer. "There will always be a commitment to hiring new and exceptional talent, and to redefining the shape of our organization accordingly."
Dubin called the personnel changes "philosophically driven." Among the switch-ups was bringing together customer service and user experience teams. They'll report to the newly created, but still unfilled, position of chief product officer. A chief customer officer position was eliminated.
"What will distinguish Dollar Shave Club in Act Two will be club pros that are trained to know every aspect of your account," Dubin said. "We wanted to put them side by side with the digital product team."
His latest focus has been revamping data storage and analysis. Dubin hasn't succumbed to the distraction of investing in start-ups since cashing out in the acquisition.
He's still involved with Mel, which receives about 1 million visitors a month for its coverage of sex, health and workplace issues. Dubin doesn't foresee it becoming a revenue generator.
Cowen, the banker, said buyers typically give new subsidiaries about two years to hit marks before resetting expectations or exerting greater control in operations.
At quarterly board meetings, Unilever's chief financial officer, Graeme Pitkethly, North America President Kruythoff and Personal Care President Alan Jope have scrutinized budgets and progress on key initiatives. But Dubin said his fellow board members haven't pressured him to take time out to be a teacher on the nuances of online commerce. Nor have they dictated Dollar Shave Club's strategy, he said.
Twitter: @peard33
---