Upfront Ventures, L.A. County's biggest venture capital firm, just got bigger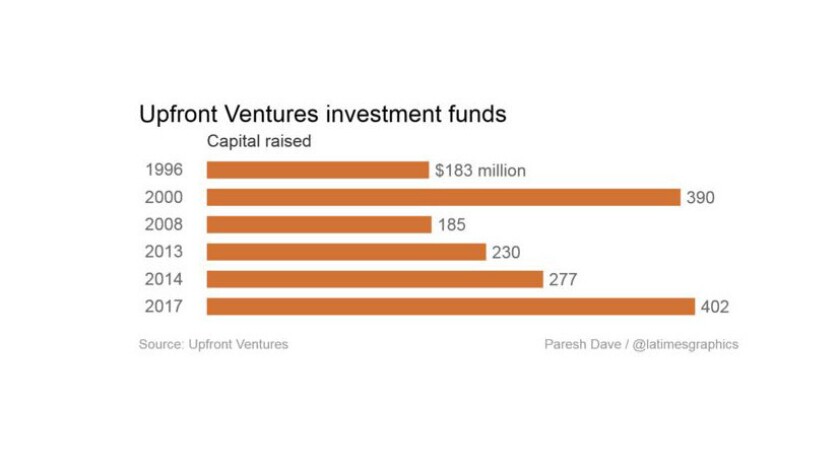 Los Angeles County's most prominent start-up investor just got bigger.
Upfront Ventures closed June with the announcement of a $400-million investment fund that it plans to spend on dozens of start-ups in the next couple of years.
It's believed to be Los Angeles County's largest-ever venture capital fund by raw number, though Upfront Ventures' $390-million investment fund in 2000 comes out far on top when adjusted for inflation. Still, it beats the $280 million that Upfront Ventures picked up at the end of 2014.
Mark Suster, managing partner at the firm, declined to provide specifics about the returns that prior funds have generated.
"The new fundraising speaks for itself," he said. "We not only raised $400 million, we did it in 2-1/2 months from start to finish. That speaks to our track record."
But Suster noted that huge returns were generated for investors in Upfront Ventures' $185-million fund from 2008 through the $675-million sale of online video company Maker Studios to Walt Disney Co. and the initial public offering of auto-buying app TrueCar.
In recent weeks, Upfront Ventures sold about 18% of its ongoing stake in TrueCar, or about $150 million worth of shares, according to FactSet research data.
"We've started sending real cash back to investors," Suster said.
The 2008 fund could yet see more returns, with ad technology start-up GumGum, which Upfront Ventures first put money into in 2009, still chugging along.
"There's a saying in venture capital: Lemons ripen early," Suster said. "The best companies you want to hold for 10 to 12 years."
Upfront Ventures' 2013 and 2014 investors could see paydays with the potential growth of doorbell maker Ring, secondhand clothing shop ThredUp and sneaker buying app Goat.
Suster said Upfront Ventures has played a crucial role in the developments of companies like Goat, which had been known as Grubwithus and was pursuing restaurant app services until a discussion with Greg Bettinelli. A partner at Upfront Ventures who held leadership roles at EBay, Bettinelli thought that the firm's technology could be more valuable serving a market that EBay had overlooked.
Upfront Ventures' new cash comes from the most balanced mix of investors it has had across six funds over the last 20 years. About one-third of the new fund's capital contributors are foundations and endowments, one-third pension funds and one-third insurance companies. The variety acts as a hedge against shakiness in public stocks or other assets that might lead one type of investor to pull out from a venture capital firm down the road.
The Santa Monica firm has expanded since its last fund in 2014, adding both Kobie Fuller as an investor focusing on virtual reality and marketing software and Kevin Zhang as an investor looking at health and video game technologies.
Wonder, Gamevice take on gaming and entertainment hardware
A pair of Los Angeles start-ups are looking to fill the entertainment gap between standard-issue smartphones and bulky video game consoles. They say traditional hardware makers aren't doing enough to develop products and services aimed at gaming and film enthusiasts.
Here's five things to know about each of the start-ups.
Wonder
Chief Executive Andy Kleinman says the Venice start-up is full of "big geeks who love movies, TVs and games." They want to create a device for hardcore fans just like themselves. Wonder hasn't said what games and videos would be available on its device.
Wonder is being coy about how the device would work until an expected unveiling later this year. Kleinman, who has held leadership roles at Disney and Zynga, says only that the "first product connects set top boxes, TVs, phones … [and allows for] playing games in home with portability." He describes Wonder's aspirations as similar to hardware start-up Magic Leap, except that Wonder is aiming more for gamers and less for average consumers.
Wonder's chief technology officer formerly served as vice president of engineering at Cyanogen, a start-up that had been seeking to develop an improved version of Google's Android mobile operating system. And several other Cyanogen recruits have landed at Wonder to use Android as foundation for the device.
Wonder expects to generate revenue through device sales and subscriptions for access to extra features. It's possible that subscribers may get continued access to updated hardware and accessories. For now, Wonder is funded by $14 million in venture capital. Beside TV brand TCL, investors include Bay Area firms Grishin Robotics and 8VC.
Kleinman says the company has begun manufacturing in China, turning to contractors and new investor TCL for help. Working with manufacturers that are "pioneers" in strong labor and environmental protection policies is a priority, he said.
Gamevice
In 2015, the Los Angeles start-up began developing a gaming controller add-on for iPads and iPhones. It plugs into the charging port and allows people to use traditional gamepad buttons and joysticks.
The company had started years earlier on creating a tablet aimed at gamers, and its co-founders included eventual Oculus VR co-founder Brendan Iribe.
The Chinese-manufactured controllers were sold for $99 in hundreds of Apple stores last year, but Gamevice is working on expanding availability to more stores as it works on launching a more affordable, Android-compatible device this year. Besides "Minecraft," "Call of Duty" and "NBA2K," apps related to flying drones and controlling robots have also supported Gamevice functionality.
There's no gameplay data yet from the company that proves players are better off with its device. But Chief Executive Phillip Hyun said players believe that the gamepad makes them feel more skilled and more comfortable to play longer. "We haven't had anyone say it's better to use the touch screen," Hyun said.
The Los Angeles start-up received $12.5 million in funding this year from TransLink Capital, BAM Ventures, TYLT Ventures and others. Hyun said the company has no plans to work on other accessories.
Mobcrush names new CEO as founder drops to president
Royce Disni, co-founder of the video streaming app Mobcrush, was replaced as chief executive last month by veteran digital media executive Michael Wann in a previously unreported move.
The Santa Monica start-up, which has received about $36 million from several well-known venture capital firms, confirmed that Disni is now president. It's unclear what led Mobcrush to bring in Wann, who served as chief revenue officer at online video company Fullscreen and head of business development and strategy at video maker Tastemade. Mobcrush declined to make Wann or Disni available for an interview.
But Disni, who has mostly held roles in product development, giving way to Wann could signal that Mobcrush wants to start generating revenue from its app.
It allows players of smartphone games to share the action on their screen on a public video stream. Inviting the public to watch someone playing video games has grown into a major business in recent years, with Twitch dominating the market for desktop gameplay. Mobcrush, which has said it has more than 1 million monthly users, allows streamers to solicit donations through its service.
"This younger generation watches video, chats with friends and plays with games," Disni said during an interview last fall. "We're sitting right in the middle of the megatrends."
Miso Robotics receives $3 million
A Pasadena start-up that has developed a burger-flipping robot raised a total of $3 million from four investors, according to a regulatory filing this week.
Miso Robotics has said it's working to automate tasks in food preparation. It previously identified restaurant firm CaliBurger and Canyon Creek Capital as investors. The company declined to comment.
Elsewhere on the Web
In case you missed it
Twitter: @peard33
---
Your guide to our new economic reality.
Get our free business newsletter for insights and tips for getting by.
You may occasionally receive promotional content from the Los Angeles Times.