Chopsticks and smartphone app help Chinese detect bad cooking oil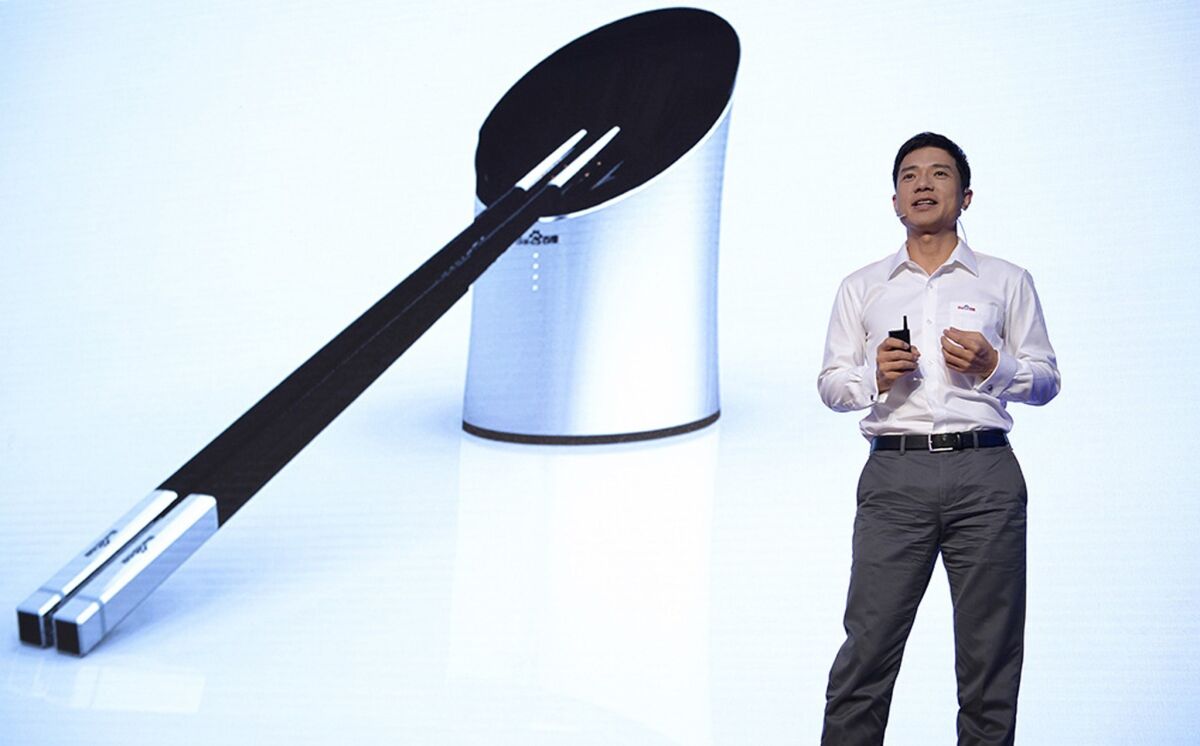 Reporting from Beijing —
With about 3.5 million tons of illegally reprocessed cooking oil returning to dinner tables each year, Chinese consumers are desperately looking for an easy way to help them determine if the oil they use is safe.
Baidu, China's largest Internet search company, says it has found a way: chopsticks fitted with sensors that can be connected to a smartphone app to give users analyzed readings.
At the company's annual technology conference in Beijing this week, Baidu Chief Executive Robin Li unveiled the prototype, called Baidu Kuaisou.
In a demonstration video released by Baidu, a chopstick was dipped into three cups, one filled with olive oil, one with regular edible oil and one with recycled cooking oil.
Readings from the smartphone app said "excellent" when the chopstick was dipped in the first two cups. But for the third cup, it said "bad," indicating the used oil was not safe.
From baby formula tainted with melamine to steroid-spiked pork that glows in the dark, a series of food safety scandals have put China's food industry under increasing scrutiny. This year international fast-food chains including McDonald's and KFC have been forced to pull items from their menus after a supplier in China was found to be using expired meat.
Thanks to a tradition of favoring oily food — a symbol of wealth in previous eras — China has become the world's largest consumer of edible oil. That has led to a large amount of used cooking oil being reprocessed illegally to be resold, earning the name "gutter oil."
Last year Chinese health expert Zhong Nanshan, who discovered the SARS virus in 2003, told the Yangcheng Evening News in Guangzhou that 7 million to 14 million tons of waste cooking oil was produced in China each year and that about 3.5 million tons of it probably returns to dinner tables through illegal recycling.
Food safety experts said it was too early to celebrate Baidu's chopsticks as a solution to the problem.
"Baidu Kuaisou seems to only tell one or two indicators in the oil such as its pH level and peroxide value," said Nong Shaozhuang, a food safety expert from Dalian Polytechnic University. "Such values can be easily manipulated by the gutter oil producers by adding relevant chemicals to give a false safe reading."
Baidu initially released a short video on April 1 this year teasing viewers about chopsticks that could detect gutter oil as an April Fool's joke.
"There was no serious intention of pursuing it as a product, but it generated quite a bit of buzz. We thought generally it's kind of quirky and timely considering concerns about food safety in China," a Baidu representative said.
The representative said the chopsticks it demonstrated this week were just a prototype and the company did not have a plan for distribution.
Nong, the food safety expert, thinks the best way to solve China's gutter oil problem is for the government to step up its regulatory efforts and figure out how to recycle the oil for industrial purposes.
"When all the used cooking oil is recycled as fuel or other industrial use, there will be nothing left to be sold illegally as edible oil again," Nong said.
Tommy Yang of the Times' Beijing bureau contributed to this report.
---