Four L.A. start-ups hunting for online video stars raise a combined $56 million
In the eyes of start-up investors, MTV's "True Life," HGTV's "Rehab Addict" and Comedy Central's "Roast" specials are so yesterday.
Today's hot productions are young, edgier and tend to premiere online. They carry the names "Human," "Overhaul" and "All Def Comedy Roast."
And the companies who make those video series say they're just getting started. Last week, four online media start-ups across the Los Angeles region announced a combined $56 million in fresh funds to expand internationally and into new topics.
All Def Digital, Thoughtful Media Group, Kin Community and Woven Digital are exploiting consumers' transition to digital video subscriptions from traditional pay-TV. They say their shows resonate better with their target group, whether it be millennial men, young women interested in arts and crafts, or "urban youth."
Financiers include the world's largest ad agency conglomerate, one of the top officials at media giant Viacom and many other major players in entertainment worldwide. The investors predict bright horizons for the video-centric companies because they're suppliers in what stands to be a seller's market for a while.
Facebook, YouTube, Verizon and Vessel are just some of the entities dangling millions of dollars to jumpstart video productions – and offering more for exclusives. Meanwhile, decades-old media companies trying to survive as entertainment moves online have become potential buyers for the videos, too. That means licensing rights, merchandise sales, events and other offerings have joined online ads as major revenue sources for the start-ups.
"The market has lost faith in advertising alone driving revenue, but they haven't lost faith in compelling content in a digital-first world," said Peter Csathy, founder of investment and consulting firm Creatv Media. "Those who are market leaders in certain verticals – like males, women and pop culture – are positioned well."
Woven Digital grabbed an $18.5-million Series B investment led by ad agency WPP's venture arm. Also investing were Institutional Venture Partners and Viacom Vice Chair Shari Redstone's Advancit Capital.
Primarily an operator of pop culture websites that sell banner ads, Woven has been moving to the higher-profit video ad business through shows aimed at young men, such as "Human," which spotlights artisans. The cash should fuel a global expansion for those series.
Kin Community received a $13.5-million Series D investment led by Emil Capital Partners, an investment firm tied to German supermarket company Tengelmann Group. Also investing were TV and radio companies in Canada and Australia that are helping Kin expand in those countries. The funding buys more ad sales representatives and production capabilities, including putting together home makeover show "Overhaul."
All Def Digital's $10-million Series B financing came from investment group Third Wave Digital Partners, the venture capital arm of ad giant WPP, Silicon Valley venture capital firm Andreessen Horowitz and Redstone's Advancit Capital.
The money should bankroll shows and movies that will live on entities as varied as HBO and Seeso, a comedy video app from NBCUniversal. Among the newest franchises from the start-up, co-founded by hip-hop music producer Russell Simmons, is "All Def Comedy Roast," featuring rap singer Snoop Dogg as the first victim.
Thoughtful Media Group added $14.3 million, including $7 million raised through an earlier convertible debt offering, as it ramps up a Series B financing. Investors include Iowa media company Gazette and wealthy families in California, Europe and Asia.
Founded by a team that worked on reality TV series such as "Treasure Hunters," Thoughtful Media's ambition is to guide advertisers to the most useful online video creators in every emerging market, given the advertiser's goal. The San Fernando Valley company, with more than 100 employees, already has large operations in Shanghai; Ho Chi Minh City, Vietnam; and Bangkok, Thailand.
The company's primary expertise is leading advertisers to the right videos so that they can place their skippable ads before the videos play.
"We can tell you a lot based on creators' audiences," said Jak Severson, the start-up's chief executive. "The bulk of our efforts are in justifying advertisers to spend more on our channels because of the visibility and output on them."
Thoughtful's involvement sends a video star's monthly income soaring to $30,000 from $250 in an extreme, but actual, scenario. That means Thai-language personalities Softpomz and Dek Jew have more incentive to make videos.
Thoughtful faces local and foreign competition across Asia, but the huge growth in online video-making gives it confidence that there's room for many. Severson estimated that 3,500 online video stars in China each had more than 500 fans and more than 10,000 views at the start of the year. By December, he predicted there will be 300,000 stars.
"That's a wild, wild rise," he said.
Severson expects Thoughtful to separately sell its foreign entities to local companies over time. It's an exit path – being acquired by old-school media giants searching for sales growth – that Csathy predicts for the many other media start-ups as well.
"When they get to a certain scale of mass and strategic importance, they will get scooped up because they're needed by the traditional media companies," Csathy said.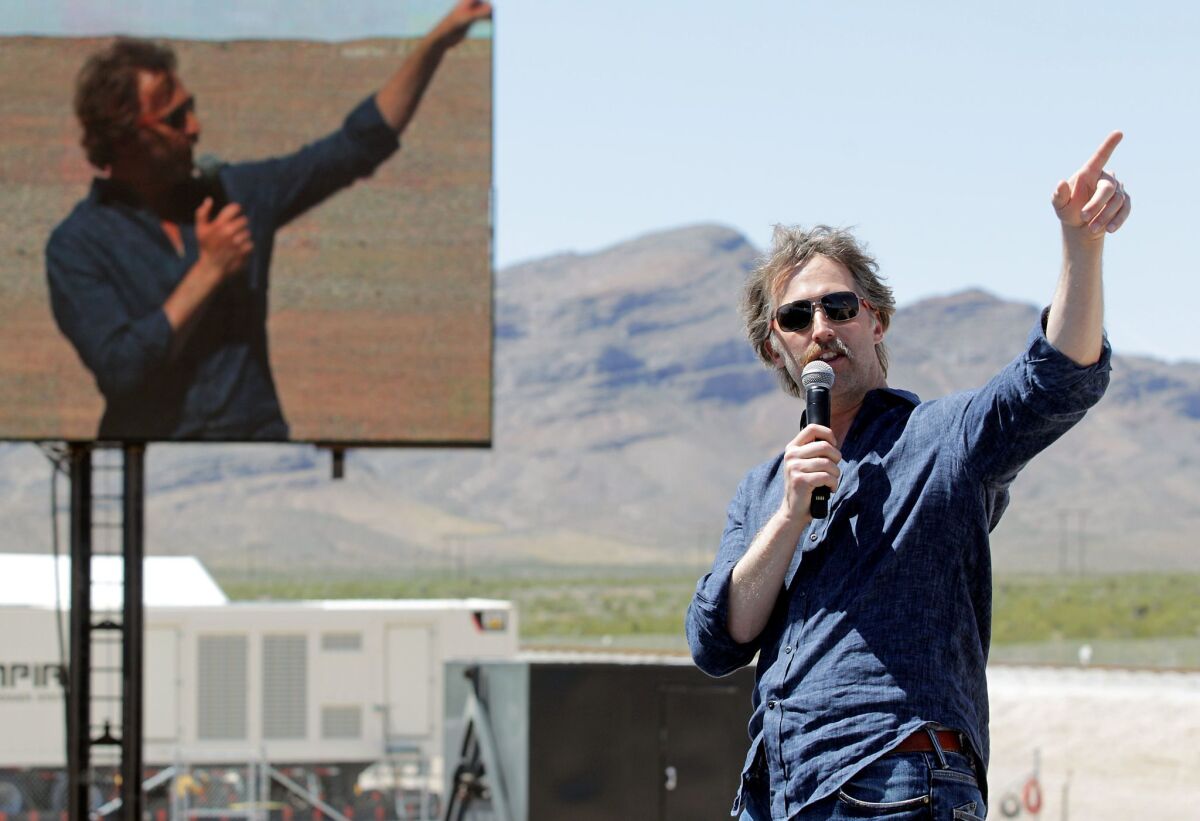 Hyperloop co-founder out
Hyperloop One became the latest big-name start-up to be rocked by a co-founder shake-up. Known until recently as Hyperloop Technologies, the less than 2-year-old Los Angeles company is seeking to engineer the high-speed transportation system popularized by Elon Musk three years ago.
Now, Brogan BamBrogan, who worked on rocket engines at Musk's SpaceX under the name Kevin Brogan, is out as chief technology officer of Hyperloop One. Underling Josh Giegel replaced BamBrogan.
The reason for his departure is unclear; he helped found the start-up with top names from Silicon Valley and Washington, D.C. He didn't respond to requests for comment.
BamBrogan came into the hyperloop project heavily recommended by SpaceX engineers. He was talked into working on it by the promise of "redrawing cities and the dirty shipping container industry," Forbes reported last year.
OpenTable begins taking the check
Restaurant reservation app OpenTable recently began testing a new feature at more than 75 Los Angeles restaurants that allows diners to leave their credit cards at home.
With OpenTable Tap, diners tell their server at some point that they want to put their meal "on the tab" and just walk out the door whenever they're finished.
"By removing the cumbersome and time-consuming credit card swap, diners who use OpenTable Tab can focus on enjoying their fantastic meal," company strategy executive Catherine Porter said in a statement.
Elsewhere on the Web
Viacom's top ad salesperson, Jeff Lucas, has left the company to take the same role at Snapchat, according to Adweek. Snapchat also made its first hires for an ad sales team in France, according to Variety.
Whisper Chief Technology Officer Chad DePue recently left the Venice anonymous-sharing app company and took a role as director of engineering up the road at Snapchat, according to his LinkedIn profile.
U2 frontman Bono has become an investor in Beautycounter after the Santa Monica consumer products start-up bought his family's skincare brand, Nude, according to the New York Times.
In case you missed it
Santa Monica start-up Atom Tickets launched its app in Southern California last week. The app helps users organize groups of friends to decide on movie showtimes and pay for tickets. It also lets consumers order their popcorn and soda ahead of time, and offers deals on concessions.
Google and Tesla agree autonomous vehicles will make streets safer, and both are racing toward a driverless future. But when Google tested its self-driving car prototype on employees a few years ago, it noticed something that would take it down a different path from Tesla.
Though it might seem strange for Internet companies to get a free pass when their users break the law en masse, legal experts have described Airbnb's recent invocation of the Communications Decency Act in a lawsuit as a "slam dunk" victory for the company because the act is so expansive.
Last week in Los Angeles, Uber began using drivers' smartphones to monitor speeding and braking in a bid to improve its ratings system and increase safety.
Coming up
About 1,200 people interested in data science are expected to gather for the fourth annual Big Data Day L.A. on Saturday at West Los Angeles College in Culver City. The day's agenda is packed with technical talks from the likes of executives at Warner Bros, Netflix, Zest Finance and other companies. Yahoo's vice president of architecture, Andy Feng, is listed as a keynote speaker.
Also Saturday morning, people whose computers help authenticate transactions denoted in the digital currency bitcoin will begin receiving half as many bitcoins as a reward – a regular event that is known as "halving." It promises to bring volatility in the bitcoin markets and raise concerns about the ability of smaller players to compete in bitcoin mining.
Twitter: @peard33
ALSO
Who are California's top-paid CEOs?
Facebook's news feed and the tyranny of 'positive' content
Tesla and Google are both driving toward autonomous vehicles. Which company is taking the better route?
---