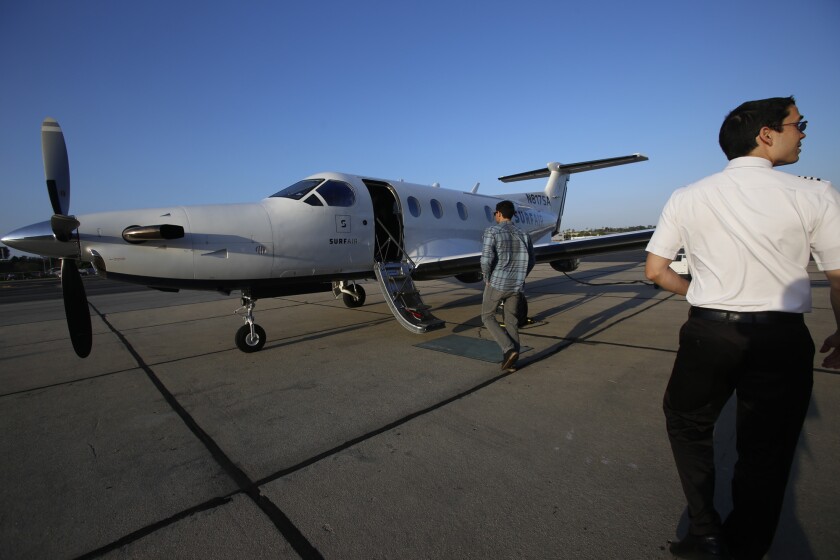 A new $45-million fund will allow Santa Monica venture capital firm Mucker Capital to make bigger investments, but it won't lead to a significant change in strategy, said managing director Erik Rannala.
The fund, closed early this year and announced last week, is a step up from the $20 million or so that Mucker had to invest during the last two years. Mucker plans to maintain its investment pace, giving a dozen companies a year less than $100,000 each as part of a start-up mentorship program and another eight companies about $500,000 annually as seed funding.
The extra money will go toward slightly bigger seed checks, helping companies weather a slowdown in start-up financing, and participating in companies' later financing rounds.
Investing in Los Angeles companies remains Mucker's emphasis.
The foundations, wealthy families and other investors who gave Mucker the new capital view Los Angeles as an underfunded region ripe with opportunity, Rannala said. And Mucker has already shown cash returns are possible, he said.
Nordstrom bought Mucker-funded company Trunk Club for $350 million in stock. Fellow Mucker start-up Wallaby Financial sold to Bankrate for $10 million in cash and stock while Blayze sold to Vobile for an undisclosed sum.
Others are doing well too, Rannala said. The Black Tux, ServiceTitan, Surf Air and Retention Science have seen major increases in valuation based on user and revenue growth. Altogether, Mucker has invested in about 50 companies.
Start-up survey. Optimism is fading among Southern California start-ups, according to an annual survey by Silicon Valley Bank.
About 56% of small, private technology companies in Southern California that were surveyed said 2016 would be better for business than 2015 -- an 18% drop since two years ago.
The decline matches that of the broader survey, which queried 900 executives across the U.S., United Kingdom and China. The respondents mostly have 50 employees or less and no more than $10 million in annual revenue.
More entrepreneurs, including those in Southern California, now consider merging or selling as a more viable way to generate returns for themselves and investors, given the pullback in start-up financing and the cooling IPO market over the last nine months, according to Silicon Valley Bank.
Meanwhile, Southern California start-ups continued to express frustration about access to skilled workers, with 26% saying worker shortages have "inhibited" revenue growth, according to the survey.
The survey also tackled the industry's lack of diversity. The local findings reflected the global results: 63% of the Southern California companies didn't have a women on their board, more than half didn't have a female executive and just 29% of them had initiatives to increase gender diversity.
Managerial advice. Speaking on stage at a tech industry conference last week, retired Gen. Stanley McChrystal said the Army made fewer mistakes in Afghanistan after he changed the way information moved through the force's growing bureaucracy.
McChrystal now runs a consulting firm that helps companies such as Cisco and Scott's Miracle Grow adapt to changing business climates. And he told hundreds of people gathered at the Montgomery Summit in Santa Monica that one way large organizations can deal with change is to appropriately divvy up authority. He offered as an example his time as commander of the troops in Afghanistan in the late 2000s.
After working through the night, McChrystal would often be awoken early in the morning to approve a bomb drop. But he usually didn't have any more insight than what the person asking for permission had told him.
That's why McChrystal began relegating the choice to people further down the chain -- but closer to the action. They probably had a better sense of right or wrong than he did, and forcing those officers to make the call offered them "a different sense of ownership," he said.
To aid their decision-making, McChrystal emphasized sharing once-sequestered intelligence. At that point, they really wanted "to get it right," and the Army "got faster and made fewer mistakes," McChrystal said.
The structure irks people in the middle of organizations who lose "certain equity and power," he noted. But getting over those concerns is key to survival, he said.
Hyperloop. The Slovakian government has agreed to fund planning for a hyperloop transportation system that would be developed by Los Angeles start-up Hyperloop Transportation Technologies Inc. The deal doesn't guarantee anything will be built, but it's a major step for the company, which is among several competing to bring the high-speed transit mechanism to life. The government must now identify an initial route, acquire land and find funding.
Massages. Los Angeles start-up Soothe, which makes an app for requesting a masseuse in as little as an hour, has raised $35 million in a funding round led by private equity firm the Riverside Co, an existing investor. The company plans to use the new cash to double its service area to about 40 cities by year's end. Soothe says it offers a variety of massage options, including Swedish, deep tissue and couples' massage. A massage starts at $99 an hour.
Virtual reality ads. Software released last week by Immersv enables virtual reality apps to generate revenue or market other services by showing video ads.
The first consumer-grade virtual reality viewing devices hitting the market this year, but app-makers and video creators are still unsure exactly how they can make money from the medium. Immersv's technology, which places trailer videos for apps during "natural breaks" in virtual reality content, offers one potential moneymaking strategy.
Immserv has offices in Emeryville and Los Angeles, and its investors include TenOneTen Ventures and CAA Ventures.
Influencers. Digital marketing firm HelloSociety was acquired by the New York Times. The small Santa Monica company will remain independent and collaborate with newspaper's digital advertising arm.
HelloSociety connects advertisers to social media celebrities who can talk up products and services in their posts. Such influencer marketing could become a new offering for Times advertisers.
Terms of the all-cash deal were not disclosed. The start-up development studio Science Inc. in Santa Monica had created and owned HelloSociety.
X on cybersecurity. X Prize co-founder Peter Diamandis' new venture capital firm has invested in former Los Angeles City Councilman Jack Weiss' security software company BlueLine Grid.
Zefr funding. Video ad technology company Zefr has raised $5 million in debt financing, according to a regulatory filing. The company didn't disclose further details.
Elsewhere on the Web. Co-working space provider Cross Campus will open in downtown Los Angeles in April, taking up nearly all of three floors at the 800 Wilshire Tower, according to BrighamYen.com.
Riot Games, maker of "League of Legends," has purchased Radiant Entertainment, a video game development firm that's known for fighting game "Rising Thunder," according to Polygon. Riot has secretly been working on a second game, but the acquisition brings to life the "games" part of Riot's name.
Mobile gaming start-up Scopely will develop a new game with World Wrestling Entertainment, according to CNBC. Scopely says it's profitable and generating about $50 million in revenue each quarter. The company is reportedly in talks with Internet companies, Asian technology companies and device-makers about raising new funding.
In case you missed it. Four universities and two national laboratories have three years to work together to develop and test an unbelievably large wind turbine that would be more than two football fields long, or more than twice the size of today's biggest blades.
A pair of class-action lawsuits and a recent report in the Wall Street Journal charging Honest Co.'s laundry detergent contained a chemical it pledged never to use risk undermining the principles that have allowed the Los Angeles start-up to thrive.
Why HelloGiggles' Sophia Rossi prefers that employees say "we have a lot going on" and "a challenge is" instead of "I'm overwhelmed" and "there's a problem."
A state senator — whose family is in the taxi business — put the brakes on two Uber bills.
Uber and Lyft may have automakers spooked, but it hasn't yet weakened car ownership in the U.S., according to a survey conducted by vehicle valuation firm Kelley Blue Book.
FuboTV, a video streaming service that offers a mix of sports and entertainment programming, has raised $15 million in funding primarily from 21st Century Fox and Europe's Sky. It has more than 40,000 subscribers.
Facebook bought Masquerade, an app company that competes with Snapchat's Lenses.
Facebook, the world's largest social network, is reportedly in talks with the National Football Leauge for streaming rights for Thursday games.
Internet service providers would face tough new restrictions on how they could use the personal information of customers, including their Web-browsing activity, according to privacy regulations proposed last week by a top federal regulator.
Coming up. Sony is expected to unveil the price and release date of its PlayStation VR system on Tuesday as part of a press conference it's holding at the Game Developers Conference in San Francisco. The virtual-reality viewer and motion controller work in conjunction with a PlayStation gaming console. Sony has shown prototypes, but with an official announcement this week it will join big names HTC and Oculus in the nascent market.
---