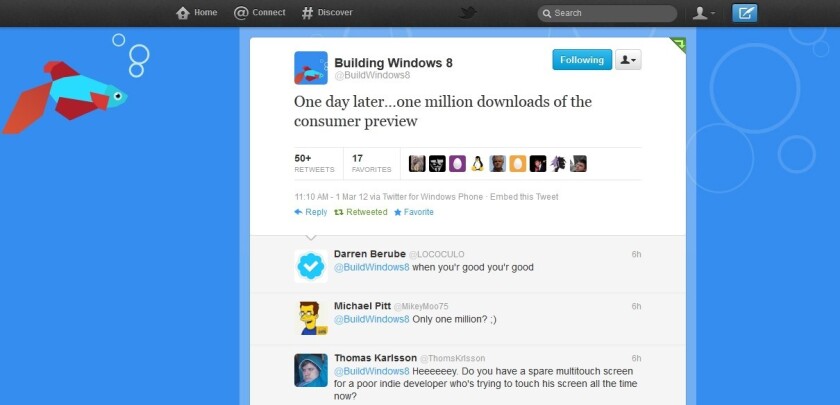 Microsoft's Windows 8 Consumer Preview, in its first 24 hours after being released, was downloaded 1 million times.
Not too bad for an operating system still in beta, not finished and not ready for a consumer retail shelf. But then again, the software was made available as a free download.
The Windows 8 development team announced the massive number on Twitter on Thursday in a tweet that said, simply, "One day later ... one million downloads of the consumer preview."
The Consumer Preview release, like the Developer Preview released in September, is a step toward bringing Windows 8 and its touch-compatible user interface to tablets, laptops and desktops later this year.
Microsoft is releasing the software partly to get developers to start using the new operating system and build apps that work on touch-centric devices, as well as with the traditional keyboard, mouse and trackpad.
But while developers are no doubt a focal point for Microsoft, anyone can download the new software for free -- app builder or not.
RELATED:
Microsoft unveils new, more window-like logo for Windows 8
Windows 8: A first look at Microsoft's new OS on a tablet [Video]
Microsoft releases Windows 8 Consumer Preview for free download
Follow Nathan Olivarez-Giles on Google+, Facebook or Twitter
---