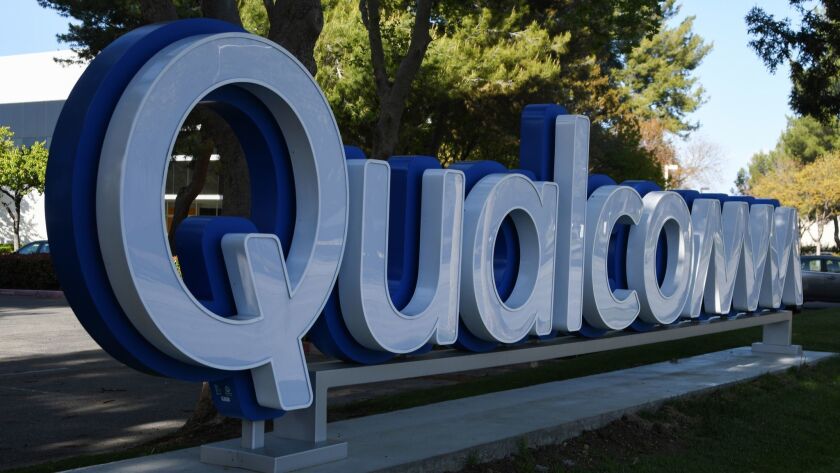 Qualcomm Inc. ruled out any chance of a return to its abandoned bid for NXP Semiconductors after U.S. and Chinese political leaders appeared to open the way for possible approval of the transaction.
"While we were grateful to learn of President Trump and President Xi's comments about Qualcomm's previously proposed acquisition of NXP, the deadline for that transaction has expired, which terminated the contemplated deal," the San Diego chipmaker said in an emailed statement. "Qualcomm considers the matter closed and is fully focused on continuing to execute on its 5G roadmap."
Over the weekend, the White House said Chinese President Xi Jinping said he would consider approving a possible deal for Qualcomm to purchase NXP if it's brought to him again.
Qualcomm scrapped its $44-billion bid for rival chipmaker NXP in July after an almost two-year wait for approval, as tensions between the United States and China escalated. Chinese regulators declined to clear the deal, though the country later expressed regret over the transaction's collapse.
The weekend comments were part of an agreement struck by Xi and Trump over dinner on Saturday in Buenos Aires, where the pair negotiated a temporary cease-fire in the tit-for-tat trade war between the world's two largest economies. The statement about revisiting Qualcomm-NXP was included in the White House's release but not the one from the China side.
In a research note, Morgan Stanley analysts pointed out that "a lot has changed" since Qualcomm's initial bid. The semiconductor industry was in an up cycle at that time, but it's now in a correction, they wrote.
That may mean that NXP's board "could be open to the idea" of an acquisition if presented with another offer from Qualcomm, the analysts said. But they noted that Qualcomm already has paid a breakup fee in the deal and begun a $21-billion stock buyback program, limiting the San Diego company's financial flexibility.
"Rising interest rates, pressure on Qualcomm's core business and weaker semiconductor fundamentals further complicate matters," they said.
Qualcomm shares rose 1.5% on Monday to $59.14. They are down 7.6% for the year.
---
UPDATES:
3:25 p.m.: This article was updated with Qualcomm's closing stock price.
This article was originally posted at 7:20 a.m.
---